The Dish: Brewery Tours on Rhode Island's Brew Bus
Board the bus and visit the state's many breweries, two distilleries and even a winery.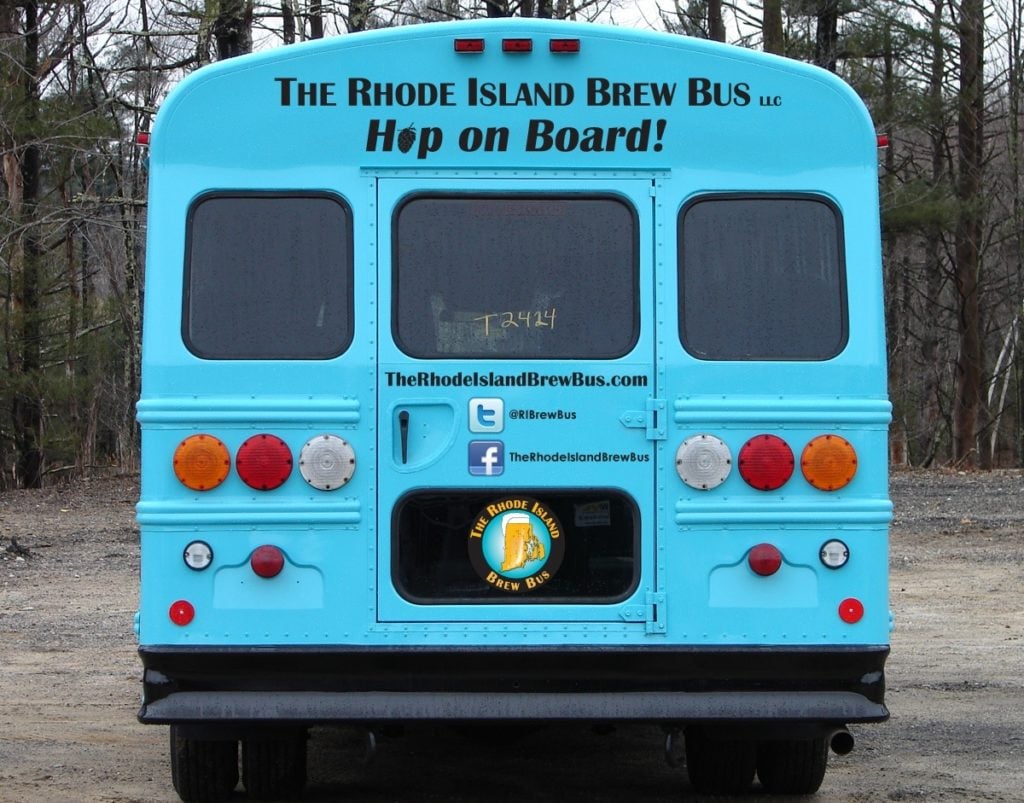 When new breweries began sprouting up across Rhode Island and Connecticut, Bill Nangle got an idea: Buy a bus and create local tours for craft beer fans. Participants board the vehicle without worrying about who's driving, plus they'll meet like-minded people who love beer and play trivia along the way. "When we walk into the breweries, they know the Brew Bus is coming and they treat us well," says Nangle, who is also a home brewer. "It's not just about the safe ride and beer tastings, you'll learn about craft beer and get the whole experience." Four different options run throughout weekends, and each tour offers something different for everyone. Eric Euglow, Jon Lanctot and Christian Archeval are the tour guides. therhodeislandbrewbus.com
The tour: The Border Jumper. Fridays, 4:15−8:30 p.m.
Price: $77
Best for: True craft beer fans
The breweries: This tour spans two states, three breweries and one craft beer bar, starting at Grey Sail in Westerly. Then it's off to the Connecticut border and Cottrell Brewing Co., then back to Westerly to visit the Malted Barley craft beer bar, and back again to Connecticut for small batch beer at Beer'd Brewing Co.
Why it's worth it: "You get to try up to twenty beers on the tour," says Nangle. "They are little samples, but you get to see a variety of what each brewery offers. In the beginning, people on the tours were skeptical about the price, but they say it's totally worth it because you taste beer from all the breweries, see all the breweries, you get food and you also take in the atmosphere on the bus and meet a lot of people."
Sweet extras: You'll get a freshly made soft pretzel at the Malted Barley, and you'll take home the glassware from each brewery tour.
The tour: Beereakfast of Champions. Saturdays, 10:30 a.m.−2:30 p.m.
Price: $67
Best for: Someone who just likes beer.
The breweries: Tour and taste beers from three different breweries in Rhode Island, which all vary in size, including Bucket Brewery, Foolproof Brewing and Ravenous Brewing.
Why it's worth it: "You see the difference in size between the breweries in Rhode Island," says Nangle. "Foolproof produces the most beer volume-wise and Ravenous is one of the smallest. And Bucket is in the middle and slowly growing."
Sweet extras: The tour picks up and drops off at Trinity Brewhouse, one of the original craft breweries in Rhode Island. Your Brew Bus tour includes a coupon for 20 percent off your bill. You'll also keep all the tasting glasses, and snacks and water are included throughout the ride.
The Tour: Afternoon Delight. Saturdays, 3:30−7 p.m.
Price: $67
Best for: People who like both craft beer and liquor.
The breweries/distillery: The tour begins at Sons of Liberty Spirits Co., where guests sample craft whiskey (including the award-winning pumpkin flavored) and Loyal 9 flavored vodkas, then it's off to two of the smallest breweries in the state, including Proclamation Ale Co. and Whalers Brewing Co.
Why it's worth it: "You get to see the crafty side of both liquor and beer," says Nangle. At Sons of Liberty, learn how they turn beer into whiskey. Guests also meet the people who actually brewed the beer. "A lot of our tours end up turning into Q-and-As," says Nangle. "Many of the guests make beer at home, and the brewers are personable and answer every question."
Sweet extras: You'll try beers that can't be found anywhere else, and take home glasses from each stop. Snacks and water are also included.
The Tour: Get the Pell Over Here! Sundays, 11:45 a.m.−3:45 p.m.
Price: $77
Best for: Couples and dates
The brewery/distillery and winery: The tour kicks off at Newport Storm where you'll taste Thomas Tew rum in three different stages of the aging process. Explore the brewery and learn about brewing followed by a tasting of all beers on tap. Then head over to Greenvale Vineyards to learn how the wine is made, followed by wine tasting. Guests will also visit Whalers Brewery Co. to try craft brews.
Why it's worth it: "You'll try wine, rum and beer, so there will be something that everyone likes," says Nangle. "You'll also experience Thomas Tew rum from its infancy stages to completion."
Sweet extras: Tour-goers will enjoy craft beer cupcakes from Bad Kat KupKakes. The bakers create a few different varieties, including No Stout About It and Get Jacked (with Jack Daniels). You'll also go home with a variety of glassware, including rum, beer and wine glasses.
Watch the video the Brew Bus put together.
Learn more about the Rhode Island craft beer scene: Read "Getting Crafty" by Joshua Aromin.