The Dish: Boston Takes On Providence
Eastern Standard restaurant staffers tackled Providence for their all-staff project called #ESKDtoPVD for Instagramming adventures.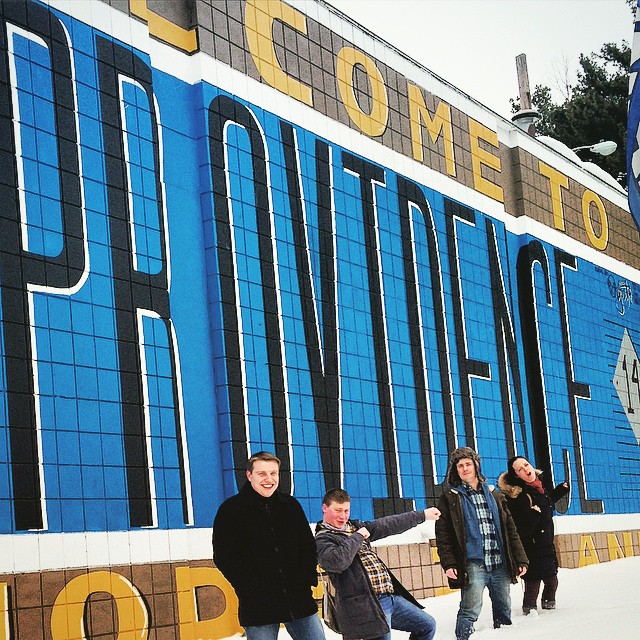 Inside one of Boston's most popular restaurants, Eastern Standard, a group of staffers is dressing up like Providence hipsters. They've pulled on flannel shirts and funky eyeglasses, and they've hung dark brown rolls of paper behind the bar and along the walls to mimic dark wood decor. A mahogany mobile bar with detailed carvings has been wheeled in, and on top of it, the bartender's pouring a fancy cocktail called the Highland Falls into tiny fancy cocktail glasses. Cushy chairs and benches line the walls for seating. The final touch is to dim the lights to a low glow and invite colleagues to step behind the black curtain into the Avery.
Upon entering, the rest of the Eastern Standard staff gasps in delight at the elaborate setup. "Do you have a mixology nickname?" someone asks the bartender.
"I am just your hipster bartender tonight," he says.
"Welcome to our recreation of the Avery in Luongo Square," says another team member, displaying a photo of the Avery's trademark nude nymphs using a wall projector. Then she launches into a PowerPoint presentation filled with the group's photos, videos and personal reviews of their favorite restaurants and bars in Providence.
This team of seven is one of six groups of Eastern Standard staffers to take on Providence for their all-staff restaurant project, affectionately called #ESKDtoPVD for the purpose of Instagramming adventures. Each group focused on one of three neighborhoods; Federal Hill, the East Side or Downtown. This group, Team 2, highlighted Federal Hill, which evolved into a journey through the West Side, too.
This is the fourth year that Eastern Standard has embarked on the annual project. "Every year, there's a big reveal on what the project will be and everyone gets super stoked," says Eastern Standard manager Deena Marlette. "We focused on Providence because it has the same vibe as Portland but it's so much closer. Sometimes you might be able to get a train ticket for $12."
Teams were encouraged to spend the night in the new city (at the Dean Hotel, no less), research the scene and culture and return and report on what they experienced. Past projects featured Maine farm country and Boston's artisans and producers. After their visits, each group puts together a twenty-minute presentation explaining what they encountered and learned using PowerPoint, photos, social media and more. They are also tasked with spreading the word about Eastern Standard to locals they meet along the way.
Along with showing some love for the Avery, Team 2 had brunch at Julians ("the mezcal bloody marys are life-changing," though, unsurprisingly, service was somewhat lacking). One Eastern Standard staff member spent so much time ogling the Pez collection in the bathroom that someone asked if he fell in the toilet. Though they serve vegan food, "if you get a burger, you don't feel like you're upsetting PETA," says another group member. That's Julians. They got it right.
The group also headed to Tammany Hall for cigars and whisky, Lili Marlene's for free pool and cocktails and north for dinner (when a photo of the almost boneless fried chicken flashed on the big screen, you might've thought it was Ryan Gosling). "I want that," was the general reaction from some of the women in the room.
After that, Team 2 stopped at E and O tap for Tecates and pinball, and finished the night off at Ogie's, where they managed to scope out the snow-covered trailer park and take tater tots to-go in order to make their train back to Boston on time. On a separate visit, they stopped at Tony's Colonial for cheese and Camille's for spumoni.
The six groups are surpassing expectations with their presentations. The second part of group 2's performance included a reenactment of a mob dinner scene inside a Federal Hill restaurant, complete with dark red decor, a phonograph and suits Ray Patriarca would wear. Three men at the table are discussing a rat – not an infestation problem, but a snitch – not a winged creature flying around in a Harry Potter movie – a big mouth, is more like it. The scene ends with the server breaking out a squirt gun to take out the rat at the table.
For other presentations, teams trekked in Autocrat coffee milk with real Olneyville New York System hot wieners and enlisted someone to serve them up the arm (in a white T-shirt to boot). "I'm now addicted to coffee milk," says Marlette. One team imported the bartender from the Grange to serve cocktails while another group brought pastry from Pastiche for everyone to sample. Marlette hands out grading rubrics to all the spectators to critique the presentations, which are really just an exercise in group bonding. "I have my master's in education," says Marlette. "When I bust out my rubrics, they laugh at me!"
Nearly every group says they'll return to Providence. Some have already traveled back to celebrate the project's conclusion. "It's amazing how close it is, and it has a completely different feel from Boston," says Eastern Standard server Vilvaraja Mahendraraja. "I can't wait to go back."
Eastern Standard Kitchen and Drinks, 528 Commonwealth Ave., Boston, 617-532-9100, easternstandardboston.com