The Dish: Boost Your Immunity with Chi Kitchen Kimchi
Minnie Luong's healthy family recipe tastes great and contains beneficial gut-busting probiotics to ward off sickness.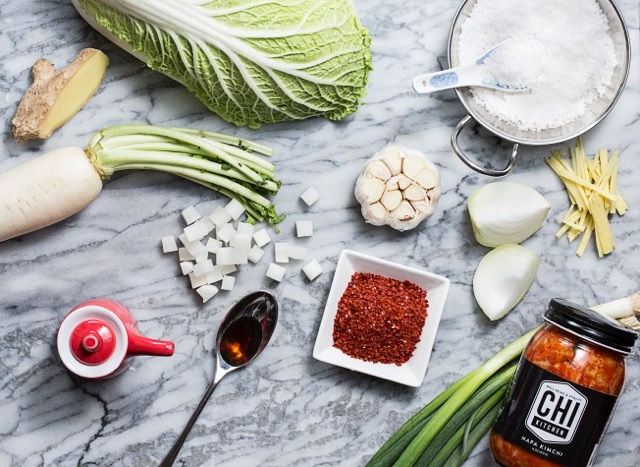 Photos by Marianne Lee.
Minnie Luong grew up always having kimchi in her family's refrigerator, but it wasn't until later in life that she started making it herself. Her handmade kimchi is the foundation of her local food business, Chi Kitchen, operating out of the Lorraine Mills in Pawtucket.
Chi Kitchen kimchi is a Korean superfood made from fermented cabbage that is brined with salt and combined with chopped garlic and onions, julienned ginger and Korean red pepper, as well as the umami flavor of fish sauce or miso (vegan version), to create a delicious and healthy condiment to use while cooking or to snack on straight from the jar.
"It's a painstaking process doing it all by hand, but I really think you can taste the results," says Luong. It's available at ten retail locations in Rhode Island, including Whole Foods, Dave's Marketplace, Tom's Market, Clements' Market, the Pantry at Avenue N and the Black Pear as well as the Pawtucket Winter Farmers Market the first and third Saturdays of the month.
"Kimchi actually translates to salted vegetable. The salt helps to inhibit the bad bacteria that you don't want, which will help the good bacteria, the lactobacillus already present on the vegetables, to grow," says Luong, the Chi Kitchen founder and self-proclaimed Chi-EO. "Fermentation is basically a competition between those two bacterias, the ones you don't want and the ones that you do want."
The process of making kimchi also boosts its health benefits. "It's one of the healthiest foods you can eat," says Luong. "Onions, garlic and the probiotics help with your immune system. The Korean red pepper spice regulates blood sugar and is anti-inflammatory, and the cabbage is high in fiber."
The traditional condiment has been around for a thousand years, and Luong learned to make it from her dad. She and her father are refugees from the Mekong Delta in Vietnam. They came to live on the East Coast when she was three years old, moving to Pawtucket from Massachusetts when she was nine. "When I was growing up, we'd have to drive all the way to Boston to get Asian ingredients," she says.
She credits her father for teaching her to appreciate local ingredients. "My dad is a huge fisherman — he fishes for squid off Point Judith and we go quahogging — and he's an amazing gardener," she says. "We preserved a lot of our own foods, grew and fished. That was really the start of my love of food."
Luong followed food as a career. She graduated college and gained experience in kitchens at various restaurants in Boston, then moved to Los Angeles and became a private chef. After that, she pursued work at a tech company, but always wanted to start her own food business. Out in California, she embraced the popularity of Korean food, and began making kimchi again, even though she failed at it years before. This time, she perfected the method and started teaching others how to make it, too. "I had so much kimchi, I couldn't eat it all," she says. "I'd give it away to friends."
Before getting married, Luong and her husband, Tim Greenwald, created a vision board for what they wanted in life. Launching a food business was high on their list, but the location was left to be determined. When the couple researched areas that had a real food scene, it was Hope and Main in Warren that inspired their move from Los Angeles back to Rhode Island. "Having been involved with the food industry, when I saw there was $3 million investment in an incubator kitchen at Hope and Main, I thought it was a huge deal," says Luong. "I hadn't seen anything like that out in L.A."
She quit her job and moved across the country with her husband, back to the state where she grew up so many years ago. Hope and Main helped the couple get Chi Kitchen off the ground, and it also connected them with a support system. The Center for Women and Enterprise also provided a network. "When you're an entrepreneur in this unique space, it's nice to have a community that understands what you're going through," she says.
Now that Chi Kitchen has its own space with a commercial kitchen at the Lorraine Mills in Pawtucket, Luong is expanding their reach to restaurants and also plans to host cooking classes. Milk Money, Rocket food truck and Avenue N use her kimchi, and Laughing Gorilla Catering is teaming up with Luong for a popup event this month. Attend the Kimchi Fried Chicken for Hunger Relief event on Feb. 26 from noon to 6 p.m. at 94 Carpenter Street in Providence, when the chefs will combine leftover kimchi juice with buttermilk to brine chicken.
Guests are asked to bring a food donation for the Rhode Island Community Food Bank, and a portion of proceeds from the event will also benefit the food bank. "Hunger relief in Rhode Island is something that is very close to my heart. Working in the food industry for the last twenty years, I take great joy from feeding people," says Luong. "Yet, one in eight Rhode Islanders is food insecure, including many of our children. I wanted to do something about it." chikitchenfoods.com