The Dish: Baking with Bellicchi's Best Biscotti
Kathleen Bellicchi bakes handmade biscotti in fun flavors at Hope and Main in Warren.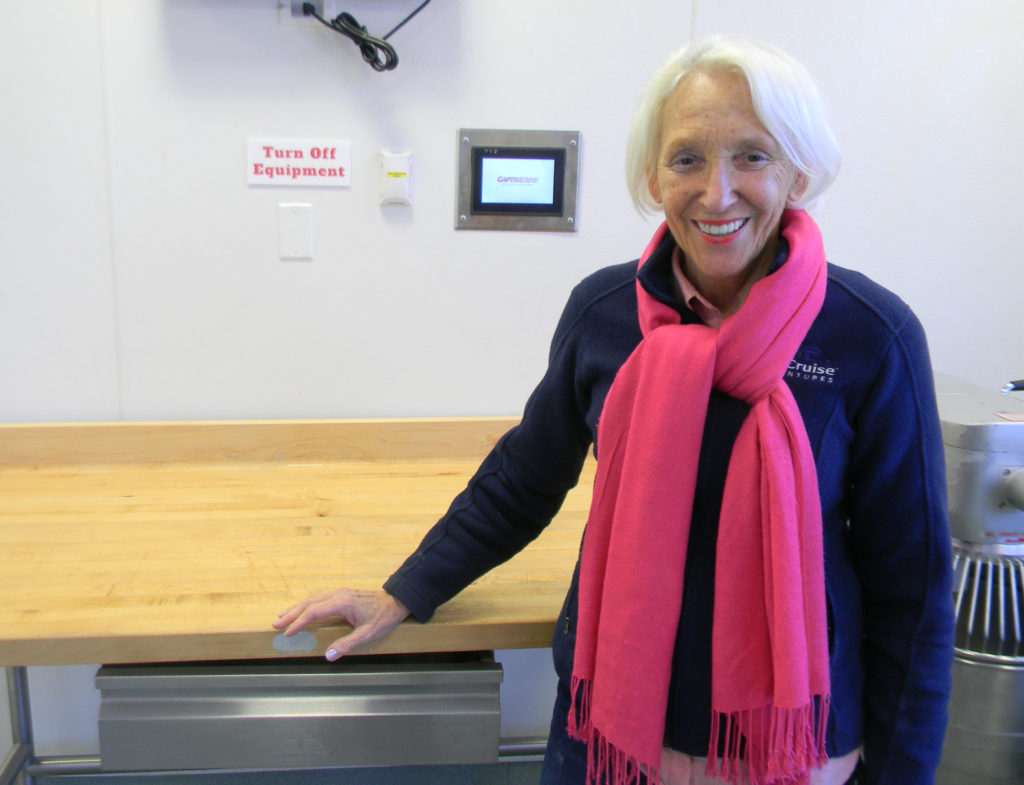 Biscotti – those crunchy Italian cookies that come in different flavors – are usually a tasty treat to dip into coffee or tea. There's a new maker on the block creating biscotti that are smaller than your average size with an emphasis on crunch, texture and unusual ingredients. The biscotti are not super sweet, but they are a satisfying treat. The biscuits come in a small, pocket-sized package of four for convenient on-the-go snacking. The brand is Bellicchi's Best Biscotti and it is made right here in Rhode Island.
On early Friday mornings, one can find Kathleen Bellicchi, creator of Bellicchi's Best Biscotti, and her partner, Jay, on the third floor of the Warren food business incubator Hope and Main. Surrounded by the heavenly scent of warm almond and citrus, Bellicchi – wearing jeans and a white Harrod's apron decorated with desserts – is busy at work creating more than forty pounds of biscotti, which will take approximately six hours. Each bake is dedicated to one flavor, and racks of biscotti fill the kitchen by early afternoon; slightly golden, crunchy and waiting to be packaged. The process is long, as biscotti needs to be mixed, rolled and baked twice to achieve proper crunchiness. It is a labor of love for Bellicchi. She has loved baking and cooking since she received a Pillsbury cooking set for Christmas at age six. Biscotti-making is something she learned later in life, but it stuck with her. She has been making the cookies for more than forty years.
"I learned [biscotti] from my mother-in-law Bellicchi," she says. "She always made them every year at Christmastime or for any special event." Kathleen became a Bellicchi through her first marriage, but continued the biscotti tradition into her second marriage to Eric Blomberg. Bellicchi started out baking biscotti for special occasions for family and friends who eagerly sought them out. She and her husband, Eric, became known as the "biscotti bakers," and they were frequently asked to make them year-round. They both had busy careers, but found time to bake when they could, oftentimes at random locations, late at night, where one of her brothers, a chef, worked so they could use the ovens during off-hours.
Unfortunately, Blomberg was diagnosed with early onset Alzheimer's at fifty-eight. It became hard for him to go out and he was starting to slip away. The biscotti-baking kept the couple together. "It was a way for us to connect as he was disappearing," she says. "It pulled us back and brought us together…I would make the biscotti and roll it and he would turn the biscotti. And he just loved doing that." The husband and wife continued to bake together from home, more frequently than they had before, until they reached a point where they were baking far more biscotti than they knew what to do with. The idea of selling the biscotti started to surface, but Blomberg soon had to go to a care facility, and shortly after that, he died. Bellicchi returned to baking biscotti only for special occasions, until last July when she decided it was time to start making her passion a profession.
With the help of Hope and Main, Bellicchi gained all of the licenses she needed to begin making Bellicchi's Best Biscotti in larger quantities for retail sale. In order to help the biscotti business take off, she maintains other jobs, such as teaching public speaking classes and working in leadership and professional development. Bellicchi is also the primary caretaker for her ninety-six-year-old mother, but despite her heavy schedule, she always finds time to hit the Hope and Main kitchen to make biscotti.
Bellicchi's Best Biscotti comes in three different flavors with more planned for the future. Many of her ingredients are locally sourced. Almond Orange Fennel biscotti puts a spin on the more classic almond and fennel biscotti that her mother-in-law Bellicchi would create. The almond flavor and nuts are present throughout the cookie while bursts of fennel and orange pop with each bite. Cocoa Nibs features a dark chocolate-studded biscotti with a good chocolate-to-cookie ratio. White Chocolate Macadamia is the sweetest of the three varieties; each crunch delivers caramelized white chocolate pieces with the flavor of roasted nuts.
Kathleen Bellicchi has many goals for her business in the future. In addition to offering more flavors down the line, she hopes to create savory biscotti and gluten-free biscotti. As business picks up, she also plans to donate (at first) 5 percent of the profits to the Alzheimer's Association, and then 5 percent of every sale. She also hopes to expand Bellicchi's Best into Italian cooking. "My youngest son is a chef and our goal is for him to join me in three to five years," says Bellicchi. "Our registered name is Bellicchi's Best Handmade, so besides biscotti, [we plan to make] handmade Italian food."
There are high hopes for the holiday season in the small biscotti kitchen, and the baker has prepared two different holiday packages. The smaller holiday package includes all three biscotti types, and the larger holiday pack includes two of each kind wrapped in a cellophane bag with a festive bow. Each package can also come in a decorative box instead of a cellophane bag. With Christmas on its way, the hope is that her biscotti will bring joy into your home. "Maybe it doesn't offer solutions to your life problems, but it certainly offers solace," she says. "Who knows that you won't have that brilliant idea munching on biscotti?"
Bellicchi's Best Biscotti can be found in the Whole Foods cookie bin at University Heights, with regional expansion on the way in the New Year. Bellicchi's Best is also sold at Books on the Square and Campus Fine Wines in Providence, New Harvest Coffee Roasters in Pawtucket and An Unlikely Story Bookstore and Cafe in Massachusetts. If you wish to order online, you can find her products on the new website bellicchisbest.com.