The Dish: Around the World in Cranston's Rolfe Square
The street features eats from around the globe, and many of its markets and restaurants have been in business for decades.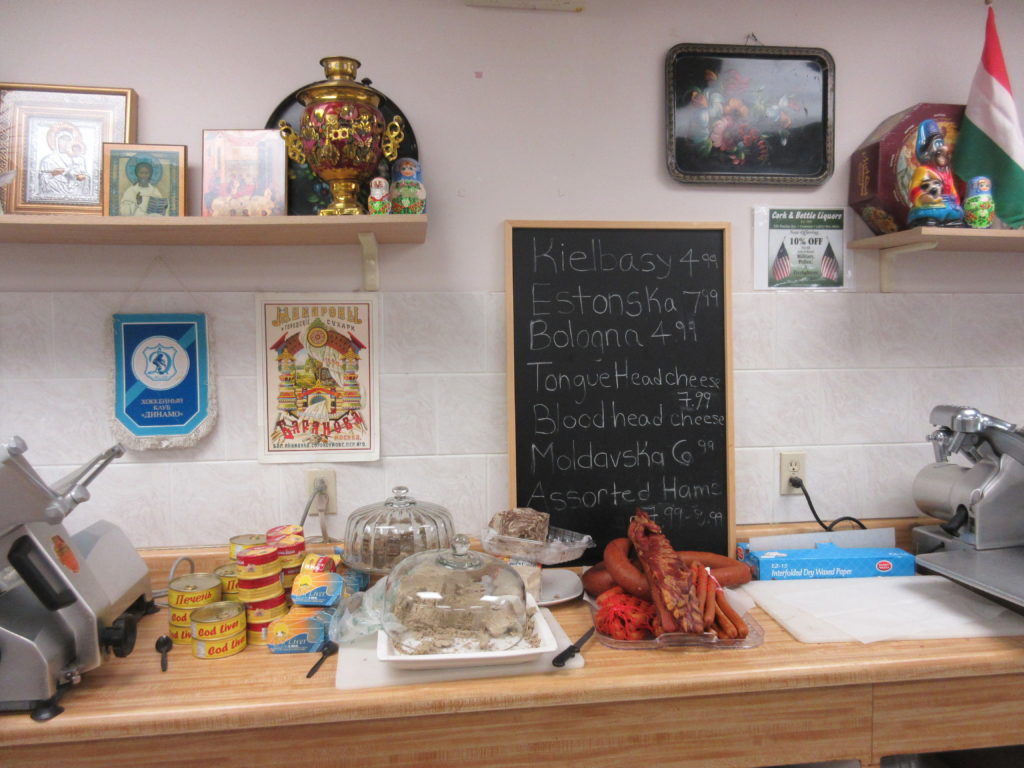 The word cosmopolitan probably doesn't leap to mind in connection with Cranston's Rolfe Square, but it should, at least when it comes to food. Rolfe Square's several blocks extend from Park Avenue (just east of Cranston City Hall) south to Pontiac Avenue. The street features eats from around the globe, and many of its markets and restaurants have been in business for decades.
Begin a Rolfe Square tour, which is easily accomplished on foot, at European Food Market (102 Rolfe Sq., 401-461-1097). Don't let the store window's half-drawn venetian blinds and puzzling combination of samovars and hosiery dissuade you; the market is well-stocked with goods from Russia, Ukraine, Poland and other countries comprising Central and Eastern Europe. There is a deli that sells hams, kielbasa, estonksa (looks like salami, but is softer, smokier and hails from Estonia) as well as two kinds of head-cheese (for the uninitiated, this is not dairy cheese but involves pickled pig's head components).
Natasha Delsanto shows me around, and she believes that in the last few years, Americans have become more adventuresome eaters. "The Food Network has opened people's eyes," she says. There are jars galore lining the shelves. "You name it, and we have it pickled," she says. That includes seven kinds of pickled cabbage. If your taste runs to the sweet, European Food Market has multiple bins of hard candies, as well European chocolate (no comparison with the American stuff, says Delsanto) and assorted nuts, nougats and wafers in boxes adorned with Slavic script.
Next door, head to Mesa Cafe and Grille (100 Rolfe Sq., 401-781-0980), which serves breakfast and lunch, and specializes in hearty Mexican and American fare including huevos rancheros, breakfast burritos and chicken tacos.
A few doors further down is King's Garden (90 Rolfe Sq., 401-467-8916, kingsgardencranston.com), a sizeable Chinese restaurant, and one of the few spots open later at night. It boasts an extensive menu and dim sum, as well as standard Chinese-American dishes.
Next door is the Jerusalem Meat Market (88 ½ Rolfe Sq., 401-467-8903), a Mecca for those seeking halal meat (to obtain the halal designation, the animal must be slaughtered in a manner prescribed by Muslim religious law). Jerusalem Meat Market sells products popular in the Middle East, the Mediterranean and South Asia, and owner Nazir Hallak has expanded the premises over the last several years. Hallak, who hails from Syria, reports that his customers come from all over southern New England. (while I was there, a regular was gathering supplies before racing back to New Bedford). In addition to the deli, which features beef, goat, lamb, chicken and veal, there is a range of frozen and dry goods. You need Turkish ketchup? This is your place.
Further north on Rolfe is Crugnale Bakery (48 Rolfe Sq., 401-781-8800, crugnalebakery.com), a relatively new addition to the Rolfe Square food scene. This is one of six area locations, and features Italian bread, calzones, desserts and other baked goods.
At the north end of Rolfe Square, near its intersection with Park Avenue, is the Deli (20 Rolfe Sq., 401-461-4774), specializing in Armenian, Middle Eastern and American sandwiches and prepared foods. The Deli stresses local ingredients, and frequently brings its wares to area farmers markets, including Hope Street in Providence and the Aquidneck Growers' Market, among others.
Rolfe Square ends (or begins) at this point, but why stop there? Take a right on Park so that you are headed east, and immediately on your right is Freedom Seafood (840 Park Ave., 401-223-1010) and its neighbor, the Chinese American Mini Market (834 Park Ave., 401-467-7690). Freedom specializes in Asian seafood and offers prepared food for takeout, and fresh fish and other sea creatures to cook at home.
Next door, the Chinese Mini Market has an extensive selection of frozen and packaged Chinese, Filipino and Japanese groceries, including staples like rice and noodles, and all manner of bottled sauces. A small produce section features items such as yu choy (a green similar to broccoli rabe) and taro root. There is also some meat, including chicken feet, if that counts. (I had chicken feet once from a dim sum cart and they were quite tasty, but I'll leave preparation to experts.)
Continuing east, also on the south side of the street, is Sonia's Near East Market and Deli (816 Park Ave., 401-931-9300, soniasdeli.com), a popular place for Middle Eastern specialties such as hummus, tabouli and falafel. It has a large selection of olives and feta (Greek, French, Bulgarian, American), a busy takeout counter and tables for lunchtime dining.
Finally, end your Rolfe Square/Park Avenue tour at Thai Orchids (800 Park Ave., 401-780-8889). An outstanding Thai restaurant with friendly staff, Thai Orchids thrives on takeout orders.