The Company He Keeps
The Gamm has always been edgy, entertaining and innovative. Now with two prestigious awards in two years, the theater and its director, Tony Estrella, are finally getting the attention they deserve.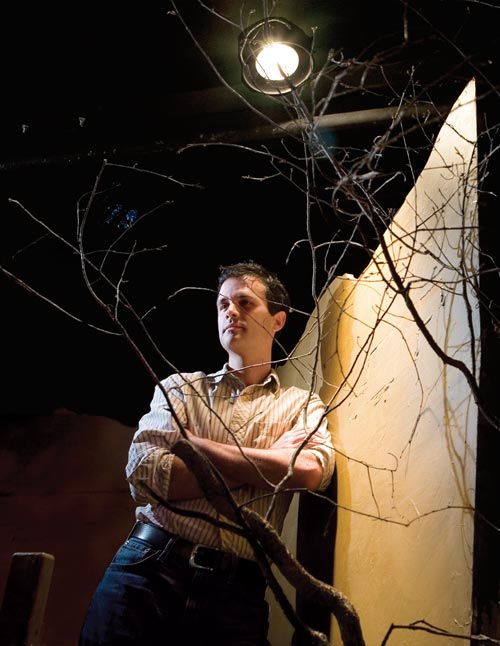 Tony Estrella can't recall an epiphany, a telling moment in life when he knew he wanted to become an actor.
Well, there was that one time when he was eleven and he'd taped and memorized Al Pacino's fabled "You're out of order!" scenery-chewing rant from …And Justice For All. But he just loved movies and words and the sweet dance of actors like Pacino using them.
"You hear actors say how they love guys like Pacino and De Niro because they looked like us rather than old movie star types," says the actor/director Estrella, twenty-seven years later.
He laughs when he recalls barking Pacino's words in his room. It wasn't a Travis Bickle-in-the-mirror, you-talkin-to-me? moment. It was a kid wowed by great acting, or as he says, "the alone-by-myself, no-guts-to-show-anyone-else time."
He's shown plenty since. From 1996 he's been at the Sandra Feinstein-Gamm Theatre in Pawtucket, the artistic director since 2002, doing edgy theater that has earned the Gamm two coveted Elliot Norton Awards in the past two years and respect from Boston reviewers, including the Boston Globe's Louise Kennedy, who called the Gamm "a vital player on the New England stage." Earlier this year, Estrella was named the Pawtucket Foundation's Person of the Year. He also does occasional TV and movie work, including a short, explosive scene in the Martin Scorsese-directed The Departed.
Estrella is an intense, opinionated, politically left-leaning man with a keen underlying sense of humor, purpose, irony and decency. He discovered acting late, his junior year at URI.
"You come to it when you come to it," he shrugs one day as he sits in the shadow of the set of The Scarlet Letter, the company's last show for the 2009 season. "Unlike other arts, like ballet and singing, this is probably the one you don't need to start early."
He is not one to use cliches and apologizes when he does, saying that acting, like wine, gets better with age.
"Even though I came to it a little later," he says with sincere modesty, "I think I caught up pretty quickly."
strella had a normal upbringing, first in Pawtucket, then Smith eld. He was a typical kid, working all sorts of crummy jobs, he says, including at a place in Smithfield that made ski goggles, at a Cumberland Farms, at a mall, in a nursing home kitchen. One of the worst was at Rocky Point, running the Enterprise ride, a horrible, rotating, spinning contraption that made work a living — and messy — hell for operators like Estrella.
"People were always throwing up in that thing," he says, wincing at the memory. "The saying was if there's blue sky and you feel rain, run for cover."
His best, albeit lowest-paying, jobs were in bookstores — "you make less than actors" — reading anything he could, more so when he got to college.
"High school was well meaning but a well-meaning center for conformity and half truths and lies," Estrella says. "You're force- fed a lot of things and critical thought is not part of the process. You're opened up to a host of new ideas in college."
Estrella is, if nothing else, intense about… everything.
"If he has an opinion, it's a passionate one," says Judith Swift, a director herself and professor of communication studies and theater at URI, who first taught and has since remained close with Estrella. "I love that he's so absolutely passionate about things, but not stubbornly so. He checks it out, does his research and forms a strong opinion."
She first took note of Estrella hanging around the theater lobby at URI, chatting with him about books, learning of his love of Shakespeare and convincing him to take a Shakespeare class.
"It was very clear right away that he got it," Swift says. "And not just the language, but the psychological machinations as well. He's very quick, very savvy, and he combines that street smartness with intellectual acuity and that's rare. You see that and the passion and all the pieces are there for someone to be a terrific actor."
His first URI play was Comedy of Errors, playing Doctor Pinch, and Estrella smiles as he calls it "this kinda weird, half-assed magician…that experience helped me admit to myself what I really wanted to do."
Swift has worked with Estrella on many things, and one of her favorites was directing him in The Rise and Fall of Little Voice, where he played a sad, socially inept repairman.
"That's not an easy place to go for someone like Tony," she says. "He's got those Clooneyesque looks, so to melt into the background isn't easy. He could not have been more effective in that role."
Jennifer Madden is Estrella's life partner. The two bought a home in Cranston, making it easy for Estrella to run to work —  literally — on many days, a prime way the trim young man stays that way. Madden is a lecturer at Wheaton College and will occasionally bristle when people talk about Estrella's intensity.
"Sometimes they say it like it's a bad thing, but he's just so incredibly passionate about what he does, which I admire very much," she says. "It's amazing to me how he cares so much about the theater and makes sure other people get parts, picking a season and having something for all actors, something they can sink their teeth into."
Estrella's not a possessive actor or director, opening the process to all involved. "Tony's directed me and he's terrific, knowledgeable and collaborative," says actor Richard Donelly, husband of Trinity Rep actress Phyllis Kay. "If you have something you're working on as an actor, like most good directors he'll stop and talk about it."
A misconception about the seemingly serious Estrella is that he's humorless. "People are surprised that he's also an amazing comic actor," Madden says. "He makes me laugh every single day." He's been busy not just at the Gamm, but doing occasional TV or movie work; he played the young Vincent Barberra on episodes of the TV series "Brotherhood," which is set in Rhode Island, and a short scene with craggy-faced actor Tommy Lee Jones in The Company Men, a movie to be released later this year.
Watching Estrella act is like observing a chameleon. In a "Law & Order" episode, he plays a very prim and proper research scientist. At the Gamm in Awake and Sing!, a Clifford Odets classic, he's Moe Axelrod, a gum-chewing, tight-jawed, bitter WWI veteran with a missing leg and a misogynist attitude who evolves into a vastly more complex, harder-to-figure person. In the Gamm's Cat on a Hot Tin Roof, he's well cast as the handsome, deeply troubled Brick Pollitt, evoking a raw, wounded emotion that no amount of liquor can drown.
And then there's his four-minute big-screen debut in The Departed, so different an experience from acting in front of a theater audience. A movie actor performs for one set of eyes — the camera's —and ignores the dozens of people hovering around, the lights and the mikes dangling overhead.
"It's like Disney to a kid, a film set is its own world," he says. "Everything is possible there. You create a crazy, fake world."
In The Departed, he's bitch-slapped by Alec Baldwin. "That scene wasn't in the script. They asked me later if I wanted to do it and if I wanted a stunt double," he says. "I said I'm doing this. So they padded me up and I got slammed into the wall. It was great."
Absolutely nothing in his youth foretold his becoming an actor. The only acting in the family was the very minor part his mother, Donna Rae, had as a non-speaking extra in John Wayne's The Green Berets when she was visiting a relative at Fort Benning.
"In his third year at URI, he called and said he was going to be in a play," she says. "I was dumbfounded, and said okay. He got the bug, went onto the Trinity Rep Conservatory and got some wonderful training."
And nothing could have prepared her for a scene in The Pillowman at the Gamm where Estrella's character is shot to death, loudly and in a decidedly sanguinary fashion.
"I knew he was going to get shot, but they put this bag over his head and shot him and all this blood's coming out," she says. "I lost it. I'm in the front row screaming 'Oh my God! Oh my God.' "
"I must not have warned her," Estrella admits later. "She's seen me die on stage before, perhaps not so violently."
The Gamm was founded in 1984 as Alias Stage by seven members of the graduating class of Trinity Rep Conservatory, in a leaky abandoned mill building in Olneyville. It moved over the years, had its good and bad times and by 1993 staged just one show. In 1998, the theater accepted a naming gift from the Feinstein Family Trust, changing its name to the Sandra Feinstein-Gamm Theatre, honoring the late Sandra Gamm, an actress and arts supporter. It gained coveted Actors Equity status in 2004, Rhode Island's second year-round Equity house. (Trinity Rep is the first.)
The theater was growing, and made a deal with Pawtucket to use the abandoned National Guard Armory on Exchange Street, a gloriously handsome bit of turreted architecture that looms large near Route 95. The armory proper is being renovated now. Gamm does its productions in the adjacent carriage house, an intimate space seating some 135 (the new digs will more than double that). Estrella came to play at Gamm starting in 1996, but had been noticed by notable actors on the Rhode Island scene long before.
"I had seen Tony do scenes in Brian McEleney's class at the Conservatory and was just blown away," says Fred Sullivan Jr., a twenty-five-year acting veteran at Trinity Rep, guest director at the Conservatory and director at the Gamm. "His work ethic is just extraordinary."
A few years later, the Gamm called Sullivan and asked him to direct Hamlet. He asked who was playing the dashing Dane.
"They said Tony. I said 'I'm there,' " Sullivan says. "As they say, it was the start of a beautiful relationship."
Sullivan's directed fourteen shows at the Gamm — Estrella's been in twelve of them, including Awake and Sing! earlier this year, which Sullivan directed, a production that earned the Gamm its second straight Elliot Norton Award.
"Tony never settles," Sullivan says. "He never says 'let's repeat ourselves.' We're doing Much Ado About Nothing this fall, and we did it nine years ago, but it's completely different this time. He correctly believes you change as you get older, you do things differently, you see things differently."
Gamm has long been a place of serious theater with premier productions of plays such as Radio Free Emerson, gritty chestnuts including The Grapes of Wrath and the emotional The Elephant Man, not to mention all manner of Shakespeare; the next season opens with a double dose of the Bard.
Is Estrella ahead of his time? Sullivan smiles. "He looks twenty and has the soul of someone fifty-five. He is infinitely castable, looks like a model but is really bright. He has the taste and the instinct to do whatever he wants."
The Gamm is closing in on its goal of 1,850 subscribers — revenue that pays 50 percent or more of its $1.2 million annual operating budget. As passionate as the actors are about the performance, so are many of its long-time ticket holders like Barbara Ruttenberg, of Providence, a theater junkie who's been coming to the Gamm since the start.
"I like serious, challenging theater and the Gamm has it," she says. "When I was younger, I used to go to musicals, but now I like theater that makes me think, makes me look at the world in a different way and that's what they specialize in at the Gamm."
Sam Babbitt, Gamm actor and board member, has seen Estrella grow as a performer and director. Estrella had been up for the artistic director's job at the Gamm a couple of years before he got it, but wasn't ready, Babbitt felt. By 2003 he was, Babbitt says.
"When we first interviewed him, he had the same steam he has now, the desire, but wasn't sure how he was going to go about leading the Gamm," he says. "Two years later, he had a clear vision, a mature understanding of how theater could work and what it would take to sustain it. He took the helm and he's been fantastic."
The biggest single thing Estrella does is pick the plays, Babbitt says, a task that is chiseled in stone as being the artistic director's alone with no input from the board. The 2009-2010 lineup includes a pair of Shakespeare classics, a powerful look at depression in 4:48 Psychosis, the timeless The Glass Menagerie directed by Sullivan, and ends with Tom Stoppard's Rock 'n' Roll.
Board president Coline Covington calls Estrella one of the most kind and gentle people she knows. "He has such enormous poise, and one of my favorite stories about Tony is that several years ago, when Trinity did Hamlet, a reviewer led the review by saying the best Hamlet he'd ever seen was Tony Estrella at the Gamm," she says with a laugh. "Can you imagine, starting a review of one theater production by mentioning another?"
Estrella's star is burning bright right now and whether it will burn somewhere else, no one is saying. He says he's happy where he is, working locally and occasionally doing film gigs. He had moved to New York as a young man but stayed for only a few months, preferring to come back to a place where he knew he could make a difference, rather than struggling in a place where he was just another pretty face looking for somewhere to show it.
And that was gutsy and laudable, says Trinity Rep's artistic director Curt Columbus.
"Moving to New York or LA, you move for yourself," he says. "Moving back to Rhode Island was moving for community. That's the distinction. You choose to live here because you're here for the community."
The Gamm office is on the first oor of the Armory, but looks more like a basement, with tiny windows and industrial ductwork over tables holding boxes of promotional material and a big board tallying the current subscription drive. Near one wall is a storage cabinet bursting with rolls of toilet paper, while on a longer wall are rows of lights waiting to shine on Gamm talent.
Estrella's chatting with a staffer about posters for the coming season, and his need to be in on the design for the Shakespeare ones. She talks of what to offer a photographer and asks if it should be the same miniscule amount as always. Estrella laughs. No one's getting rich in theater in Rhode Island except for parking lot owners, he says.
"As an actor, you better have to do it, you better need to do it," he says. "It's what keeps you going when times are tough. And times are always tough."
Where does his intensity come from? He shrugs. He's used to it.
"I guess it started in college, I gravitated to theater there. It's a good place where you don't have to make the same impossible compromises politicians do," he says. "You can traffic more in your ideals."
His favorite role by far was Hamlet, which he'll not play again. It's a younger man's part but with the luck of the theater gods and good health, he says with a laugh, "Maybe I'll get to do King Lear some day."
If all this went away, could he see himself working in an office? Clearly, that's not an option. Acting is in his blood, and maybe writing as well. He'd like to finish a novel he's started. It's the arts, always the arts, because for some reason, this son of a mother who raised four kids and a dad who was a union rigger was drawn to the artistic side of life that pulled him in like a magnet and will never let him go.
"It's not as acute, but yeah, it's there. Theater gives you that wonderful opportunity to publicly humiliate yourself. You have to be willing to go out and fail and achieving that incredible freeness as a result."
But it's more than fright, it's an energizing power, he adds, of taking that deep breath, hoping you've rehearsed well, stepping on stage and inviting a few hundred people into what you're creating, as much for you as for them. Maybe more so.
"They're not there to watch you fail. They're with you to take them into this world," he says. "And what fun it is."