The Clamarati's Annual Clam Cake Crawl Results Are In
This small group of friends spends a day driving across Rhode Island sampling clam cakes at various venues and scores the results.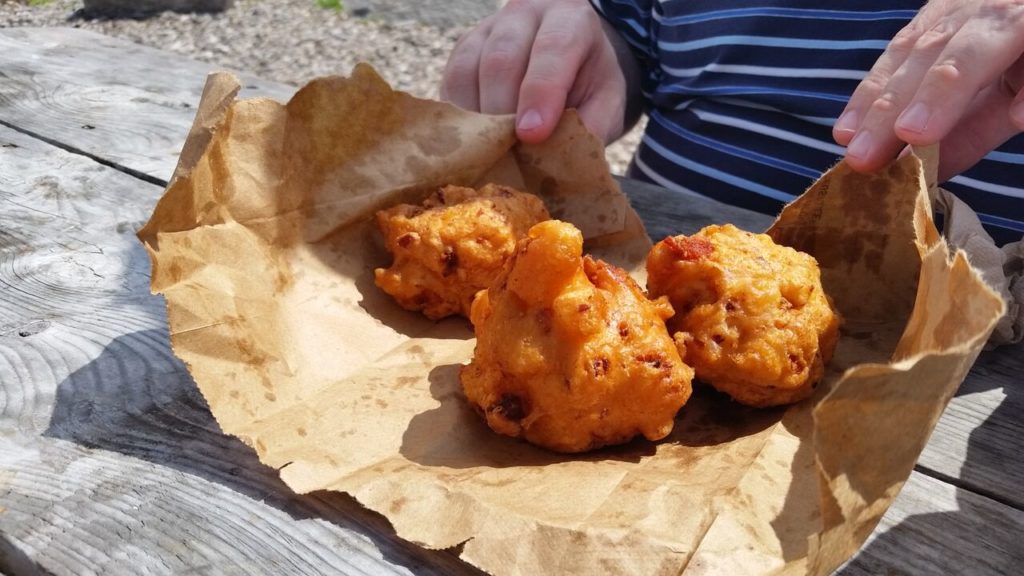 Who has the best clam cakes in the state? Renee Bessette and friends set out to determine just that last Saturday for their third annual Lil Rhody Clam Cake Crawl. The Elmhurst resident and friends Joe Mecca and Carol Caulfield-Mecca, organize a small group that they call the "Clamarati," to spend a day driving across Rhode Island sampling clam cakes at various venues. Over the years, they've sampled from more than twenty-five spots.
This year's crawl involved a team of fifteen people (thirteen tasters, and two ride-alongs), and thirteen clam shacks, including spots Aunt Carrie's, Evelyn's Drive-In, Anthony's Seafood, Cap'n Jack's, Blount Clam Shack at Crescent Park, the Hitching Post, Flo's Drive-In at Island Park and more.
Bessette (pictured, right) says the idea for the Lil Rhody Clam Cake Crawl came more than three years ago, when the Rhode Island state legislature contemplated declaring calamari as the official state appetizer. Bessette and Mecca discussed the issue on their former podcast. "We didn't think that was right because you can get calamari everywhere," says Bessette. "You want to go with something that is specific to the state. You can go with stuffies, which is a good response, but the real answer is clam cakes."
This got her and Mecca thinking about a way to determine who has the best clam cake in Little Rhody in a single day. Bessette's blog, Only in Lil Rhody, became the epicenter of the clam cake challenge, where the results from each crawl are posted along with photos from their day-long annual adventures. With a group of up to thirteen people weighing in, results are tallied from scorecards to declare a winner each year.
Score cards are made up with the various criteria, including crispy exterior, soft interior, dry/moist, clam-to-cake ratio and what they call "clambiance," or overall clamshack experience. "We had four cars rallying around the state," says Bessette. "We'd order a dozen clam cakes at each spot, take one, eat it and rate it." The group tries not to make their objective obvious while they are hot on the trail.
"We don't publish our itinerary. We don't want the clam shacks to give us their best clam cakes," she says. "We want to get what everyone else is getting."
When it comes to judging, everyone has his or her intimate preference, she says. "Some people like them soft, some like them crunchy, some like nubbins on it, or big chunks of clam in it versus tiny bits," she says. "Another thing people get excited about are nubbins. They are protrusions – they look like little appendages coming out – or is it just an oval or ball that has been scooped out of a vat and thrown into a fryolator?"
She says the most important qualities that determine a good clam cake are clam-to-cake ratio and nubbins. "When you first bite into it, did you taste any clam? Did you get any actual clam or was it just clam essence or no flavor?" she says. "We've been to some places where the chunks are sizable, maybe a quarter-inch big, while others have a shaving of clam or a tiny speck, which is not fun. You want some hunks in there. And are there jagged things coming out of it? That's essential to a good clam cake."
To find out the winner of this year's Lil Rhody Clam Cake Crawl, check out Bessette's blog, Only in Lil Rhody.
Joe Mecca holds up a clam cake at the Hitching Post.