The Cheese Stands Alone
With the debut of Narragansett Creamery, Rhode Island finally has an artisan cheese to call its own.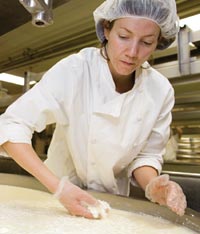 Louella Hill lays her left palm gently atop a floating mass of snowy white cheese curd, slowly coagulating in a forty-gallon, stainless-steel vat beneath a cloud of steam. "This is my favorite part," she says and smiles as her fingers break the surface and a river of golden watery whey skims across the top. It took hours of careful tending, an intricate dance of milk, enzymes, vegetable-based rennet, heat and patience, to form this delicate semisolid layer. Now the curd will be stirred and washed for a few more hours, drained, packed into forms, pressed and aged for four months. Twice a week the rounds are turned over by hand and sprayed with a briny mist. "It's really a magical process," says Hill. This vat, a long day's work, will produce five ten-pound rounds of Divine Providence artisan cheese.
The artisan cheese is a first for Rhode Island. Hill spent years learning the craft from experts in Tuscany, New York and Maine, but her dream was to be a Rhode Island cheesemaker using milk from Rhode Island farms. She struggled to cope with the state's food regulations, which are not designed for small-batch operations. "It would cost tens of thousands of dollars, or more, to build a facility that would meet all the health standards," she sighs. She tried to find a way to fund a co-operative facility that local farmers could share. That led her to the state health department, where a helpful official told her about Providence Specialty Products.
"I had no idea there was anyone making cheese in Rhode Island," she says. The low-profile company lives in a nondescript building between a knife factory and a welding shop on the outskirts of Olneyville. They produce 100,000 pounds a week of high-quality mozzarella curd, feta and ricotta for the wholesale market. When Hill met Mark Federico, the owner of the company, things fell into place. "We were eager to start selling direct retail to the local community," Federico says. "The time was right." His best feta won a national award last year, and his staff was developing a hand-dipped ricotta packed in three-pound tins for the specialty market. "There's a wealth of knowledge and talent here," says Hill. "And nobody knew about them. They won this amazing award, and who heard about it?" She went to work for the company two days a week as a cheesemaker, and the Narragansett Creamery artisan division was born.
For now, the artisan division mainly comprises Louella's vat and a stack of shelves in the corner of a storeroom where the cheese ages in the open air. A special aging room is in the works where the staff will have precise control over temperature and humidity. "Every batch is an experiment," says Louella, "and then it takes four months to find out your results." She keeps careful notes of exactly how each batch is made, so she can later replicate her favorites. "One or two degrees can make a difference," she says. So far, she's created several different kinds of cheese with varying flavors and textures. Some are sticky and plasticky on the tongue, others dry and salty; one is a bit stinky, another is chewy with a whiff of caramel. All of them are rich and satisfying.
She returns to the vat to check on today's batch. A stainless steel arm gently stirs the mix as Louella dips a thermometer in and swirls it back and forth. She immerses both hands and lifts them out, her gloved palms filled with tender bits of curd. "You don't want to break them, but let them separate into smaller pieces on their own," she says, gently squeezing until they fracture and fall. Soon it will be time for washing, when the whey is drained off and buckets of fresh warm water are dumped into the vat. It's steamy, exhausting, tedious work, but Louella thrives on it. "I love the physical engagement of making food. It's much more thrilling than policy work," she says. For several years after graduating from Brown, Hill was executive director of Farm Fresh Rhode Island, helping to promote farmers' markets and connect local farms to buyers around the state. Those connections to the local-food community helped her to introduce the Narragansett Creamery line.
On a Saturday afternoon in December, Hill joins the grand opening of the Providence Wintertime Farmers' Market, tucked into a gallery space at AS220. Outside, a cold wind is whipping, but indoors, the market radiates warmth, bustling with elbow-to-elbow shoppers, neighbors greeting neighbors, old folks and college kids, moms with arms full of babies and bags, all in hats and scarves and bulky coats, like a scene out of Dickens. Fresh Christmas greens scent the air, piles of "Matunuck Oystiz" nest in mounds of ice. Vendors offer stacks of bright carrots and hearty beets, this morning's eggs and fresh-baked bread, cider from Rhode Island apple trees and honey from local bees. Louella keeps free samples coming for the nonstop crowd, and sells out of two of her cheeses.
A few days later, on a darkening Monday afternoon, a different crowd filters into Eno Fine Wines and Spirits on Westminster Street in downtown Providence for Narragansett Creamery's first cheese tasting event. The shop, elegant and urban, is appointed with tall wooden shelves and deep glass coolers filled with wines and liquors from around the world. Platters of fresh fruit and carafes of white wine surround the star players—towering stacks of Queso Blanco, Salty Sea, Divine Providence, and Atwells Gold cheeses—as the narrow aisles of the store fill noisily.
Howard Snitzer, executive chef of Newport's 41° North, is here, clad in a white chef's jacket. "It's exciting to work with local farmers," he says. "We will definitely be using this cheese in our menus, no question." Matt Jennings, owner of Farmstead on Wayland Avenue, says his Providence store, along with Venda Ravioli on Federal Hill, will be among the first to offer the Narragansett Creamery line. "It's a good time to be a lover of food and to be a Rhode Islander," he says. Mayor Cicilline arrives, laughs that this is the first time he's ever been asked to a cheese cutting, and ceremoniously slices in half a perfect round of Divine Providence.
But in Louella's vision of the future, even better times are coming. Her first cheeses were made from local milk, from less than fifty miles away, but she plans to switch to milk exclusively from Rhode Island farms. Several goat farmers in the state are already experimenting with cheesemaking, and they hope to start sales to the public sometime this year. Rhody Fresh (the local milk co-operative) cheese is in the works as well. "We hope to inspire many more cheesemakers," Louella says. "It's a wonderful thing to have food produced in the community, for the people in the community. It's only a matter of time until we have fifteen different cheese producers in Rhode Island, and we'll all have a cutting together right here in Providence on the State House lawn," she says. "That will be a beautiful day."
Eating Our Curds and Whey
Narragansett Creamery produces five artisan cheeses (and yogurt). For more information on the cheeses and where to buy them, go to richeeses.com.
Queso Blanco: Better known as farmers' cheese. Simple, good, meltable and versatile. Perfect for tacos and sandwiches, or baked in lasagna.
Salty Sea: A crumbly, old-world-style feta made with whole milk and sea salt.
Atwells Gold: A rich, well-aged Italian grating cheese, ideal for the top of pasta.
Renaissance Ricotta: Kettle-heated then hand-dipped, this ricotta can be enjoyed savory or sweet.
Divine Providence: Semi-aged, raw-milk gouda-style cheese with a natural rind and a buttery, smooth finish. Aged three to five months.
Yogurt: Thick, creamy and tangy, packed in glass jars to ensure its purity.