The Cheese Course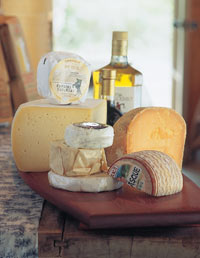 Selling cheese wasn't in the original plan. But now the owners of Milk & Honey Bazaar are the local authority on this delectable nectar of the cows.
AS I DROVE ALONG Main Road heading south toward Tiverton Four Corners, I wondered if I would recognize Milk & Honey Bazaar. I had stopped in nearly a year earlier on a late summer ramble with Cindy Salvato of Rhode Island Market Tours. Ever since, I'd had a picture in my head of the quintessential roadside stand.
Though I am somewhat famous for having an abominable sense of direction, I decided to forgo MapQuest, ignore house numbers and trust my instinct. Was the lovely barn a figment of my imagination, or was it really the perfect cheese-shop-and-more? And would I, approaching the unfamiliar area, be drawn in once again by the beautiful French glass doors, colorful flowers and hand-lettered signs promising good things within?
Happily, Milk & Honey Bazaar is right where I'd left it, and every bit as delightful as I remembered.
If Tom and Jennifer Jansen had been able to find a house in the overpriced Greater Boston area, they might never have opened a shop in Tiverton. Tom grew up in nearby Westport –– Jennifer, in Maine. They met while working in the restaurant at the Marriott Copley Place. Jennifer then moved to the Museum of Fine Arts, where she organized catering for special events. They started house hunting in and around Boston with no success and realized that more and more they were visiting friends and family in Westport on their days off. Finally, Jennifer remembers, "We had one of those 'duh' moments. We were coming down to this area so much, we said, 'Why not buy here?' " They found a house in South Dartmouth and commuted to Boston for months before deciding it was time for a change.
That change, they initially thought, might be a jazz-tapas supper club, or some other kind of restaurant. Tom had been a rock musician in his college days, and music is still a huge part of his life (he's half of the acoustic music duo Toph & Tom). They finally decided that the business they wanted would be something social and food-related, but without the long hours that restaurant work requires. A cheese shop fit the bill, and filled a gap in the Four Corners community.
They began looking for a location, something close to home, and spied the rustic wood structure on Main Road, built on land that formerly housed a small Narragansett Electric substation. Designed by James Weir, a Boston architect interested in historic preservation, who with his wife, Roz, owns many of the buildings in Four Corners, the nine-year-old barn was built to be a farm stand. Jennifer recalls, "We met with the Weirs and instantly knew we wanted the space, but I tried not to get too emotionally attached because I assumed we couldn't afford it. After two hours of walking and talking with them, we finally worked up the courage to ask about the rent. We were so surprised to learn it was actually within our budget."
The Jansens set out to learn as much as they could about cheese, by visiting fancy food shows around the country and tasting, tasting, tasting. They met with distributors, asked questions and tasted more. They also drew on local resources, making connections with farms and artisan producers along the South Coast. And they kept on tasting.
In May, 2004, the Jansens opened Milk & Honey Bazaar with a selection of cheeses and accompaniments from around the world and produce from farms around the corner.
Many of the selections were new to me, so I asked for suggestions for an after-dinner tasting plate for cheese lovers. Tom began with Monte Enebro, a Spanish semifirm goat cheese with Roquefort mold on the outside ($24 per pound). Piave Vecchio ($15 per pound), a firm Italian cow's-milk cheese with qualities similar to a young Parmigiano-Reggiano, was introduced to Tom by a woman who lives near the shop. Finally, Tom recommended Tomme Du Levezou, a sheep's milk cheese from France ($21 per pound).
I also sampled several cheeses that demonstrate the variety available at Milk & Honey Bazaar: Berkshire Blue, from Great Barrington, Massachusetts; two from the King's Island Dairy in Tasmania; and Vento d'Estat, an Italian cheese wrapped in herbs and grass, and aged, like wine, in oak barrels for more than a year.
The eclectic cheese offerings appeal to adventurous customers, to nearby restaurants like Bay Voyage Inn in Jamestown, the Boat House in Tiverton and Crave in Wakefield, and to caterers like Westport's Smoke and Pickles. For the less adventurous, Milk & Honey Bazaar does carry a few basics like havarti and jarlsberg. To convert cheese novices into cheese wizards, the shop hosts tastings every few months for groups of up to eighteen people through The Learning Connection and Southcoast Learning.
No cheese should have to stand alone, so the Jansens sell plenty of accompaniments: a small selection of imported and locally made pates, charcuterie, cornichons and mustards. My new favorite crackers, from The Fine Cheese Co. in Bath, England, actually feature illustrations of the ideal cheese pairings right on the box; the flavorings range from creamy and buttery to rosemary and pepper.
Though local products comprise only fifteen percent of their inventory, the Jansens remain committed to searching out and stocking the best artisan foods from the region to complement their cheese offerings. From Middletown, they purchase Provencal Bakery's bread and Cory's Kitchen chutneys, jams and fig nut bars; from Little Compton, Babette's Feast cheese-and-herb pinwheels; and from Tiverton, Highland Greenhouse herbs, flowers and vegetables, and Bee Bop Apiary honey.
ONE OF THE MOST UNUSUAL local products at Milk & Hon-ey Bazaar, Mor-Sels finishing salt, is made by grinding organic gray sea salt from Guérande, France, with lemon zest and herbs from Little Compton. Metal sculptor Peter Morse — RISD grad, designer of everything from furniture to restaurant interiors, and now food entrepreneur — grows the herbs in his home garden, and creates Mor-Sels in the commercial kitchen at neighboring Wishing Stone Farm. The salt is the first of a planned line of products, including chutneys and vinegars.
Peter's work as an artist takes him to Europe for several months each year, and long before he approached the Jansens about stocking his product, he was a fan. "I've been buying cheese and bread at their shop practically since the day it opened," he explains. "It's as European a shop as you can find around here."
An avid home cook, Peter experimented with his salt mixtures on gooey goats' and sheeps' milk cheeses, and discovered that the mixing of textures, the soft cheese with the crunch of the salt, brought out the best in both. (Salt and cheese — would you have thought of it? I hadn't.) At the shop, he and Tom have sampled some flavor combinations to introduce the product to customers, and they plan to do more tastings throughout the year. "Tom and Jennifer have been very, very supportive," Peter notes. "They were the first nonseasonal venue to carry my product. Now we're in Whole Foods and other markets, but the Jansens are still my best customers."
Milk & Honey Bazaar typifies the "mom and pop" business that forms the backbone of small towns everywhere. On busy summer weekends, and in the month between Thanksgiving and Christmas (Milk & Hon-ey stays open year-round), Tom's uncle, cousins and stepmother pitch in to help. Jennifer creates popular gift baskets and cheese platters. The shop sells beautiful mixed-wood cutting boards handmade by Tom's brother-in-law, Paul Slingerland. And one-year-old Tom Jr. charms one and all, including this writer, on his occasional visits to the shop.
Jim Weir, whose vision and passion have helped to shape Tiverton Four Corners into a destination for lovers of art, antiques and food, praises the Jansens' contribution to the economic viability of the area. "They've done an extraordinary job in relating to the existing community by providing really personal service. Their energy has been contagious, and during the past few years, several new businesses have started up at Four Corners that all work with, and complement, each other."
"I'm psyched to come to work every morning," Tom tells me with glee in his voice. "We love this area; it's been such a welcoming community. We have awesome customers, and many of those customers have become friends."
TO KEEP TRACK OF THOSE FRIENDS, Tom and Jennifer maintain a "tasting box." Sitting out on the counter for all to peruse, the small plastic box contains index cards, filled out by customers, recording the cheeses they've tried and liked, the names of which they might otherwise forget.
(You've had this experience. You buy the most delectable cheese, and months later you go back for more, but cannot remember anything about that cheese — except that you loved it. And you can't understand why your cheesemonger, unlike a bartender, might not remember your favorites.)
The tasting box serves an important social function, too. If you're invited to dinner and know that your host is a customer, you can check out your host's tasting card, and select a favorite cheese as a gift. According to Tom, there's quite a bit of good-natured "stalking among friends," as neighbors stop in and scan through the cards to see who's eating what.
Great idea. Next time you're invited to tea and don't want to arrive empty-handed, simply ask your host: "By the way, are you registered at Milk & Honey?"
Milk & Honey Bazaar, 3838 Main Road, Tiverton, 624-1974, www.milkandhoney bazaar.com. Mor-Sels Finishing Salt, mor-sels.com. To reach Lydia Walshin directly, email lydia@ninecooks.com.