The Botanical Center is a Stunning Ceramic Wonderland
A new art exhibit brings a mermaid, spitting daisies and a manscape to the already-gorgeous gardens.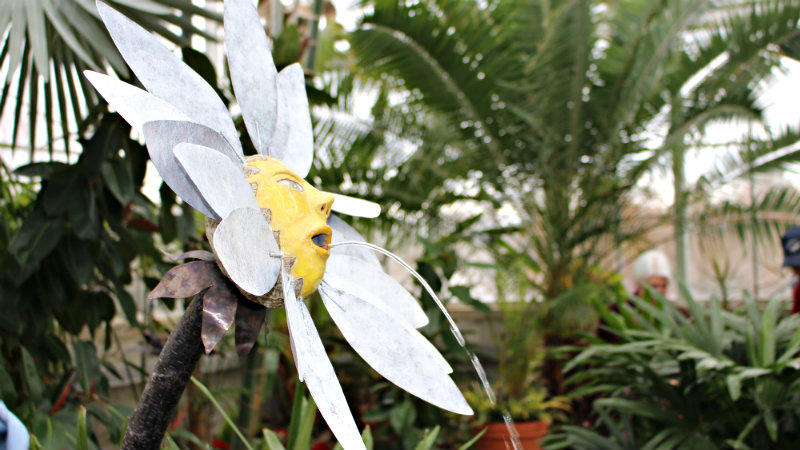 Providence's Botanical Center, located in Roger Williams Park, is a joy all on its own. Carnivorous plants, palm trees, the happiest red roses: I like to sit by a fountain and just breathe, knowing the air is purer there. (Not to mention the space is downright toasty; did spring lose its way or something?)
If this sounds like heaven to you, wait 'til you see "Botanica Ceramica," the Botanical Center's first-ever art exhibition. The show, curated by local ceramicist Kate Blacklock, coincides with the National Council on Education for the Ceramic Arts' annual conference in Providence later this month.
Here's what Blacklock had to say about the show, which features nine local and national artists: "For this show, I picked artists with work that communicates with the plant world. I tried to choose a range of work and a range of artists at different points in their career. There are forty or fifty pieces in the show."
From large-scale vessels to fairytale scenes and lifelike ceramic plants, this exhibit is more than a breath of fresh air; it's a dream-like wonderland where your imagination can truly run wild. Cough up the three bucks ($1 for youth and free for kids younger than six!) and let go. You'll love it. Here's a sampling of the exhibition, on view through March 29:
Kathy Ruttenberg's "Amphitrite":
Kathy Ruttenberg's towering "Manscape":
Erik Wilhelmsen's "Trio":
Ben Anderson's "Mussels and Clams":
Which is a living, breathing plant and which is art? Select works by Leigh Taylor Mickelson and one carnivorous plant from the Botanical Center:
Visit the Roger Williams Park Botanical Center, 1000 Elmwood Ave., Providence, to view the exhibit. Hours are Tuesday through Sunday, 11 a.m. to 4 p.m. Admission is $3 for adults, $1 for youth and free for children younger than six. Click here to learn more.