The Big Read Returns to Rhode Island
This year's book is Louise Erdrich's acclaimed "Love Medicine."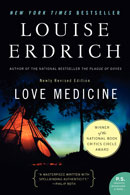 Libraries, universities and nonprofits around Rhode Island are gearing up for this coming school year's Big Read, a national program that encourages people in participating states to read the same book.
This year, the program is being run by the Tomaquag Museum, which received a $15,000 grant from the National Endowment for the Arts to run it. It has partnered with twenty-two organizations around the state to hold events. The featured book is Louise Erdrich's acclaimed, Love Medicine.
"A story about passion, family and the importance of cultural identity, Love Medicine examines the struggle to balance Native American traditions with the modern world. The author, using an eclectic range of comic and tragic voices, leads the reader through the interwoven lives of two Chippewa families living in North Dakota. This modern classic is an often sad, sometimes funny, look at the way family and tradition binds us."
Event details are still being finalized, but the kickoff for the Big Read nationally is August 15. Tomaquag is planning to have the list of events on its site then. The first Rhode Island event, the Big Read Kick Off, is scheduled for September 19 at 6:30 p.m. at the URI Multicultural Center. We chatted with Loren Spears, the executive director of the Tomaquag Museum, about the range of events tied to the Big Read:
The book talk: is with groups that have read the book. And then I will come in as a representative from Tomaquag Museum and from the native community and chat with folks, answer their questions, give them some insight into native culture and perspective on the book. We'll talk about the themes and all of those kinds of things in relationship to my own culture. Now this story is a different group, but in relation to my own native community, the Narragansett/Niantic community.
Roundtable discussions: That's when we're going to be having some forums in libraries, at some of the universities, where there will be native educators. We have Dr. Elizabeth Hooper from Brown, Dr. Maria Lawrence from Rhode Island College, Dawn Dove, tribal elder, educator and historian will be participating in the roundtables and myself. And then one tribal elder as well. At the roundtables, people don't have to have read the book, because we're not going to tell you every detail about the book, we're going to talk about themes that are in the book, that legacy and that historical trauma and how that affects native communities today and the themes of family and community, with the idea that that might encourage people who haven't read the book to read the book. And of course people who have read the book can certainly enjoy it as well.
Arts Reflection Program: We're going to pick a couple of quotes from Love Medicine, and we'll read those quotes and then talk about the general themes about family and community and those kinds of things. And then have participants create collages about their own family, their own community and how everything from your own history interrelates to who you are today. That's the whole concept of this book. It's how history connects to your present, which forges your future.We're doing open-end projects, some with youth, some with adults, it depends on the location. But they're open-ended and anyone can participate, and you don't have to have read the book to participate in this.
Cultural Arts Performance:Tomaquag Museum Native cultural educators will perform music, dance and storytelling. Confirmed so far for the kickoff I have Paula Dove Jennings, who is a Narragansett/Niantic storyteller who is nationally known. I have Thawn Harris, who is also a tremendous Narragansett/Niantic artist. He is going to be doing an honor song. There will be some people playing traditional flute. The other piece of that, I'm going to have tribal Elder Dawn Dove doing the Opening Prayer. It'll be a bit of performance and a bit of PR about the event to get people excited about all the things that are going to be happening.
Lectures: I have a few places that opted to do lectures. We call them lectures but they're like talks. They've gone into various topics. At URI, their multicultural week happens to be on education, so we're doing education native-style there. At the Providence Athenaeum, we're looking at the healing of historical trauma through arts, so it's a native presentation talking about how we utilize these programs and the learning and teaching of art to heal communities.
Exhibits: The Haffenreffer Museum and Warwick Museum of Art are going to be doing Native American exhibits in partnership with this project. And we're going to have an exhibit in partnership with the elders in the tribe at Tomaquag.