The 30 Best Streets to Live On in Rhode Island
Whether you're after a saltbox on a winding country road or a townhouse overlooking a cove, you can find it here.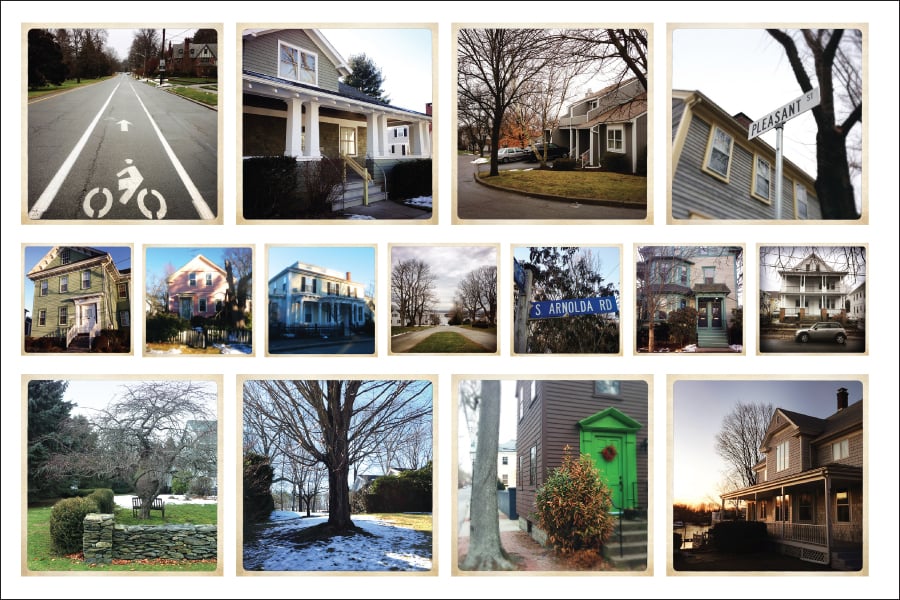 We've all heard of curb appeal, but deciding where to live goes way beyond pretty landscaping. To determine some of the most desirable roads to live on in Rhode Island, we consulted realtors and residents, then drove all around the state considering factors such as attractiveness, proximity to amenities including libraries, parks, restaurants, shopping and beaches, and looked for value.
We found plenty of contenders in a range of communities and prices. And we also learned that some of what makes a street stand out is the neighborhood spirit of the people who live there.
Providence/North Providence
1. Blackstone Boulevard, Providence. One of the best-known streets around, the Boulevard is home to some of the most diverse architecture in the state, from condos in brick buildings to Victorians with wraparound front porches to modern new construction. The bike and walking paths are busy with cyclists, runners and strollers. Lippitt Park regularly features events and a popular farmers market, and the street is close to the shopping and restaurants on Hope Street.
2. Barnes Street, Providence.
With Prospect Street on one end and Thayer Street on the other, residents of this East Side street are bookended by both the history of Brown and RISD and the current student bustle. Lined with historic buildings in a palette of yellow, green, pink and beige, the street includes single-family houses, condos and apartments. It's also near Brown Street Park, which hosts a community garden and events like a Halloween parade.
3. Arbor Drive, Providence. This beautifully landscaped area was once home to an all-girls school and later developed into Elmhurst Arboretum. The gently curving street features unusual trees and plants for Rhode Island and modern townhouses in shades of gray, yellow and beige in the $155,000 range. Just off Smith Street, Arbor Drive is a quick trip to downtown Providence and close to Roger Williams Medical Center.
4. Parade Street, Providence. Located on Providence's West Side, this street showcases some of the successful revitalization that has gone on in the neighborhood. The details and splashes of color on the updated Queen Anne and Victorian houses reflect the creative spirit of the area. The street overlooks Dexter Park, which is home to many community events and a farmers market, and it's a short walk from the shops and restaurants on Broadway and Westminster streets.
5. Wellesley Avenue, North Providence. Part of the historic Fruit Hill neighborhood, this short street is dotted with renovated homes. The colonials and bungalows, which can list for about $175,000, make the street a good choice for first-time buyers. It's also convenient: Located off Smith Street, it's close to shopping in North Providence and a quick drive to downtown Providence.
Aquidneck Island
1. Second Street, Newport. Where else can you hear history in the tolling of church bells but also stroll to the Tall Ships Festival at Bowen's Wharf? Look no further than Newport's Point neighborhood. Tucked just off the bustle of America's Cup Avenue, it's been home to fishermen and diplomats alike. Many of the understated colonials have been restored and the neighborhood is dotted with secret gardens. Residents are just a quick walk from glistening Newport Harbor and can catch the sunset over the Pell Bridge from waterfront Storer Park.
2. Indian Avenue, Middletown. Multimillion-dollar waterfront estates with beautiful landscaping populate one side of Indian Avenue, with some more affordable houses in the $500,000 range on the other side. Residents protect their privacy — they once fought to keep out an MTV reality show — and bicyclists and walkers enjoy breathtaking views of the Sakonnet River. The nearby Norman Bird Sanctuary adds to the bucolic feel. They're also minutes from First and Second beaches and a ten-minute drive from downtown Newport.
3. Wapping Road, Portsmouth. Living on Wapping Road is an experience in contemporary rural life. Stone walls and old trees dot a landscape of saltboxes and recently constructed colonials set on lots that range from small to hundreds of acres with sweeping views of the Sakonnet River. Neighbors include cows grazing at Aquidneck Farms, veggies and ice cream at Sweet Berry Farm and Greenvale Vineyards, where tastings are popular. It's also minutes from Sandy Point Beach, hiking trails, horse farms, golf and downtown Newport.
4. Grinnell Street, Jamestown. This tree-dotted street is nestled in the heart of Jamestown's village. Lined with capes and cottages — many of which have been restored — it has some houses in the $350,000 to $600,000 range in a town known for its multimillion-dollar properties. It's got a neighborhood feel with the occasional basketball hoop, and is a quick stroll from the library and the galleries, shops and restaurants along Narragansett Avenue.
5. Ayrault Street, Newport. It's bookended by stately red-brick Ayrault House and Broadway — Newport's answer to Manhattan's East Village. Home to historic Victorians designed by architects like George C. Mason, the street features listings that top the $1 million mark but also includes capes and Victorians that have been subdivided in the $575,000 range. And the shops and restaurants of revitalized Broadway, downtown Newport and Easton's Beach are just minutes away.
South County
1. Wagner Road, Westerly. Just tucked off Post Road, Wagner Road is part of beautiful Shelter Harbor, a community that began as a summer colony for musicians in the early twentieth century. Houses on streets named for composers (Wagner, Verdi, Bach, Handel) vary from capes to glass-filled modern homes and much of the area's wooded beauty has been preserved. Lucky residents can boat and swim at "Quonnie" Pond and enjoy the beach at Weekapaug, plus have access to tennis courts.
2. South Arnolda Road, Charlestown. For many residents of this windy, wooded road, the beauty of Ninigret Pond is literally in their backyards. Private, but with ocean access and, residents are close to Route 1A, but can kayak in the salt pond amid the swaying sea grass or just take in the view of Block Island. If that doesn't sound heavenly enough, they can also check out the stars in the observatory at nearby Ninigret Park.
3. Pleasant Street, Wickford. An embodiment of all that's great about small-town Rhode Island, Pleasant Street overlooks the bobbing masts in this historic fishing village's working harbor. Houses range from historic colonials to renovated bungalows, and the street ends at the Wickford Yacht Club. Residents are also a short walk from the antique stores, galleries and restaurants that comprise what's been called one of the best Main Streets in America.
4. Elm Street, Wakefield.  The village has undergone a revitalization in recent years, and its houses have been part of it. Elm features historic colonials and a Victorian bed and breakfast; expect both wraparound porches and a modern sun room among the mix of homes. And talk about location: Close to South County Hospital and URI, it's about a two-minute walk down the hill to the antique shops, restaurants and other fun on Wakefield's Main Street.
5. Center Road, Block Island.  A quiet street that runs through the middle of Block Island, Center Road is near everything that makes the island such a destination: the beaches, nature trails, restaurants and shops. Beautiful houses range from $500,000 to more than $1.5 million, with breathtaking views of the ocean and the Great Salt Pond. It's also close to the island's school, community center, post office, library and ferries.
East Bay
1. Alfred Drowne Road, Barrington.  Named for a farmer who founded a community here in the mid-1800s, this gracious, tree-lined West Barrington street is home to historic abodes like the Chapin-Waldron House and is listed on the National Historic Registry. But the recreation is modern: train tracks have been replaced by the East Bay Bike Path, which crosses the street, and residents of the close-knit neighborhood are close to a beach on the Narragansett Bay.
2. Lyndon Street, Warren.
 Right in the middle of the revitalized downtown, Lyndon Street reflects both Warren's historic architecture and creative spirit: The street is home to a renovated church and a former one-room schoolhouse. Residents can take in the setting sun at the waterfront, explore the East Bay on the bike path or wander among the restaurants, shops and galleries of nearby Main and Water streets.
3. Sunset Road, Bristol.  Once a summer escape for textile barons from the Pawtucket mills, residents of this street still enjoy sunsets over the Narragansett Bay from the porches of their gray-shingled homes. Neighbors in this close-knit community enjoy tennis, swimming and boating at a nearby beach, plus an annual lobster boil and pig roast. They're also close to the bike path and the shops and restaurants of downtown Bristol.

4. Middle Avenue, Tiverton.  It's a good sign when a street features a gazebo smack in the middle. Situated on a hill overlooking the Sakonnet River, Middle Avenue allows residents to take in the beauty of the water from the front doors of their colonials and Victorians. There's a feeling of being away from it all, but residents don't have to walk far to get to a marina or the library. And they're about a ten-minute drive along Tiverton's Main Road to the galleries, shops and ice cream at Four Corners.
5. Pleasant Street, East Providence. Nestled in the historic Rumford section of the city, this street is lined with well-cared-for ranches and colonials. It's home to the historic Bridgham Farmhouse, and the associated land has been turned into a nearly nineteen-acre conservancy that borders a two-and-a-half mile walking path along the Turner Reservoir. But it's also a quick drive to dining and shopping at Rumford Center and Newport Avenue.
West Bay
1. Spencer Avenue, Warwick. A throwback to the days before subdivisions, this wide street in the Cowesett area is known as "Little Spencer." Beautifully landscaped, the street is lined with historic homes, such as the Gardiner House set back from the street with stone walls, in addition to more modest capes. Located on a hill, residents enjoy views of the bay. They're also a quick walk from the shops and restaurants on Main Street in East Greenwich.
2. Sharon Drive, Coventry. You don't have to live along the coast for waterfront property. Residents on this street open their back doors onto Johnson's Pond, where they have long enjoyed fishing, boating and other water sports. Houses range from ranches to more modern styles. And a neighborhood association looks out for the health of the pond and hosts cookouts and fireworks.
3. Beachwood Drive, Warwick. Located in the Potowomut section of Warwick, waterfront Beachwood Drive features a mix of cottages and modern architecture, and the street provides stunning views. It's also a short drive from Goddard Park and the shops and restaurants of Main Street in East Greenwich.
4. Spring Street, East Greenwich. One of the many great streets in East Greenwich's Hill and Harbour district, Spring Street begins at Main Street and runs to Kenyon Avenue. It's dotted with well-maintained houses in a variety of styles — capes, colonials and Victorians — and touches such as a white picket fence or soft yellow paint only add to the street's charm. It's also just a quick walk from the shops and restaurants on Main Street and the harbor.
5. Fort Avenue, Cranston. Residents of this understated but beautiful street in Pawtuxet Neck can look out their windows to see boats bobbing in Pawtuxet Cove and the sun over Narragansett Bay. A beautifully restored Victorian from 1870 lists for about $500,000, but there are also more affordable townhouses. The charming shops and restaurants of Pawtuxet Village are a short walk away and downtown Providence is just down the road.
Northern Rhode Island
1. Silk Lane, Scituate. Less than a half-hour from the bustle of Providence, wooded Scituate feels like a world away. Located just off Danielson Pike, this quiet street is located in the heart of historic North Scituate Village. There's a white clapboard congregational church and library nearby, and it's across from a village green, which hosts a farmers market in the summer and pulls in lots of out-of-towners each year for the Scituate Arts Festival.
2. Country Way, North Smithfield. True to its name, the colonials, capes and ranches evoke a pastoral feel. The houses are set on sizable lots and the street maintains a rural character. Located just off Greene Street in historic Slatersville, the former mill town maintains its picturesque feel with a church and the village green at the end of the street. A walking path along Slatersville Reservoir, a library and a park with tennis courts and ballfields are also close by.
3. Sneech Pond Road, Cumberland.
Just off Nate Whipple Highway, this short street is home to historic dwellings, including a former carriage house. This rural enclave isn't a far commute to Providence or Attleboro. And the Arnold Mills community holds onto its history and community spirit with a Fourth of July celebration — now with a parade, concert and road race — that's been around for eighty years.
4. Briarwood Drive, Lincoln. Located right near the Blackstone River, the homes on Briarwood Drive have great views and are also close to a walking path. It's part of the Albion historic district, a village that is still home to mill buildings. Residents are also close to a conservation area, golf at Kirkbrae Country Club and a short drive from Lincoln Woods State Park.
5. Progress Street, Pawtucket. Part of Pawtucket's beautiful Oak Hill neighborhood, this street includes houses of a variety of sizes and styles, from renovated bungalows to larger homes. Just a quick walk from the Providence border, residents enjoy all the benefits of living along Blackstone Boulevard, including the walking path, events in Lippitt Park and the shops and restaurants along the cities' borders.