The Best Places to Live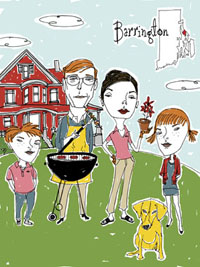 The Classic Suburbanite
Barrington
It's been called Borington, and that's just fine with the residents of this perfect little suburb. This is the best place to live if you're into the Scott's five-step lawn fertilizer program, weekend barbecues and teaching your 2.4 children how to ride their bike on a freshly paved street. Crime is low, 100 percent of the schools are considered high performing and the kids have an academic home advantage: nearly 80 percent of Barrington moms have at least a bachelor's degree, the highest in the state. What would the suburbs be without services and stores to cater to Ward and June Cleaver? Modeled after the village centers of New York's Westchester County, Barrington's downtown has a faux brick median running between the two traffic lanes and street lamps adorned with overflowing flower baskets installed and maintained by the local garden club. There are high-end women's chain stores, quaint boutiques and a friendly bookstore. The sign of a desirable town is the reaction you get when people discover you live there. You know you're in one when someone says, "Oh, you're in Baaaaaarrington."
The First-Time Homebuyer
Coventry
Some think Coventry has an identity problem. It's not a beach town like Narragansett, and it's not overflowing with convenience stores the way Cranston is — and that's okay. Though real estate costs are steadily rising throughout the state, Coventry's home prices have remained stable, with only a .4 percent median decrease from 2004 to 2005. The median single-family home price here is $259,250, well below the state median, $282,900. That's good news for the new homebuyer with sticker shock from prices in nearby West Greenwich, for example, where the median is $329,900. The schools are high performers, and its proximity to the big city to the east and the shore to the south make this ideal for both couples with children and single first timers wanting to stay in touch with urban nightlife.
The Culture Maven

Providence
There is more of everything in Providence: more crime, more traffic, more pollution and more people. There is also a lot more to do, which is what puts the "renaissance" in the Renaissance City. The influx of foreign nationals, students and professors who come to Brown and RISD influences the city's cultural life. Indian chefs and Brazilian and African artists dot the landscape of Downcity. The Providence Performing Arts Center stages acts from around the globe, and Trinity Repertory and the Rhode Island Philharmonic are on the top of every culture-vulture's list. Spend the morning reading Tolstoy at Coffee Exchange on Wickenden Street before heading to RISD for a continuing ed course on film, then trot down to Thayer Street and check out the latest mind-bending Sundance movie at the artsy Avon Cinema. And if you're looking for digs to match your aesthetic, even the East Side's housing has a pedigree, with architectural styles dating back to the 1700s.
The Fixer Upper
Middletown
Even when you're paying $389,450, the median cost for a house in Middletown, you may have to put in some sweat equity to really spruce up your investment. The town is sandwiched between Newport and Portsmouth, where property values are growing almost exponentially each year. If you're the do-it-yourself type, you've found project central. There are more hardware and home good stores crammed into this tiny community than nearly anywhere east of the Jamestown Bridge: Ace Hardware, Beach Hardware, Benny's, more than twenty specialty tile, landscape, paint and kitchen design stores, and the orange mecca of wannabe Bob Vilas, the Home Depot. This access to every home professional under the sun will feed your need to tame leaky plumbing, silence a creaky staircase, remedy a fussy boiler or just put in that exercise room your spouse has been bugging you about.
The Solitude Seeker
Burrillville
Mayberry on "The Andy Griffith Show" probably had a more exciting police blotter than Burrillville's. This place is quiet. With the sixth largest amount of open and protected space in the state, and only 284 people per square mile, this northern town could pass for Opie's hometown. The median age of the residents is thirty-seven, and families make up 26 percent of the town's population. This isn't a party-hardy crowd. The local police work hard to quell disturbances in town with a citizens' police academy, police station tours and a junior achievement program. Maybe the town has one of the lowest crime rates in the state because the cows outnumber the two-legged residents.
The Hipster
Pawtucket
If you don't think there's any place cool to live north of Providence, you haven't been to Pawtucket. Even though the city is still on the cusp, with some run-down areas and few amenities, there's also a growing arts community with theaters, galleries and film festivals. The shining stars of the city are its old mill buildings that have been converted into loft space for artists lured by a low-interest loan program and $4 to $6 per square foot prices. The proximity to I-95 and commuter rail service to Boston is another lure for the metro set looking for an affordable lifestyle outside the city. With only an eight-mile circumference, this is a small place, and it's easy to feel at home walking through downtown. Besides a vibrant arts festival every September (this year's performers include Bob Dylan and Aztec Two-Step), there's the Gamm Theatre, the All Children's Theater and the Stone Soup Coffee House, one of the largest folk music venues in New England. And if you're not convinced this place is hip enough, check out a couple of its new restaurants: Williams-Sonoma is profiling the recently reopened LJ's Barbecue in its catalog, and the MadHouse Cafe is about as trendy as it gets.
The Water Baby
Block Island
Island Boat Basin is like being on the set of Jaws. There are sport fishing boats with the occasional small blue shark hanging from the stern, kids sporting tiny orange life jackets and nets for catching crabs, as well as taxis carting beach chair-toting vacationers heading to the beach. If this isn't the place for attacking all water-related activities with abandon, we're at a loss. Sure, as far as jobs go, most of the big money is made catering to tourists in the summer, but if you're independent of the cubicle world, you'll be at home with the many writers and artists who come here seeking inspiration from the sea. From kayaking in the Great Salt Pond to surf casting along the island's twenty miles of coast, it's hard to decide where to get wet first, and if you have any doubt that Block Island is the idyllic place for the water baby in you, just remember that even the morning pastries are delivered boatside.
Married with Children
Warwick
When you talk family, you talk kids, and when you have kids, nothing is more important than living in a school district that works hard to give your child a grade A education. With twenty-six public schools, 73 percent of which are considered high performing by the state Board of Education, Warwick is a model district and perfect for young families. There are inevitable curriculum and union disputes when you're in a town with 18,000 kids, the largest number in the state, but by most accounts the schools do well. The city spends $12,776 on each student each year, putting it in the top half of the state. Consider, too, that there are twenty-six full-day child care programs, giving a double-income family a bit more breathing room in managing their work lives. And with that extra income, paying $244,700 (the town's median) for a house doesn't look too bad, especially when you're saving for your child's college fund.
The Empty Nester
Tiverton
Sprawling along the bay, Tiverton is a more affordable version of its bucolic neighbor Little Compton. There's an abundance of antiques stores, farm stands and quiet beaches where empty nesters can take a midweek stroll or shop at Four Corners, a quiet intersection of tempting shops and eateries including Milk and Honey Bazaar, an artisan cheese and specialty food market, and Gray's ice cream shop. The locals are friendly, and the pace is far removed from the soccer-mom rush of your previous life. If you really want to switch gears after the rigors of teenagers and maintaining the homestead, there's the Villages of Mount Hope Bay, a condo community at the north end of town where your grass is always mowed, the pH in the pool is perfect and everyone has a water view. What? You never knew life could be so good after kids?
The Land Lover
South Kingstown
If you want to stay in touch with reality in the southern part of Rhode Island, but still like some elbow room, South Kings-town will serve you well. Even though it's one of the fastest growing areas in the state, the town has the fourth largest amount of protected land at 10,291 acres, after West Greenwich, Exeter and Scituate. The Conservation Commission's Tree Board prides itself on cultivating a love for these oxygen-making machines and the space that surrounds them. Property isn't cheap here, but there is still some available. You may only be able to afford a one-acre lot (the average price of one is $185,000), but if it abuts one of the many parks or farms that have a conservation easement, consider the view, and extra space, free. And you don't have to mow.
The Foodie
Bristol
No place is working harder to wow our palates than Bristol. You can become a regular at more than a dozen different places, have breakfast, brunch, lunch and dinner covered, and never eat the same dish twice. One of the hottest places in town is Persimmon with its elegant digs and a menu to match. DeWolf Tavern has plenty of atmosphere (rumor says it's a former rum distillery) and an Indian-inspired menu. Thames Street Landing, a renovated fishing wharf, has waterfront dining and an outpost of Tiverton's famous hand-made ice cream mecca, Gray's. One sign of a place with interesting food is the personalities it attracts. The fact that Anthony Quinn, who lived in Bristol for the final years of his life and no doubt dined around the world, was a regular at the Scandinavian restaurant Redlefsen's says a lot about the place.
The Elephant (Republican)
East Greenwich
Rhode Island is a state with a split personality. Democrats far outnumber Republicans, yet there has been a Republican governor since 1995. If you are as red as Republicans come, and you don't want a heated debate with your bleeding-heart liberal neighbor, then East Greenwich may be your best hideout. There are 2,228 registered Republicans in town (including Governor Carcieri), 542 more than registered Democrats. That may not seem like much, but put things into perspective: East Greenwich is one of only two communities in the state with this advantage. It's also been called the land of nearly gated communities, and it certainly has its fair share of white picket fences. The politically split town council, however, seems to get along when discussing most topics. This is an expensive place to live with the eighth highest property tax rate and the fourth highest median home price at $527,500. However, if you've saved your money like a good conservative, you can afford it.
The Donkey (Democrat)
Jamestown
If you give money to the ACLU and the Sierra Club and yearn for the good ol' days when former Democratic governor Bruce Sundlun was firing at raccoons and saving the day, then you'll find good company in Jamestown. There are nearly twice as many registered Democrats as there are Republicans in this island community. The number of Volvos with "Kerry/Edwards" and "Impeach Bush" bumper stickers should be sign enough that liberals are welcome. They say there's money in politics, and it's noteworthy that many a Democratic Party fundraiser has been hosted in private Jamestown homes. With a median home price of $556,000, the third highest in
the state, it seems that money and Dems can mix.
The Gentry
Newport
Tourists may vie with yachties waiting in line at the Steaming Bean for an espresso down on the waterfront, but it's up the hill on Bellevue Avenue that has the trappings of luxury. Where else can you find a custom clothier that also specializes in children's fashion? After brunch at La Forge, don your whites and head to the Tennis Hall of Fame next door for a private lesson from a grass court specialist. Until recently, entry into this exclusive daily routine cost millions, and a single-family "cottage" there or along Ocean Avenue is still seven figures. However, many of the spacious Victorian homes that line Kay and Catherine streets have been split into condos; you too can become part of gentrified Newport for less than $500,000. And if you don't mind street-side parking and the potential for paying group capital improvement fees, and you're male, you can make overtures to join the Newport Reading Room, where members relax with brandies and cigars in dimpled leather chairs.
The Real Estate Risk-Taker
East Providence (Riverside)
The real estate market has been hot…until now. With prices leveling off and interest rates creeping upwards, buying a property as an investment these days seems pretty risky. But with risk can come great rewards. There are pockets around the state where the houses are ripe for the picking, but few look more like a sound investment than the East Providence community of Riverside. This place meets all the criteria for future returns: it's ten minutes from Providence, on the water and has home prices in the $250K range. Last year one of the tiny, 650 square-foot cottages one block from the water sold for $126,000. With a strengthening rental market, that mortgage can be easily covered while property values rise. Realtors believe that in a slumping market, sales of $500,000 to $1 million-plus homes go cold but that the low-end market continues to grow steadily. Sandwiched between beautiful Barrington and Providence, Riverside seems to have a winning investment formula, but we won't know for a few years — that's the risk.
The Typical Rhode Islander
Cranston
If you need to pack a lunch each time you drive more than a couple miles from home, you're a typical Rhode Islander and Cranston's your type of place. It's all here: quaint historic Pawtuxet Village; major urban congestion at the Park and Reservoir avenues intersection; a tranquil state park; and, of course, the unfettered suburbia of Garden City, an outdoor mall where you can food shop at Shaw's, buy some fancy soap at Crabtree and Evelyn, and score new khakis at the Gap and a few new All-Clad pots at Williams Sonoma. Typical Rhode Islanders also like controversy, and there's plenty of that here, too. Mayor Steve Laffey has rubbed nearly everyone the wrong way, from the city's crossing guards to the state's Republican Party, not to mention the political barbs he's hurled with the goal of unseating Senator Lincoln Chafee. That's good entertainment. Sit back and enjoy the show, Cranstonites, because it's all in your back yard.
The Villager
Scituate
Back in the 1800's it took the intrepid Rhode Islander more than a day to venture from the Foster/Scituate border to Providence, and there were stopovers in many little villages along the way. Scituate had the most distinctive of these villages, and even though many were wiped clear off the map when the state took 38 percent of the town's land in 1919 to create a reservoir for the growing city of Providence, many remain: North Scituate, Clayville, Elmdale, Fiskeville, Glenn Rock, Harrisdale, Jackson, Hope, Potterville and others. The many apple orchards, farms and miles of stone walls that line the narrow side roads are throwbacks to when the town was created. You can sit in your quiet back yard and enjoy the sounds of birds chirping in the trees, or walk down to the North Scituate Library or Hope Library, say hello to the nice librarian who greets you by name, and look up the name of the original owner of your house with whom you share a little bit of history — because you're now a villager.
NOTE: The author and Rhode Island Monthly editors used local, state and federal government data and individual interviews to provide a subjective analysis of the state's communities and give potential homebuyers some food for thought in deciding where in Rhode Island they would like to live. This is only a starting point, and it is up to homebuyers to fully research the communities in which they are interested. To that end, local real estate agents and city or town halls are their best resources.