The Best Places to BYOB
Uncork your favorite bottle of wine at one of these twenty-four great restaurants where you bring the beverage.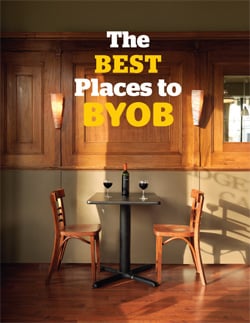 Why we like BYOB restaurants:
The atmosphere is never stuffy; the food is pure comfort; and your favorite beer is always on tap. Plus, with no booze on the bill, they're some of the best cheap eats in town. Here are twenty-four of our favorites:
---
Bluebird Cafe
554 Kingstown Rd., Wakefield, 792-8940
Menu: On Fridays, this venerable Creole-influenced breakfast and lunch joint keeps the doors open late, offering a small menu of New Orleans favorites to a crowd of faithfuls. Jambalaya, breaded catfish, crawfish bisque, plus dishes from other traditions — on one visit, an outstanding Moroccan pork shank — keep it interesting. Basic requirements are a big appetite and tolerance for heat.
Vibe: Sure, it's a diner where you pack your own to-go food, but it's also that rare bird, a family-run place that's doing something different. And doing it well. Despite the slightly tired decor, good South County burghers on double dates mingle with college kids and construction workers for Wakefield's — and maybe the state's — best answer to a Big Easy feast.
Get: Crawfish etouffee, jambalaya. Save room for one of the best pecan pies ever. And we really mean that.
Sommelier Says: No point going high-end to accompany your caddy of hot sauces. Beer certainly works, white wine is lovely with the salads and bisques, a spicy un-oaked red such as a Tempranillo or Beauj Nouv won't fight with the gumbo. But no one will look askance if you bring a thermos of Jack and Coke.
Corkage Fee: None
Closest Liquor Store: Wakefield Liquors, 667 Kingstown Rd., Wakefield, 783-4555, wakefieldliquors.com
Dinner for Two: $40 to $50
Fine Print: The Friday-night-only cachet means it's often full. Bring patience; the genial college-age serving staff doesn't get much practice with the rhythms of dinner service.

To read more of this story please visit your nearest newsstand or click the link below.