The Beers and Tastings of Summer in Rhode Island
There are plenty of new brews to sample this season.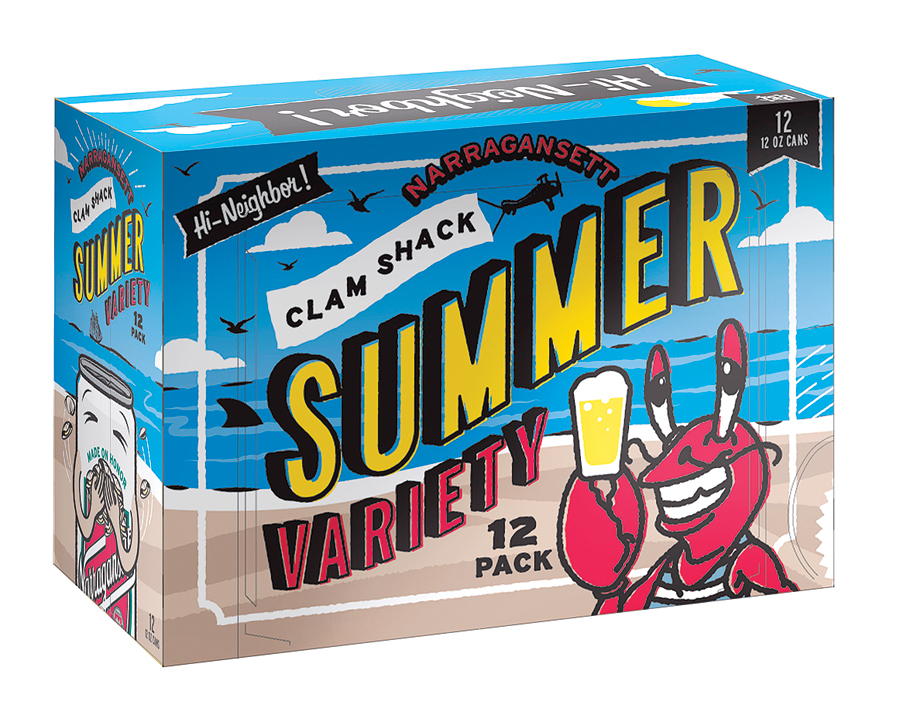 Our local brewers have concocted a bevy of distinctive and delicious beers to savor all summer long. Here are some easy-sipping seasonal suds available at stores and on tap statewide.
Pawtucket's a hotbed of warm-weather treats: Bucket Brewery's Prudence and Patience Gose (4.5 percent ABV), named for the third- and fourth-largest islands in Narragansett Bay, is a pale wheat beer made with coriander and rosehips. It blends a little saltiness and citrus tartness with a hint of Czech Saaz hops. Foolproof Brewing Company's Queen of the Yahd is an IPA (5.2 percent ABV) made with "a stupid amount of American hops" and raspberry puree. And Crooked Current Brewery will be mixing it up all summer long, with onsite-only tastings and growlers-to-go of Hawaiian Robust Porter (made with roasted cocoa nibs, toasted coconut and cold-brewed coffee), two wheat ales (American and raspberry), Strawberry Blonde Ale and Neapolitan Brown Ale, brewed with vanilla beans, cocoa nibs and strawberries. It's better than ice cream.
Narragansett Beer has a full slate: The Del's Shandy mash-up is back for its third go-round; Summer Ale has been rebranded as Summertime Citra Ale, with its namesake hop adding notes of citrus and passion fruit; and Town Beach Ale, a light IPA (4.7 percent ABV), will make its annual appearance in July. Savvy consumers should pick up the Clam Shack Summer Variety twelve-pack, featuring Del's, Summertime and 'Gansett's classic lager in the 1975 retro can (a.k.a. "the Jaws can").
Newport Storm boasts its own delightful dozen. The Twelve Sheets to the Wind Seasonal Variety Pack includes Summer Hefeweizen, the flagship Hurricane Amber Ale, India Point Ale and a limited edition pilsner (exclusive to the twelve-pack), which the Storm crew notes has the "aroma of crisp green apple and lemongrass." And drop anchor for Grey Sail Brewing of Rhode Island's Hazy Day and Revival Brewing Company's Night Swim'ah, a pair of Belgian wits (unfiltered wheat ale) made with coriander and orange peel (plus raspberries in Revival's recipe).
---
Hit the road to taste local libations at breweries around the state
Bucket Brewery
Prudence and Patience Gose Tastings
Fridays 1–7:30 p.m., Saturdays 11 a.m.–5 p.m. for $5. Tours Saturday 1:30, 2:30 and 3:30 p.m. for $13.
100 Carver St., Pawtucket, 722-1574, bucketbrewery.com
Crooked Current Brewery
Neapolitan Brown Ale
Tastings are Thursdays 5–7 p.m., Fridays 5–8 p.m., Saturdays 1–5 p.m. and include a souvenir pint glass for $8.
558 Mineral Spring Ave., Pawtucket, 473-8312, crookedcurrentbrewery.com
Foolproof Brewing
Queen of the Yahd (raspberry IPA)
Tastings Fridays 4–7 p.m., Saturdays and Sundays 1–6 p.m. Includes three-beer sample and pint glass for $10. Tours Saturdays at 1, 2, 3 and 4 p.m.
241 Grotto Ave., Pawtucket, 721-5970, foolproofbrewing.com
Grey Sail Brewing of Rhode Island
Hazy Day (Belgian wit)
Grey Sail has opened a new tasting room in a building next door to the brewery. It features flights and beers from other local breweries. Open Monday, Wednesday and Thursday 3-8 p.m., Friday and Saturday noon-8 p.m. and Sunday, noon-5 p.m.
63 Canal St., Westerly, 212-7592, greysailbrewing.com
Long Live Beerworks
Wyld Cat (IPA with American wild yeast)
Tastings are available Wednesday to Friday from 4–9 p.m., Saturday from 1–8 p.m. and include a twelve-ounce sample with souvenir glass for $10.
425 West Fountain St., Providence, longlivebeerworks.com
Newport Storm Brewery
Summer Hefeweizen
Self-guided tours available whenever they are open, guided tours at 3 p.m. Beer tastings include four Newport Storm samples for $9; rum tastings include three samples of Thomas Tew rum for $10 — both include souvenir glasses. Open Sunday, Monday and Wednesday noon–5 p.m., Thursday to Saturday noon–6 p.m.
293 JT Connell Hwy., 849-5232, newportstorm.com
Proclamation Ale Company
Derivative (American pale ale)
Open for tastings Thursdays 3:30–7 p.m., Fridays 3:30–8 p.m., Saturdays noon–7 p.m., Sundays noon–5 p.m. $5 a tasting.
141 Fairgrounds Rd., West Kingston, 787-6450, proclamationaleco.com
Ravenous Brewing Company
Sarah Session IPA
Tours Thursdays 4–7 p.m. (with free pizza), Saturdays 1–4 p.m. $8 for tour; $10 for tour, tasting and glass.
840 Cumberland Hill Rd., #10, Woonsocket, 216-5331, ravenousbrew.com
Revival Brewing/Brutopia
Night Swim'ah Belgian Wheat Ale
The cover for the tasting room is $5, which includes three samples. Monday to Friday, noon–8 p.m., Saturdays noon–8 p.m., Sundays noon-4 p.m.
505 Atwood Ave., Cranston, 646-8877, revivalbrewing.com
Tilted Barn Brewery
Libby (American blonde ale)
Tastings start at $4. Check website for updates.
1 Helmsley Pl., Exeter, tiltedbarnbrewing.com
Whaler's Brewing Company
Strawberry Blonde Ale
Tastings Thursday and Friday 4–8 p.m.; Saturday 1–8 p.m., Sunday 1–7 p.m.
1070 Kingstown Rd., Wakefield, 284-7785, whalersbrewing.com
The big beer event of the summer — the Craft Brew Races on July 16. A five-K road race is followed by a three-hour beer fest, which will feature goodies from more than thirty-five local and national breweries. Salute the runners then get your cheers on! Fort Adams State Park, 84 Fort Adams Dr., craftbrewraces.com
And don't forget to check out Rhode Island Monthly's Brew Brawl, where you can vote on your favorites from around the state.