The Beauty Mavens
Local salon and spa professionals tell us what's hot for summer beauty.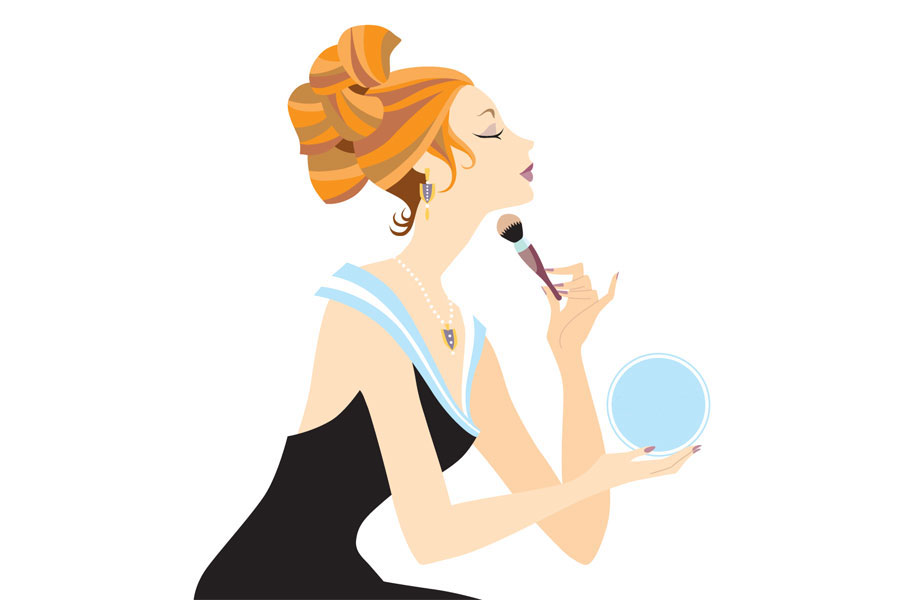 Get the latest in techniques, treatments and products for healthy summer skin and hair. Tips from the Paul Mitchell School, the Spa at Newport Marriott and Massage Envy.
It's June (finally), which means your wardrobe changeover should be complete. Bulky sweaters, dark wool and knee-high boots have been exchanged for brightly printed maxi dresses, strappy sandals and all things linen. The seasonal clothing swap is a no-brainer — different weather, different duds — but not every woman thinks as practically when it comes to her beauty regimen. Come sandal season, you wouldn't dare to bare your soles until you've had a proper pedi, but what about the rest of your body? As enjoyable as it is to be outside in the warmer weather, all that sun, sand and chlorine can make for a little dullness around the edges, especially if you neglect to take proper care of your skin. Exfoliating, moisturizing and sunscreen are essential, but they only scratch the surface. When it comes to makeup, hair and skin care you may find that certain brands and products that work for you in one season are less effective in another. What to do? We asked a few of our favorite beauty mavens for their tips on summer-worthy hair and skin products.
Forever Blonde Shampoo

Not only does Paul Mitchell Blonde provide the tools to achieve every blonde shade you could crave, it has the care products to back it up. Forever Blonde shampoo is designed to maintain light, bright and healthy locks. This sulfate-free formula is infused with KerActive protein and safflower oleosomes that repair damage and replenish moisture for long-lasting hydration and shine.
Paul Mitchell School
Annette Tutalo, education leader at the Paul Mitchell School in Cranston
Q: What's the best way to keep blonde hair beautiful in the summer?
Tutalo: Paul Mitchell's Forever Blonde system, which includes shampoo, conditioner and dramatic repair spray, is essential in the summer when hair is most susceptible to damage from sunlight and heat.
Though the Paul Mitchell School is true to its name as an instructional environment for professional stylists-to-be, it's the perfect place to get the full salon experience without salon prices. Friendly staff and future professionals are ready to take care of all your beauty needs from cuts to colors, treatments, waxing and manicures.
30 Chapel View, Ste. 100, Cranston, 946-9920. pmtsrhodeisland.com
Glo Minerals

Made from pharmaceutical-grade ingredients, high-pigment minerals, vitamins and antioxidants, Glo Minerals promotes health and beauty in skin. This line, suitable for all skin colors, comes in products such as foundations, bases, correctors and more.
Spa at Newport Marriott
Courtney Wassel, manager of the Spa at Newport Marriott
Q: How do you keep skin looking flawless, well hydrated and protected during the heat of summer all the while enhancing your natural beauty?
Wassel: Glo Minerals Luxe Liquid Foundation is a fantastic new product in the Glo Minerals line that provides broad spectrum SPF 15 protection, is anti-aging and utilizes new diamond powder technology. As light passes through the diamond powder, it is reflected and diffused for a visibly softer, more radiant complexion. Combined with the ultra-fine mineral and pigment formula, this foundation nourishes skin while enhancing ageless beauty.
Relax your mind, body and spirit at the Spa at Newport Marriott, a serene harbor-side spa in the City by the Sea. Facials, massages, body scrubs, makeup artistry and anti-aging treatments will entice your senses and the variety of services ensures that there's something for everyone. Licensed and trained professionals offer an uplifting experience that will leave you feeling completely rejuvenated. The Spa at Newport Marriott was voted best spa in Newport County in Rhode Island Monthly's 2011 readers' poll.
25 America's Cup Ave., Newport, 848-6983, thespaatnewportmarriott.com.
Murad's Intensive-C Radiance Peel

Perfect for summer use, this ten-minute cream-based mask can be used for the face, neck and décolleté. Licorice and orange extract brighten skin and enhance radiance. Fig protects against free radical damage. The glycolic acid exfoliates and accelerates turnover of dark, damaged cells and improves skin texture. The myrtle extract, also found in this product, supports collagen production and boosts elasticity.
Massage Envy
Dianne Colardo, lead esthetician at Massage Envy Spa in Cranston and East Greenwich
Q: In addition to regular sunscreen use, what can be done to keep skin healthy and glowing this time of year?
Colardo: Murad's vitamin C facial should be performed once or twice per month during the summer. This facial uses a vitamin C infusion gel treatment that has been scientifically proven to reverse the appearance of environmental damage. The gel is rich in antioxidants, which protects the skin from free radical damage, lessens hyperpigmentation, fine line wrinkles and hydrates the skin. Most importantly, the gel encourages cell turnover to restore a clear, youthful appearance.
At Massage Envy Spa fully licensed therapists have expertise in trigger point, cranial sacral, reflexology and deep tissue massages. Try a signature service, like the ninety-minute hot stone envy therapy during which water-heated stones are placed on the body to allow for deep muscle relaxation, ideal for muscle aches, back pain, stress, poor circulation, arthritis and fibromyalgia. Massage Envy Spa also offers signature facials developed by world-renowned dermatologist Dr. Howard Murad. After an initial consultation, your esthetician will choose the facial best for you: environmental shield vitamin C, clarifying enzyme acne, anti-aging or sensitive skin.
1000 Chapel View Blvd., Ste. 146, Cranston, 354-7133;
1000 Division St., East Greenwich Square Plaza, 234-1020, massageenvy.com.