The Atlantic Cup Comes to Town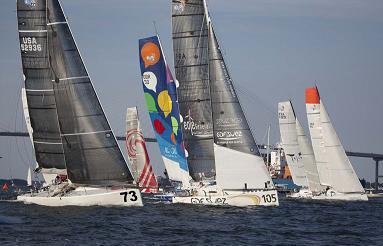 Competitors in the second-annual Atlantic Cup just rolled into Newport after the 231-nautical-mile coastal leg of the race, and they're taking a breather in the City by the Sea before setting out for the two-day inshore race series this Memorial Day weekend.
This three-part race is one of the premier Class 40 sailboat races in the world, with fifteen top-flight teams competing for one of the largest prize purses for sailing in the country ($30,000). It's also the first carbon-neutral sailing race in the United States, using biodiesel and hydro generators to limit the use of fuel during the competition and swapping out single-use plastic bottles for canteens in all hospitality villages.
Bodacious Dream, which is registered locally in Jamestown, came in at the head of the pack on the coastal leg.
But Mare, a sailboat registered in Hamburg, Germany holds the top spot after winning the 642-nautical-mile offshore leg of the race earlier in the month. The top three teams only have two-point differences between them, so the inshore races in Newport will determine who will take home the hefty prize purse. (Go, Bodacious Dream, go!)
Even if you're not a sailing connoisseur, this weekend's races will provide plenty of fun, free entertainment for the whole family. Pack a picnic and claim a sunny spot at Fort Adams or Brenton Point and watch the teams of six push their boats to the limits.
If you like to schmooze with the sailors, Sunday's prize-giving party at the Newport Shipyard is the place for you. For $30, you'll enjoy an open bar and light appetizers, and you'll witness the awarding of the $30,000 prize purse. A portion of the proceeds will benefit the Boomer Esiason Foundation to help in the fight against cystic fibrosis.
For more information, visit atlanticcup.org.