The Art of the Deal
Thirty-nine — count 'em — fantastic sources, some for every budget, 
to help you upgrade your home and garden without depleting your savings.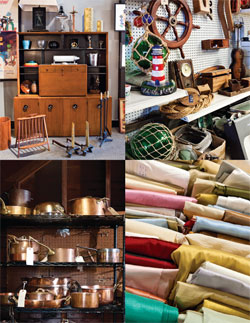 1. Copper Pot Restoration
East Coast Tinning

Copper pots equal kitchen charm and cred; some of the best cooks use them. But $300 to $400 per vessel? Bring your aged pots (old ones often turn up for as little as $20 to $70 at flea markets) to Jim Hamann and he'll completely refurbish them, as in good as new, put-on-a-stew for about $60! By appointment only, 965-4569,
eastcoasttinning.com
.
2. Fabric
Just Fabric

New curtains, anyone? It's a small shop (keep an eye peeled or you'll drive right on past) but there's a lot here. The cheery cotton starts at about $3.50 per yard. Drapery fabric can be yours for a mere $6 per yard. Wander about and prizes will reveal themselves. Secret: We also spied some good-looking bolts of designer fabric up front. 310 Atwood Ave., Cranston, 383-6286.
3. Stained Glass
Lafayette Antiques

On a recent day, we counted more than a dozen stained glass windows in a variety of sizes starting as low as $125. Having that many all together affords customers an opportunity to compare and contrast colors and designs. We're thinking one in the middle of a transom could transform a lackluster entry. 814 Ten Rod Rd., North Kingstown, 295-2504,
decoscavenger.com
.
4. Garden Design Service
Central Nurseries

When the tangle that is our garden has us tied up in knots, we take our landscape photos to Central Nurseries for outdoor design help. Undaunted in-house consultants offer free assistance and will sketch out suggestions for planting layouts that turn our unkempt backyard into a thing of beauty. 1155 Atwood Ave., Johnston, 942-7511,
centralnurseries.com
.
5. Used Tools
Toolsmart Used Tools

Full disclosure: We bought a chop saw for $50 and it's still purring like a kitten several tough projects later. From testosterone-heavy power tools to little items such as screwdrivers, wrenches and files — trust us, there's plenty to choose from. And, really, why pay twice as much for new and shiny when used tools can be just as reliable? 7675 Post Rd., North Kingstown, 295-8200.