The Amazing Benny's Origin Story
How an Eastern European immigrant founded a regional treasure.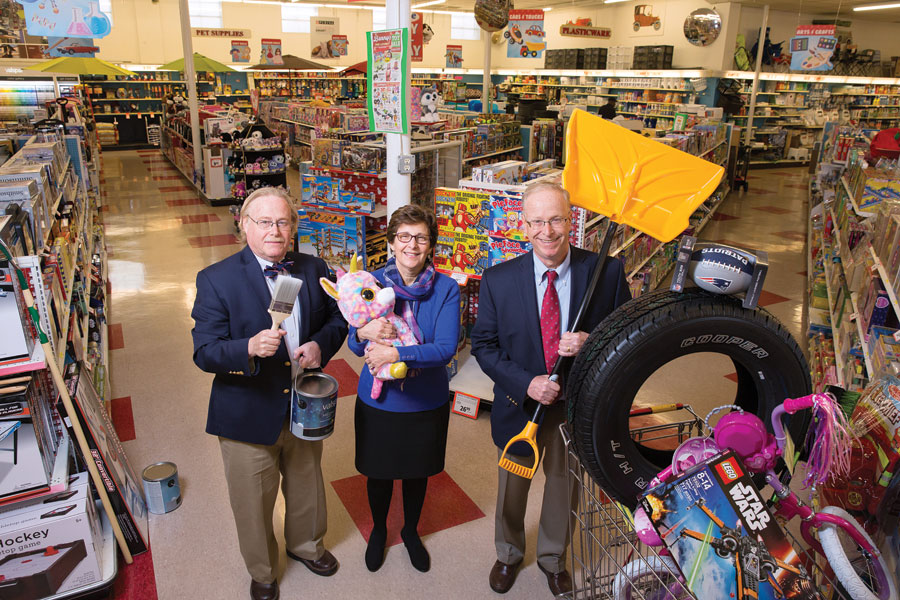 "I pledge the best possible quality and service at most reasonable prices," read the ad Benjamin Bromberg took out in the Providence Journal in 1924 to announce his new store, Benny's.
The eastern European immigrant — who had no more than a sixth grade education — opened the automotive supply shop on Fountain Street in Providence with his wife, Flora. As business picked up, they added locations in East Providence, Cranston, Taunton, Massachusetts, and Danielson, Connecticut.
Nearly 100 years later, Benny's remains a Rhode Island fixture. Today, the chain has thirty-two stores in Southern New England, all owned and operated by Bromberg's grandchildren: Judy Rosenstein, Howard Bromberg and Arnold Bromberg. They took over from their father, Malcolm, who was born the same year the company was founded. He ran Benny's from when his father died in 1965 until shortly before he died in 2014 at the age of ninety.
"We learned from our dad by osmosis," Howard says.
While Judy, the chain's toy buyer, spent about a decade as a researcher at Miriam Hospital, Arnold, who focuses on sales and marketing, and Howard, who runs operations, have spent their entire careers in the family business.
They've stayed true to their grandfather's vision in many ways, but Benny's is no longer just the automotive-only store he founded. The family has added new things, including more toys and seasonal items such as grills and snow removal tools.
"We are always tweaking what's on our shelves to get the right mix," Arnold says. "We still do a lot of automotive, but we're also a seasonal store, a general merchandise store, a toy store and a convenience store, too."
Most Rhode Island residents live no more than a twenty-minute drive from one of the state's thirteen Benny's locations, says Howard. The Brombergs don't like to drive very far either, and that's part of the reason why they haven't expanded further. "It's an extension of the Rhode Island culture where no one likes to travel much more than forty-five minutes," Arnold says.
Another quirk, at least in 2017: The chain doesn't offer online sales. But its layaway program has remained popular even in the age of easy credit. Some people treat it as a storage service, a way to keep a grill or a set of tires bought on sale out of the way until they plan to use them. Many parents have taken advantage of this service to store gifts, like a bicycle. "One thing we hear all the time is, my first bike came from Benny's," Judy says. "And we are very proud of that."  hellobennys.com
Four Spring Essentials
Benny's stocks all your seasonal needs.
---
1. Garden supplies: A trowel, shovel and gloves are a must for digging up dirt. 2. Grilling equipment: Nothing tastes better than meat and veggies cooked outdoors. 3. Lawn chairs: When you've got an extra dinner guest, simply slide one up to the table. 4. Snow removal tools: Because it's March and you know it's going to snow.