The Allure of Perfect Bed Temperature
How one local company drowned on "Shark Tank," then made millions on Kickstarter — all in the name of cool sheets and toasty toes.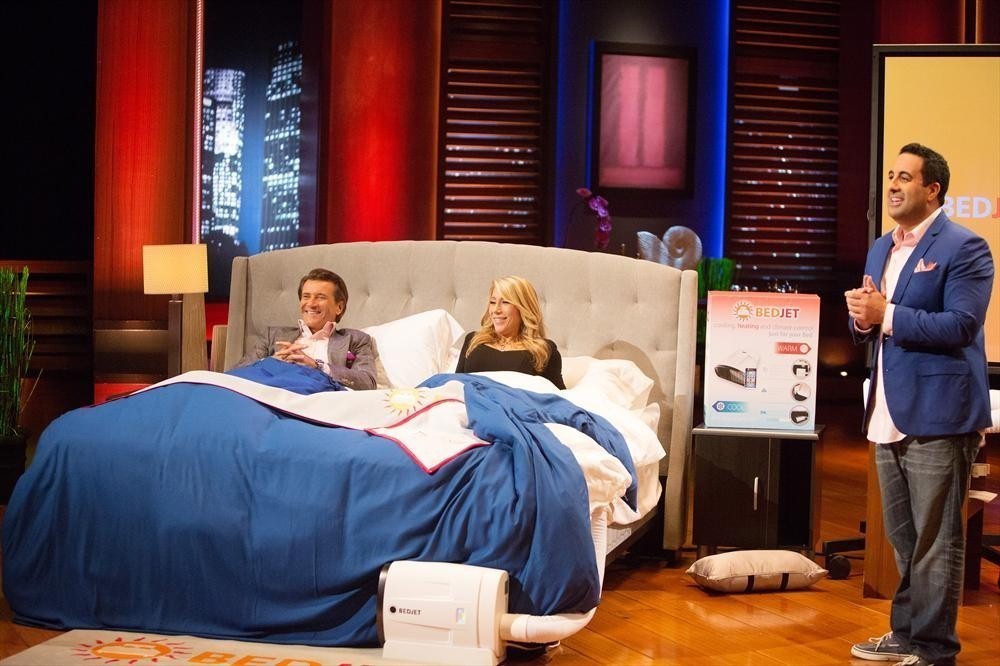 In early August, Newport-based startup BedJet launched a Kickstarter campaign for version two of its climate control sleep system. The campaign raised $24,000 in just five hours and, with less than three days to go, BedJet has surpassed its goal by more than 5,000 percent — one of the rare Kickstarter projects to hit $1 million long before the end of its run. As of Friday afternoon, BedJet v2 has raised $1,278,949 from 3,795 backers.
BedJet, which was developed in 2013, helps sleepers stay warm or cool through a stream of air blown directly into their bedding via a flameproof climate control machine tucked under the bed. It's operated by remote control or an app on the user's smartphone.
I understand the appeal — nothing better than toasty feet in the winter and cool sheets in the summer. But the product wasn't always so well received. Last February, BedJet appeared on ABC's "Shark Tank" and it was deemed "a catastrophe" by one of the investor judges.
We caught up with inventor and principal engineer, Mark Aramli, to learn more.
Your bio tells me you've worked on environmentally friendly projects for BMW and the army. Why bedding?
I'm a tinkerer and a gadget maker, and I was an engineer of space suits for NASA, so I have a long history of keeping people comfortable when it comes to temperature.
What inspired the idea?
My mother was stuck in bed for weeks from a surgery. She was totally immobilized, and she lived in a 100-year-old house in Connecticut. It was drafty. We had trouble keeping her comfortable. Because of her mobility, we were constantly adjusting things — it was always too hot or too cold. I thought to myself, wait a second, I've kept people comfortable in space; this is just a bed!
What does mom think of BedJet now?
She still uses it. She has the first one off the production line. I gave the second one to my sister.
Do you use one on your own bed?
I do. It's two years later and I still love it. It's so nice in the summer. It's a different kind of experience in the winter, too. You think about heating your bed and you imagine that electric blanket feel. But with BedJet, you press a button and it's this hot, dry sauna experience.
Earlier this year, in February, you pitched the product on ABC's "Shark Tank." It didn't go well.
It's true. We're very grateful to the producers for giving us the opportunity to share our product with their audience. The sharks themselves, they told me no one would pay for it, that it was a dumb idea. [BedJet starts at $499.] They insulted me and they insulted the product. They got it dead wrong. And now, we're one of the top five successful companies to be rejected from "Shark Tank."
Your victories are especially sweet, then.
Yes, it's been incredibly satisfying. I left that show out to succeed with a vengeance. They really weren't kind and they really showed a lack of understanding of this industry. But even smart people get things wrong now and then.
How many BedJets have you sold since "Shark Tank"?
About 5,000. We're still a startup company, but we've done very well. We've only been shipping for seven months, but in that short period of time we've become the number one customer-rated product on Amazon for staying cool in bed. What we've been able to do since "Shark Tank" speaks for itself.
Why did you decide to take the latest BedJet model to Kickstarter?
Our company was born on Kickstarter. Two years ago when I had a prototype, I went to Kickstarter to see if it was something people wanted to support and we were successful there. [The first BedJet raised $58,551 on Kickstarter from 216 backers.]
We launched our business and had some further successes. We wanted to bring [version two] to the people who thought we mattered the most, which are our Kickstarter supporters. We wanted those people to have first access to it.
What's next?
Our next evolution is trying to succeed in retail. We've been very successful online and now we're trying to tackle the retail sector. The product is now in all five Jordan's Furniture stores here in the local area; it just rolled out. Brookstone is also carrying the product and we will be airing on QVC in January.
Why Newport?
I've been here for six or seven years. I moved here because I could. I've always loved it here, and I had a job that let me work out of my house. It was the nicest place I could find within two hours of my mother's house. We have an office and our workshop is here in Newport, too.