The All Night Strut! is Foot-Tapping Fun
Big band and swinging jazz hits paint a picture of America in the 1930s and '40s.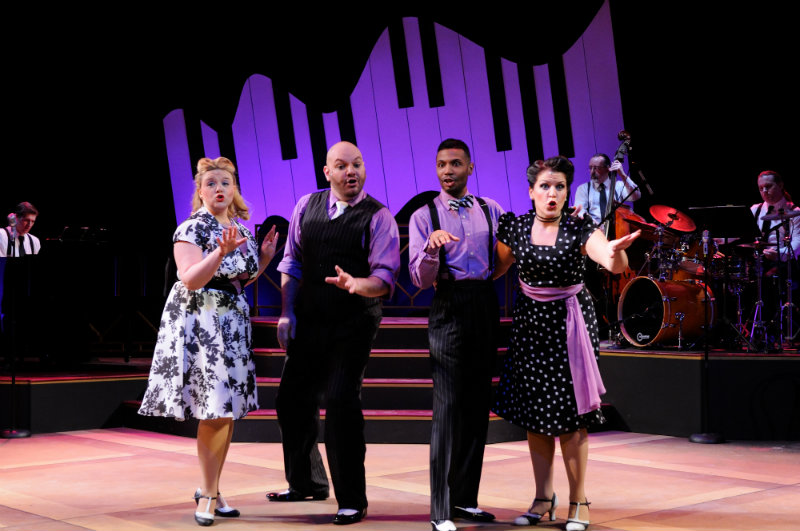 Between the Great Depression and World War II, the 1930s and '40s were a time of social and cultural turmoil in America. The period's heightened emotions (both good and bad) are showcased in the Ocean State Theatre Company's high-energy show, The All Night Strut!
The All Night Strut! is more of a music feature than a traditional play. There's a historical tale being told, but the nameless characters communicate solely through song. They move quickly from upbeat dance numbers to soulful laments, all the while painting a picture of the country's social conditions. There are tragic love stories, cries of poverty, playful nights on the town and hopeful prayers for change, all expressed through songs of the time.
The show opens with the upbeat "Chattanooga Choo Choo" and "Minnie the Moocher." There are echoes of "heidi heidi heidi ho!" in the audience as the cast quicksteps around the stage to choreography by Brian Swasey. After several more '30s hits, the first act closes with the "World War II Medley," a patriotic mash up capturing the whirlwind of wartime emotions. The second act features a dozen songs, including the popular "Operator" by William Spivery, "Hit that Jive, Jack" (sung by Nat King Cole) and "It Don't Mean a Thing" by Duke Ellington.
It's undeniable that the cast is a group of talented singers, but Courtney Nolan Smith truly shines in her OSTC debut. Her clear, powerful vocals fill the theater and her energetic dance moves will have your foot tapping along. She closes off the first act with a sweet, sentimental rendition of "I'll Be Seeing You," perfectly capturing the heart-wrenching misery of sending a lover off to war.
Live accompaniment by the theater's jazz band, The Trio, lends an irreplaceable authenticity to the performance. Paul Buono, the musical director, opens the show tickling the ivories, and he is soon joined by Brian Grochowski on bass and Dan Hann on percussion. The three are an unstoppable ensemble who could have easily just stepped out of the '30s.
The Ocean State Theatre carries the early-century theme off the stage with a list of specialty drinks at the bar. Patrons can sip on a Chattanooga Choo Choo (Champagne and orange juice), a Minnie the Moocher (raspberry vodka and tonic) or an Ain't Misbehavin' (rum and Coke). It's a little touch that goes a long way into making the experience enjoyable and unique. The All Night Strut! invites you relax, drink in hand, and pay homage to an important generation in our country's history.
See The All Night Strut! through March 16. Tickets range from $39 to $54. Ocean State Theatre Company, 1245 Jefferson Blvd., Warwick, 401-921-6800, oceanstatetheatre.org.