The Advocate
State child advocate Jametta Alston is willing to protect children in DCYF custody at all costs. Even if her bold decision to sue the state for neglect forces her to commit career suicide, she's determined to make her case for the kids.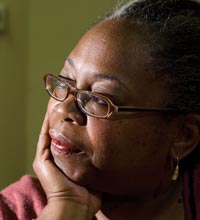 Growing up in working class west Philadelphia, Jametta Alston never dreamed she'd be a lawyer.
Her sights were set elsewhere, on a far less conventional life. She saw herself hitting it big in New York, taking Broadway by storm, making a name for herself. It was an irresistible storyline: the lights, the drama, the power to transport people to a faraway place.
Twenty years later, Alston has plenty of drama in her life. But it's not on a stage. And she's definitely not kicking up her heels, or belting out show tunes. Quite the opposite, in fact. Alston's drama is unfolding in a drab Providence courtroom. There are no glittery costumes, only dark suits. There is no hit soundtrack, only impassioned voices relaying hard-to-stomach facts. The storyline is a far cry from Hairspray or Mamma Mia. Here, the focus is on children, abused, neglected children foundering in state care. One thing Alston does have, though, that harkens back to her childhood dreams: the lead role. In this climactic scene, lawyer and governor-appointed Child Advocate Jametta Alston is doing what many consider the unthinkable. She's suing her boss. "It is just amazing to me how hardened hearts appear to be," Alston says. "These children are being neglected, abused. And we should do nothing?"
Nothing—or worse than nothing—is what Alston accuses the Department of Children, Youth, and Families of doing in the face of its responsibilities. DCYF is charged with removing children from parents who abuse them or who don't take care of their basic needs. The agency maintains a stable of foster homes, group homes and shelters to house the children while they are in state custody, and must either work with the biological parents so the children can return home safely or arrange for the children to be adopted. The sole responsibility of the independent child advocate's office is to watch over DCYF: to ensure children are safe and well cared for while in state custody, to lobby the legislature on their behalf, and—if all else fails—to take legal action to protect their rights.
Alston, who was appointed to the post some two and a half years ago, had always seen this last option as a last resort. At her 2005 confirmation hearing for the post, she said, "I truly believe that if I must take matters to court, it means I've failed. I have failed to find the words or ways or means to…resolve matters in a beneficial way for the children of Rhode Island."
Two years later—almost to the day—Alston filed suit in federal court against Governor Donald Carcieri, former Secretary of Health and Human Services Jane Hayward, and DCYF Director Patricia Martinez. Representing "Sam and Tony M.," "Caesar S.," and five other children whom she will argue represent a class, Alston's lawsuit says DCYF "is plagued by fundamental, systemic failings of great depth and scope." Not just benign neglect, the failings alleged in the lawsuit add up to willful ignorance—or worse. Federal dollars squandered because the agency simply didn't meet the benchmarks for safety and efficiency required to qualify for them. Children placed in homes with people known to have committed domestic assault and sex offenses. Whole young lives destroyed by the instability and abuse suffered in custody of the state: DAVID T. is a thirteen-year-old boy who has been in DCYF's custody for eleven years. DCYF has cycled him through more than fourteen placements…When David was four years old…DCYF moved David to a shelter. David has not lived in a home since, and his lifetime of living in institutions, compounded with the stress of [a] disrupted adoptive placement, has caused his mental health to steadily deteriorate.
The statistics are damning. Each year from 2000 to 2005, Rhode Island ranked forty-ninth or fiftieth in the country in rates of maltreatment and neglect of children in state custody. Thirty-five to 40 percent of children in foster care are living in institutions—twice the national average. More than 60 percent of children do not receive enough face time with their caseworkers. Children in state care are experiencing abuse or neglect at twice the rate of the general population. "If they're going to be raped and beaten [in DCYF care]—literally raped and beaten—then leave them at home," says Alston. "You've taken them from something they know and said, 'We're going to make you safe.' And then you put them in a place where they're brutalized? It's wrong."
Four hundred fifty million dollars is a lot of money. It's enough money to stop legislators and budget-makers and taxpayers dead in their tracks. It's the size of the projected deficit in the state budget for the coming fiscal year, and it's apt to keep growing.
Discussions about DCYF's alleged shortcoming always come down to this: money. The 2008 DCYF budget totals $232.7 million—a $37.3 million decrease from 2007. Budget shortfalls caused two major changes to DCYF policy last year. The first, now reversed and widely acknowledged to have been a mistake, was legislators' decision to try seventeen-year-olds as adults, and, if convicted, send them to adult prison. The second was to cut children off from DCYF services at age eighteen instead
of at age twenty-one.
Patricia Martinez declined to be interviewed for this story, but several other top administrators in the DCYF orbit testify that many of the Department's failings, so painstakingly detailed in the lawsuit, are simply a matter of dollars and cents. On the issue of overburdened caseworkers, for instance, Lucie Burdick, president of SEIU Local 580, the union that serves DCYF's social workers, says the union has been working with the Department to try to keep caseloads down. "Of course, what happened [since the last contract negotiation] is the caseloads became intolerable," she says. Burdick doesn't blame the Department, though. "DCYF doesn't get the money they need to do things properly."
On the other hand, even working within a tight budget, according to the lawsuit and to people familiar with the Department, many of DCYF's financial woes could be avoided with better management. "It is an issue of money, but it's also an issue of system reform, and we need to be working on both simultaneously," says Elizabeth Burke Bryant, executive director of the nonprofit children's advocacy organization, Rhode Island Kids Count. Burke Bryant declined to comment on the lawsuit specifically, citing ongoing work her agency does with both the child advocate's office and DCYF, but she did acknowledge that "there are opportunities to improve the system even in this tight financial climate."
Federal funds, for example, are available to states to help care for children with special needs in foster care, as long as states meet certain standards; this year, Rhode Island will forfeit $1.5 million of those funds because it places too many children in unlicensed foster homes.
Too many cuts in caseworker positions (or too few hires) have led to overwork and stress among the remaining caseworkers, which has led to low morale and even more staff departures. Rosa Gough was a DCYF caseworker until 2004; she loved her job, she says, but high caseloads and her frustration at what she saw as the system's unresponsiveness to change eventually forced her out. In the years before she left, Gough says, case workers were regularly assigned eighteen or nineteen families, even though at one time DCYF's target caseload cap was fourteen; with many families having more than one child, the number of children under their supervision at times reached as high as thirty. It was impossible for them to follow up appropriately with all of their clients, she says. This left her walking around with a constant low-level dread that at any moment she would get a call with the news that one of her kids was dead.
As a result, kids like David T. fall through the cracks, as the lawsuit alleges: DCYF removed David from his mother…due to neglect…By the time David entered foster care, his mother had already been deemed unfit to care for at least one of David's siblings and had lost her parental rights. Despite clear indications that David had been sexually abused while in his mother's care, DCYF failed to ensure that he received a sexual abuse evaluation or appropriate treatment…DCYF first placed David with a foster mother with whom he lived for two years and to whom he became attached. This was the first—and last—loving, lasting, stable home David would experience for the next eleven years. At the age of four, David was removed from the foster mother he referred to as "Mommy Mary," because she was unable to continue to care for him. Despite its obligation to place David in a family-like environment, DCYF moved the young child to a shelter.
David and six other children in DCYF custody are the named plaintiffs represented by Alston, Providence lawyer John Dineen, and several lawyers from the New York-based nonprofit Children's Rights, which specializes in bringing lawsuits like this. Attorneys for the state have filed a motion to dismiss the lawsuit. If Senior U.S. District Court Judge Ronald R. Lagueux rules that the case can go forward, the plaintiffs' lawyers will next try to argue that the abuses they allege are widespread enough to allow the named plaintiffs to stand in for all children in DCYF custody, making this a class-action suit.
Children's Rights has been involved with a dozen successful such lawsuits, from New Mexico to New Jersey. Typically, it will begin when an advocate or attorney on the ground, like Alston, contacts Children's Rights; if Children's Rights finds the case strong enough, the organization will offer its legal and organizational support. Because Children's Rights lays out the costs of the lawsuit up front and is reimbursed only if the suit is successful (and then only partially), "we won't bring a case unless we think we can win it," says the organization's associate director and the lead attorney on the case, Susan Lambiase. "The bottom line is the children really need this lawsuit. It's never easy to reform a child welfare system, but the things that are wrong with states are fixable things. The law is quite good for us and for the kids."
The settlements differ, but they usually include a court-enforceable reform plan, plus a court-ordered infusion of cash into the system to make the changes possible. "There are intractable bureaucracies that it's really hard to change. It's like mov-ing mountains," says Lambiase. "But that doesn't mean that it's impossible. We've seen it happen." As for Alston's odds? "I would never presume to say how a case would go ultimately in court," Lambiase says, "except that we did our research and our analysis and we've got the facts and
the law on our side."
Alston's is not the first lawsuit that the child advocate's office has filed against DCYF. In 1986, then-child advocate Mi-chael Coleman asked a federal judge to intervene in the practice of "night-to-night placement": shuffling kids, night to night, from one placement to the next. In 1988, a judge ordered DCYF to stop using the practice except in emergencies, and ordered the state to supply more funds for additional foster care beds. In the years since, each successive child advocate has moved to hold DCYF in contempt of court, citing numbers of night-to-night placements that continue to creep upwards.
Of course, many advocates say that it's all a matter of priorities. The governor has taken flak from many in the human service sector for his reluctance to repeal the flat tax and the phase-out of the capital gains tax, both aimed at making Rhode Island a 'business-friendly environment,' even as he slashes DCYF's budget. "Second to the death penalty, removing somebody's children from their homes is probably the most awesome power that is entrusted with any state," says Lisa Guillette, executive director of Rhode Island Foster Parents Association. "If collectively—because we all own that, the entire state owns that—we're saying we don't have enough money to do this right, that's a big indictment on our priorities as a state. As a citizenry."
Alston says that after meeting with DCYF Director Martinez and her staff every month for two years, after hearing promises made and seeing promises broken—about capping caseworker case loads, about training new supervisors, about all of the systemic problems plaguing DCYF—she felt that she had no choice but to file suit. "The excuses I was getting, I felt like maybe she needs my help by bringing a lawsuit," says Alston. "Then it's out of her hands, it's out of the legislature's hands, it's out of the executive's hands. We're going to put this in the judicial hands. It seems like the only resort to make the kind of changes you need to keep children safe."
Kevin Aucoin, a lawyer for DCYF, speaking on behalf of the defendants in the suit, says, "We do take issue with the facts as asserted in the plaintiff's complaint. But it's premature to get into any substantive comment with litigation pending." The governor declined to be interviewed for this article, but in a July press conference, held just after the lawsuit was filed, he said, "We don't believe right now…that there are any youngsters in our care right now being abused…Are the allegations in fact true? I don't know any of that right now, but we're going to get to the bottom of it."
It was less than a decade ago that Jametta Alston, a round-faced woman with gold wire-rimmed glasses and a bright smile, was childless and happy about it. "I was a career woman," she says. "I loved my lifestyle. I liked hanging out at Borders for three or four hours, drinking tea and reading books." Children were the farthest things from her mind, in fact, confirms Susann Gardner, Alston's best friend since childhood. "Jametta grew up as an only child. She was used to being by herself and having her own things."
Things changed in 1997. DCYF was sued by a set of foster parents who claimed that a foster child they had planned to adopt was unfairly removed from them. At the time, Alston sat on the other side of the courtroom, working for Rhode Island Attorney General Jeffrey Pine. In order to understand better what the plaintiffs were alleging, Alston decided to go through the state's foster parent training and licensing process. "I'm a hands-on attorney," she says. "I wanted to see what the process is like."
A few weeks after she became licensed, she got a call from DCYF. They said, "You're licensed to be a foster parent, why don't you take a child?" Alston recalls. After a brief stint with an eighteen-month-old boy ("I couldn't send him back fast enough," says Alston now, with a laugh), Alston gave in one last time when a caseworker begged her to come meet a little girl, seven years old. The girl had been in a shelter for nine months (children are not supposed to stay in shelters for more than three weeks), and she talked a mile a minute. "She drove me insane," Alston recalls with a giggle in her voice. "I was an older woman who had lived alone for fifteen years, and she didn't stop talking. She never stopped talking. She talked in her sleep!" After a few weeks, DCYF asked Alston to consider adopting the little girl.
By that point, Alston had all but decided that she simply wasn't equipped to be a parent. She had resolved to keep the child through Christmas, and then go back to her quiet life. She was in the mall, of all places, holiday shopping, when a strange thing happened: She heard a voice in her head. "It's not this big booming voice, but it was this quiet thing, like, 'This is yours to do. This is your child,' " Alston recalls. "As soon as I accepted that—I don't know if I'll ever experience it again—there was a peace. A peace of rightness, a peace of joy. Thy will be done. She was my baby from that moment on."
Now a poised fourteen-year-old young woman, Alston's daughter poses in dresses and ballet leotards, braces and pony-tails, the stack of photos in Alston's wallet chronicling a happy childhood. Still, she has provided a singularly intimate and personal window into the troubles that face children and families who enter DCYF's system. "She is still struggling with all of the pain, embarrassment, shame that kids internalize," says Alston. "Because kids think, 'It's my fault.' I look at my daughter and I just worry. Can we overcome what happened the first seven years? And if we can't overcome it, can we mute it? Can we give her strength?"
After graduating from Temple University in 1977, Alston pursued her dream of making it to Broadway by working as an entertainment manager at a casino in Atlantic City. There, she became increasingly disillusioned by the people she met, who were incredibly talented yet unfailingly unhappy. Then Bill Cosby arrived for a performance and was struck by Alston's intelligence and competence. " 'What are you doing here?'" she recalls him asking her. "'You need to go on to law school.' "
So she went to Howard University, and afterwards spent a few weeks on Cape Cod as a graduation present to herself. She fell in love with the beaches and the New England sunsets, and decided to apply for jobs in the area. "I thought I'd be here a year or two, and here I am, twenty years later," she says. She worked first for Legal Services, then in private practice. She was at the attorney general's office for almost ten years, and then left to become the Cranston city solicitor before being forced to step down after two years because the city's char-ter stipulates the solicitor must live in Cranston (Alston lives in Warwick).
Because she was appointed to her job in Cranston by a Republican mayor, Stephen Laffey, and then to her current post by a Republican governor, many mistake Alston for a Republican. She's not. In fact, she's not much of a political player at all. The lawsuit is widely seen as political suicide for Alston, making a re-appointment in 2010 highly unlikely, and an appointment to a Family Court judgeship even more of a long shot. (As a case in point, a Senate bill proposing to eliminate the Office of the Child Advocate was introduced in early March. It was hastily withdrawn after an outpouring of support for the Office.) "I'm blunt, I'm tactless, I have no political sense at all," Alston admits, only half-jokingly. "Honesty is a tool, not a weapon. But let me use this as a tool that we can break down some of these power plays and get to what we need to do to protect children. It may work against me. Do I care? No. My goal is to do this job well."
Alston doesn't worry about what's in store for her. A deeply religious woman who follows her heart, she says, "you walk with faith. What's important is to be prepared for whatever is delivered to me to do next." She often jokes that her prayers include a request that her next job be at Borders—"Lord, you know I love books!" she says with a laugh.
To this day, Alston takes her daughter on a yearly trip to Broadway.
She remembers fondly all the shows she saw as a child. Her favorite was Sweet Charity, about a down-on-her-luck but ever-optimistic New York dance hall hostess. Susann Gardner recalls going to see Man of la Mancha with her best friend when they were teenagers. Even then, Don Quixote reminded Gardner of Alston. "She would always stick up for the underdog," Gardner recalls.
Alston knows that it may take years for her lawsuit to come to any sort of conclusion. A lawsuit is not the speediest possible recourse, and it pains her that "while we strategize and go back and forth in this case, children are being harmed." Still, when it is time to sit down and figure out a better way to care for the children in DCYF care, Alston will be there, bucking the system, hoping to get the better of a failed bureaucracy tangled in red tape.
Alston sometimes gets choked up when talking about kids in DCYF custody. It's clear she feels the pain of each child as if he were her own.
"They are the gift we've been given. And there's not one that we can waste. Not one," she says. "This is giving these children a safe place to find their identity and their strength and their greatness. We've got to change the system. And we can't worry about money," she adds, her determination palpable. "Let's acknowledge the system's wrong. Now let's sit down and see how we can make it better."