Thames Street Kitchen
A humble Newport restaurant is quietly attracting a following the old-fashioned way — with its food.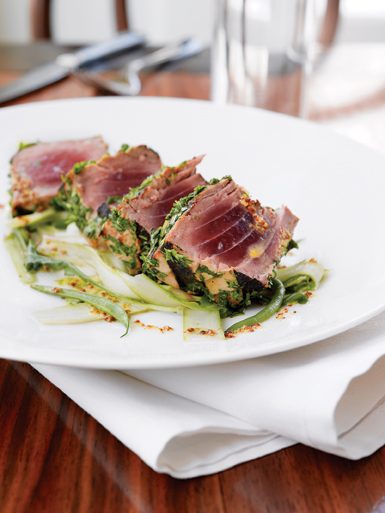 Thames Street Kitchen
Thames Street Kitchen (tsk) 677 Thames St., Newport, 846-9100, thamesstreetkitchen.com. Open for dinner Tuesday–Sunday. Reservations recommended. Wheelchair accessible. Limited street parking. Cuisine Highly evolved American. Capacity Slightly more than forty. It's BYOB, so don't expect a bar. Vibe Martha Stewart's eat-in kitchen. Prices Appetizers $6–$14, entrees $16–$30, desserts $6. Karen's picks With eight options on the menu, order everything you can.
Key
Fair
Good
Very Good
Excellent
Half-star
he fanfare of a new restaurant typically rests on a big budget, mass marketing and a brand-name chef. Thames Street Kitchen, an independently owned forty-seater in Newport, boasts none of the above. But it does have something else: the relentless dedication needed from a start-up chef (or, in this case, a pair of them) and the superlative food that springs from it.
Chef-owners Chad Hoffer and Tyler Burnley met in the kitchen of New York's BLT Prime and married twins, Anna and Julia Jenkins. They entered the gastronomic fray in Newport, where their wives grew up, and the sisters now run the front of the house. In one sense, their venture, Thames Street Kitchen (tsk), isn't an easy sell. These days, farm to table has become de rigueur, and BYOB has lost its kitschy coolness. What they do have, however, is a simple but effective visual presentation, a swagger that comes from working under a big name (note that the restaurant, like Laurent Tourondel's, goes simply by its initials, "tsk") and a brazenly strong if small menu.
With less than a dozen dishes total covering three courses, it's within the range of possibility that tsk might have a limited audience, or a wide audience who might lose interest quickly. Not so, as long as they can lure in diners for that first bite. Like any good kitchen, there are a myriad of go-to preparations that show up as garnish or supporting players, allowing singular ingredients such as a Catalan quail or veal carpaccio to shine. Hoffer and Burnley love a mandoline, topping appetizers and entrees with fine slivers of everything from parmesan to tissue-paper-thin potato chips (alongside the quail), adding not only texture but subtle layers of flavor. A baby beet salad ($7), for instance, tossed with nibs of fresh goat cheese and mixed greens, gains spark from a bevy of thinly sliced pickled pearl onions, providing the requisite punch to what could be a too familiar plate.
To its credit, there's nothing too familiar about tsk or its food. Even the preparations that sound expected — lobster rolls, ravioli, roasted chicken — surprise and impress. A bowl of delicate fava bean ravioli ($9), unexpectedly sweet on the interior, is paired not with lardons but a brunoise of deeply cooked bacon that offers a nice disparity in texture. A dash of shaved shallot and parmesan, and it's a veritable festival of flavor. Such attention is evident in every savory course that comes out of the kitchen — and in the restaurant's aesthetic itself.
Though the small space appears bland at first (deep pink-hued shingles make the building feel like a stable, as does the Dutch split door), its decor is well-planned. There's a contemporary and accomplished air to the farmhouse effect: Thick wooden tables (resurrected church pews) are covered with sleek bulb vases, while chalkboards overhead display not only the nightly desserts but also the declaration that "Simmons Farm Rocks!" The kitchen, flanked by a large window and the restaurant's communal eight-top table, showcases Hoffer and Burnley hard at work, appropriate scowls plastered on their intent faces. In fact, there's a photo-worthy vignette in nearly every corner of tsk, from the windowsill that holds glass milk jugs (for water), to the warm salt sticks in carefully rumpled paper bags.
And yet, for all of its well-considered design, tsk's strength lies in its food, which tenaciously trumps the visuals. Even a minute lobster roll with its sweet buttered bun, just large enough to hold a single claw, manages to elevate itself with a dash of celery and a tangle of translucent garlic chips. Further evolved is a wedge of burrata ($8), its pliable mozzarella skin barely containing a viscous, creamy center. Paired with sharp arugula, a dollop of bright pesto and shavings of asparagus — not to mention spot-on seasoning — the prosaic becomes something sublime.
At first glance, it's surprising that, with a mere four entrees on deck, any chef would choose to serve a basic roasted chicken breast. Those who order it aren't likely adventurous enough to appreciate every detail in the tsk cache. Or are they? Like everything in their ever-evolving arsenal, Hoffer and Burnley execute as well as they conceptualize. The chicken ($17) in question is herb-stuffed under its crackling skin and served with both a mixture of kale and an earthy mousseron mushroom saute as well as a pan-fried pile of slightly caramelized spaetzle. The key to this comforting harmony is in the complimentary but unexpected textures. The same goes for seafood. Heavily crusted scallops ($24) are caught between a rich, perfectly smooth cauliflower puree, small wedges of fresh lemon and a bold olive vinaigrette; none of the components usurp the shellfish but rather allow it to bask in its own glory.
Knowing when enough becomes too much, however, is something the pair of chefs do exceedingly well. While some dishes are downright aggressive, a snow white halibut ($26) is mind-blowingly minimalist. Served in a bowl of artichoke barigoule — basically a broth made from the chokes — with just a few tender gnocchi and frenched green beans, it manages to execute ease and depth simultaneously.
As confident as Hoffer and Burnley are in their cooking, they do have a certain fiscal humility about them. Appetizers fall under $10 (foie gras excepted), entrees under $30, and desserts come in at $6. A welcome nod to the customer's wallet over the chef's ego. A shrewd move, too, since it will surely keep the tables full.
Such skill, though, can be tough to translate into dessert without a dedicated pastry chef. The trio of nightly specials are straightforward, and though they may lack the complexity of their savory counterparts, they show well and without any real demand for the spotlight. No doubt the prize goes to a collection of perfectly puffed doughnuts rolled in sugar and reminiscent of a street fair with technical cred. Homemade ice creams, particularly the mixed berry, are full of flavor and juxtapose nicely with the warm doughnuts if you can manage to double-fist your desserts.
And yet, for all the culinary talent on the line, tsk still has a certain low-key quaintness. A couple waiting for a table share their wine in the vestibule, well-behaved children peer enthusiastically at the preoccupied chefs, and those lucky enough to sit do so, nose in their plates and with little interest in observing their neighbors. It's not that Thames Street Kitchen doesn't offer a lot to look at; it's just that none of it is quite as interesting as the food.