Test Your Musical Knowledge at Trivioke
Take this five-question quiz to see if you have what it takes to enter a team and celebrate the karaoke and trivia mashup's first birthday.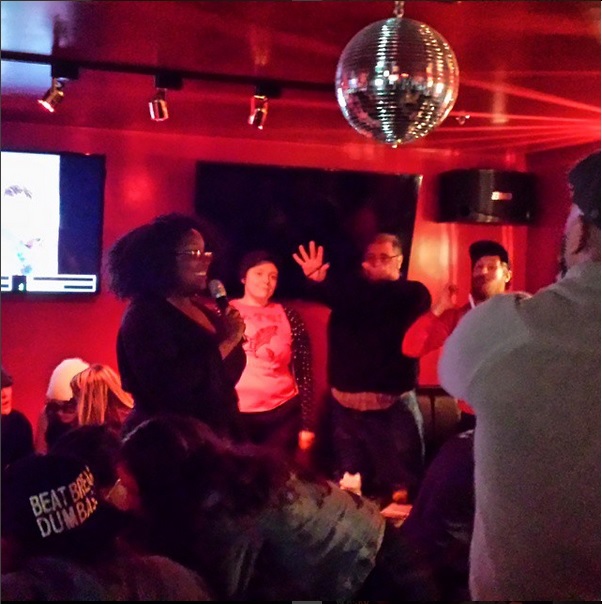 It's almost Trivioke's first birthday! The mashup competition at the Dean Hotel's the Boombox karaoke bar combines trivia and karaoke, and it's celebrating its one-year existence with a two-night Tournament of Champions. New teams will be welcomed to compete alongside returning participants on Friday, Jan. 22 at 7 p.m. The second invite-only competition will take place the following week on Friday, Jan. 29 at 7 p.m., and will feature all of last year's returning champs along with the winning team from Jan. 22. Doors open at 5:30 p.m. so you have time to work on gaining some liquid courage…
Trivioke describes itself as this: "You love pub trivia. And you love karaoke. But have you ever wondered what would happen if those two crazy kids got drunk one night, made sweet, sweet lovin', and then went half on a baby (as the poet R. Kelly would say)? Wonder no more!"
Need a little practice before you decide to enter your musically-inclined foursome? Here's a little trivia quiz to help you brush up on all things R. Kelly and David Bowie (answers below).
What drink is R. Kelly sipping on in the remix to "Ignition"?
What is the longest running American band with its original lineup still intact?
What '80s pop star claims to have produced, arranged, composed and played all 27 instruments on his 1978 debut album? (Bonus point if you can name the album.)
What Atlanta rapper's 2013 cookbook contains instructions like "If wearing a four-finger ring, carefully place it on a side table before starting to cook," and, "Call Fergie, invite her to watch a movie on Netflix. Once she accepts, start making green beans"?
What was David Bowie's original stage name, which he later changed to avoid being confused with another 1960s pop star?
For advance team signups, email triviokepvd@gmail.com. The Boombox at the Dean Hotel, 122 Fountain St., Providence, 401-861-0040, singboombox.com.
Answers: 1. Coke and rum (from the category "12 Play: A Dozen Questions About the Life and Times of Mr. Robert Kelly," January 2015) 2. ZZ Top (1969) (from the category "Three Is a Magic Number," September 2015) 3. Prince, For You (from the category "The Multi-Taskers," July 2015) 4. 2 Chainz fFrom the category "It's Bigger Than Hip-Hop," May 2015) 5. Davie Jones (to avoid being confused with Davy Jones of the Monkees)
Questions by John Taraborelli.