Ten Reasons to Visit the Princess Diana Exhibit at Foxwoods
You don't have to travel to England to see Princess Diana's wedding gown and other Royal family heirlooms.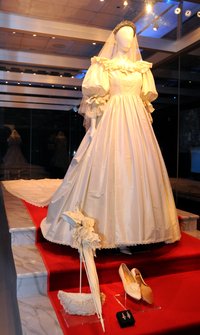 "Diana, A Celebration," will be on display at Foxwoods Resort Casino through Jan. 15, 2012, showcasing 150 objects on loan from the Althorp Estate, Diana's family home in England. Here are ten reasons why it's worth the short trip from Rhode Island to view the traveling exhibit.
1. Princess Diana's wedding gown
Lady Diana Frances Spencer married Charles, Prince of Wales, on July 29, 1981 and her gown will always be remembered. Her twenty-five-foot train is the longest in Royal history, and you can see it displayed behind a full glass enclosure that showcases the dress in all its sprawling glory. Accompanying the gown is a coordinating bridesmaid's dress, as well as Diana's shoes, earrings and parasol.
2. The funeral gallery
I was sixteen when Diana was killed. I remember the day I learned about her death. The funeral room hit me like a ton of bricks. It's very emotional and somewhat eerie. Elton John's rewritten version of "Candle in the Wind," or "Goodbye England's Rose," is playing, and laid out in front of you is what looks like a grave plot covered with dead leaves. Footage from the funeral rolls above it on a big screen. I had to sit down for a minute in the row of chairs as I bit back the tears. Then I noticed the box of tissues available for visitors. It was nearly empty.
3. Elton John's lyrics
Another detail of the funeral gallery is the handwritten score and lyrics of the Elton John/Bernie Taupin composition adapted from "Candle in the Wind." You can read John's personal notes to Diana along the margins of the paper.
4. Books of Condolence
I walked into another room that looked like a library, and thought, "What's this? It looks like a bunch of random books." The open books on display revealed notes to Diana. On the days and weeks after she died, thousands of books of condolence from all over the world arrived at Kensington Palace containing personal notes to the family and the late princess. Each book had to be examined, as many contained donations for Diana's foundation. The family kept the books and hundreds of them travel with the exhibit.
5. The Style Gallery
On display are twenty-eight of Diana's most iconic dresses and suits, including the last gown she wore to a public engagement, a sparkling black Jacques Azagury gown, complete with Hepburn-esque bows. One-of-a-kind designs by Christian Lacroix, Catherine Walker, Gianni Versace and Valentino flank the walls. There's even an outfit Diana wore on overseas charity missions, which was ironically designed by Ralph Lauren and Armani. Many pieces of her wardrobe are timeless, but others spotlight the awkward fashion phase of the late-eighties and early-nineties, before Diana mastered her more streamlined look.
6. The Childhood Gallery
Diana's toys, childhood photo books, ballet slippers, portraits and family videos filmed by her father are on view. These personal items make you realize the princess grew up just like any other child. Her stuffed animals are well loved, her passport is full of stamps and she seemed to have lived a happy, normal childhood.
7. Fun Facts
Diana's family tree takes up an entire wall of the family gallery. In it, you can see how she did, in fact, have Royal blood in her family. I also learned that Prince Charles dated Diana's sister, Lady Sarah, before he and Diana became an item. I never knew that. Diana also held a job as a housecleaner and babysitter before she met the prince.
8. Family jewels
View two diamond tiaras, as well as various other priceless family jewels that you wouldn't see elsewhere. Imagine what it would be like to wear a mine's worth of diamonds on your head.
9. Location
This is the only northeastern stop of the tour, and Foxwoods is less than an hour from Providence, and two hours from Boston. The exhibit's next stop will be to the Mall of America in Minnesota. The exhibit's permanent home is in the Althorp Estate in the United Kingdom, where the exhibit is only open for two months out of the year.
10. Charitable donations
All profits from the exhibit are donated to The Diana, Princess of Wales Memorial Fund, which is an independent grant-giving charity established in September 1997 to continue the Princess' humanitarian work in the UK and overseas.
Through Jan 15, 2012: Sun.-Thurs. 11 a.m.-8 p.m., Fri. and Sat. 11 a.m.-10 p.m. Adults $25, seniors $20, children 11 and under $16. Great Cedar Exhibition Area, Foxwoods Resort Casino, 350 Trolley Line Blvd., Mashantucket, Conn. For tickets, call 866-646-0609 or Ticketmaster at 800-745-3000. dianaexhibition.com.