Teen Pregnancy in Black and White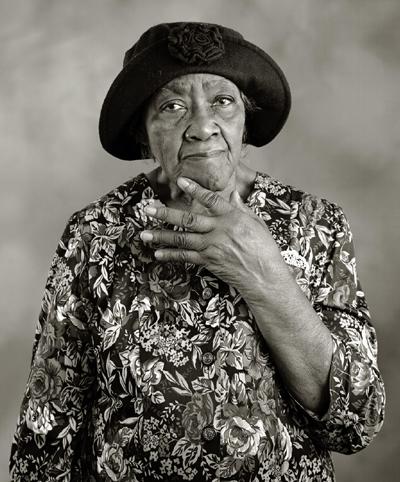 Therese Lavallee, director of the TSETSE Gallery in Providence, stares at a black-and-white photograph of an elderly woman named Willie. Willie's voice, soaked with a deep Southern accent, booms from a set of headphones and into Lavallee's ears.
Even in the photograph, Willie looks like she's telling a story. Her hand on her chin, she says matter-of-factly that both of her grandparents were slaves. When they were freed, they moved to Texas and started a family.
"I didn't take up with strangers, I was just kind of shy," Willie explains, her words tough to decipher. "And when I got pregnant, I didn't know I could get pregnant that way. I got so disgusted, felt shame all kinds of ways."
Willie was seventeen years old when she gave birth to her son. Her plans were to "make a lady" out of herself and raise her child with or without the father, but her parents decided to keep the boy and send Willie away.
To her surprise, Willie's brother brought the boy to see his mother when he was five years old. But their reunion didn't last long; Willie's father tracked them down and collected the boy back up. "He was cryin' for me and I was cryin' for him," Willie says, her voice quivering. Willie ends her tale by singing "Woke up this mornin' with my mind stayed on Jesus," a spiritual hymn from the time of slavery, which she likes to sing in church with her husband.
Lavallee removes the set of headphones, hangs them up and steps back, still bonded to the blown-up image of Willie. She turns, faces the group of people standing by the door to her gallery, and does not speak. Her eyes shine like glass in the late afternoon light.
Over the next four weeks, TSETSE Gallery will host a travelling exhibition called "Children of Children: Portraits and Stories of Teenage Parents" by multimedia artist Michael Nye. May is National Teen Pregnancy Prevention Month, and Deborah Perry, CEO of the YWCA of Northern Rhode Island, says the exhibit — which has been in circulation for more than a decade — couldn't have arrived in Rhode Island at a better time.
"Last year, the Rhode Island Alliance [a statewide collaboration of nonprofits dedicated to preventing teen pregnancy], in conjunction with the Rhode Island Department of Heath, came up with a strategic plan to reduce rates of teen pregnancies," Perry says.
The purpose of the plan, which was unveiled in January and may be accessed here, is to reframe teen pregnancy from an issue of judgmental, moral perspective to that of a public health issue.
"It makes the issue an adult responsibility," she says. "It will give our youth the tools they need to survive: access to medical care, sex education, access to contraception, support systems, youth activities. The teen pregnancy rates in Rhode Island have begun to drop as they have nationally, so we will keep building the scaffolding around young families to support them."
Perry and other members of the Rhode Island Alliance thought to launch the plan with true stories of teen pregnancy from people young and old, male or female, from all walks of life.
"It's the same stories we hear at the YWCA," she says. "These pictures, these voices, are in Rhode Island."
Perry says many of the young women she's met through the YWCA's support programs were sexually abused at a young age, or are over-sexualized and don't understand how they should be treated by men. Others, like Willie, didn't know they could get pregnant after just one time.
"About eight years ago, the YWCA and the Department of Health had a community conversation about raising sexually healthy children. Teen pregnancy was also discussed and young mothers spoke to the audience and provided words of wisdom," Perry says. "The [Woonsocket Call] did a three-week series on it, and then the letters to the editor started to come in. It became a moral issue. They couldn't understand why these young people were highlighted. They asked, 'Why is my honors student not on the front page?' It touched me personally as a woman in a position of power…I had a responsibility to advocate for them. It's so simple how we can help."
"Children of Children" will be on display at TSETSE Gallery, 51 Empire St. in Providence, until June 11. The gallery is open Thursdays and Fridays from noon to 6 p.m., Saturdays from noon to 3 p.m. and by appointment. Call 453-3337 or visit tsetsegallery.org for more information.