TEDxProvidence Speakers Finalized
The event will be held May 2 at the Columbus Theatre in Providence.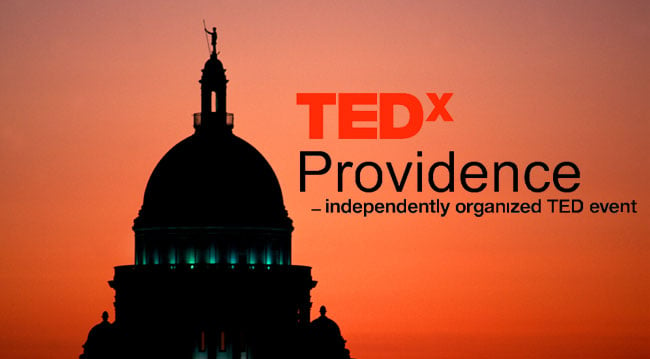 TEDxProvidence released their list of speakers from worlds of entertainment, finance and the environment for this year's conference on Saturday, May 2. Here are the bios they released on the speakers:
Shura Baryshnikov, Choreographer, dancer, educator. Shura Baryshnikov is an artist committed to the process of creating, producing and performing movement. With a background in physical theater, contemporary dance and a range of improvisation practices, she seeks the creative space where these mediums overlap to inspire somatic exploration and performer versatility. She is a Teaching Associate in the Department of Theater Arts and Performance Studies at Brown University and has also taught movement and choreography for students at MIT, Dean College, Rhode Island College, Salve Regina University and at Earthdance in Plainfield, Mass. Baryshnikov's performance work has been presented by the RISD Museum, Festival Ballet Providence, the Providence Fringe Festival, Brown University and in Earthdance's Moving Arts Lab.
Mary Burke, Economist. Dr. Burke joined the research department at the Federal Reserve Bank of Boston in 2005. She previously taught economics as an assistant professor of at Florida State University and a visiting professor at Grinnell College. Among other research projects, she is currently working on papers that aim to explain disparities in obesity by race and gender and to measure the influence of peers versus teachers on academic achievement. Her research has been published in American Economic Review, Journal of Monetary Economics and Economic Inquiry. Dr. Burke holds a B.A. in mathematics from Brown University, and M.A. and Ph.D. degrees in economics from Johns Hopkins University.
Malcolm Davidson, Musical Writer. A former vice president at Sony Music New York, Davidson has long been concerned about wide extremes in the socioeconomic structures of the US and other countries. He has expressed and shared these thoughts through poetry and a musical comedy entitled "Company Matters." Malcolm earned a B.SC. (Hons) in electrical engineering from Huddersfield Polytechnic England in 1972 and an M.SC. in computer science from University of New Haven. He is an active member of Ocean State Poets.
Sheri Griffin, Nonprofit leader. After establishing a farmstand and mail-order citrus business with her parents and grandparents after high school, Sheri Griffin earned a B.A. in English and biology from the University of Rhode Island. After graduation, Ms. Griffin entered the nonprofit world, as director of development and publicity at AS220, a nonprofit arts center in Providence. Since then, she has worked at a range of nonprofits of various sizes and has become active in her neighborhood, working with other volunteers to keep a library branch open and starting a community garden. Griffin has been with working for Farm Fresh since 2005 and has been co-executive director since 2013.
Ann Hood, Author, Essayist. Ann Hood is the bestselling author of the novels The Knitting Circle, The Obituary Writer, An Italian Wife and the memoir Comfort: A Journey Through Grief, which was named one of the top ten non fiction books of 2008 by Entertainment Weekly and was a NYT Editor's Choice. She's won two Pushcart Prizes, Best American Food and Best American Spiritual and Travel Writing awards.
Vatic Poet, Slam Poet, Rapper. A vatic is a peculiar thing. The moment they are defined, is the same moment they're meaning shifts. Vatic Poet is a philosopher poet, a promoter of justice and an admirer of the absurd. Building on the inspiring energy of the Providence Poetry Slam community, Vatic is leading an effort to empower rappers by holding them accountable as artists.
Kristen Minsky, "Flapper, tapper and Gal about town." Kristen Minsky is probably best known as one half of New York's "1920s tap sensations," the Minsky Sisters. In addition, she is the director of both Chifferobe Events and Providence Rhode Island's only vintage dance company, the TropiGals. Her background includes a B.F.A. in studio art and performance studies from NYU, an M.F.A. in sculpture from RISD, and work with the production team for PERFORMA, New York's world-class biennial focused on visual arts performance. She has been written about in The New York Times, Rhode Island Monthly, the Providence Journal, Providence Monthly and illustrated in The New Yorker, among others.
Leo Pollock, Social Entrepreneur. Leo Pollock is a co-founder of the Compost Plant, which has diverted nearly 400 tons of food waste from going to Rhode Island's Central Landfill since it launched in 2014. Leo was one of the key architects in its design and development of the Rhode Island Food Policy Council, pushing for a stronger food system in Rhode Island, and serves as the Network Coordinator. Leo holds a master's degree in sustainable development and environmental policy from the University of Utrecht in the Netherlands, and is a 2015 Wild Gift Fellow for his work with the Compost Plant. Leo lives with his wife in Providence, where they raise chickens and tend numerous home compost piles.
Anisha Sekar, Student, Finance blogger. Anisha Sekar was the first employee of the personal finance website NerdWallet.com and helped it grow from a credit card recommendation app to a center for answering money questions. She has written for Forbes, and U.S. News and World Report and served as a media expert in interviews with Bloomberg Businessweek and ABC's "Real Money." Anisha is currently pursuing a degree in computer science at Brown University and will graduate in May 2015.
Dr. Lucy Spelman, Doctor of zoological medicine. Dr. Lucy Spelman is one of 156 board-certified zoological medicine specialists in the world. She has an undergraduate degree in biology from Brown University and a degree in veterinary medicine from the University of California, Davis. Animals have always been part of her life, and her experiences with them include taking care of giant pandas in China, mountain gorillas in Rwanda, and river otters in Guyana. She has worked as a zoo veterinarian, a zoo director, a wildlife veterinarian, a media consultant, a writer, and an educator. In addition to various scientific articles, she is the author of the National Geographic Animal Encyclopedia, and co-editor of a book of short stories, The Rhino with Glue-on Shoes. Dr. Spelman currently practices in Rhode Island and teaches at the Rhode Island School of Design. In 2015, she launched Creature Conserve, an online gallery of works by student artists and designers researching and responding to the problems facing animals today.
Willem van Rijn, Climate change activist. Willem van Rijn was the chief operating officer of Greenpeace International, the head office of the global Greenpeace organization, based in Amsterdam. He came to Greenpeace after a career in finance, increasingly concerned about climate change and determined to make a difference for his children, grandchildren and the planet. He retired from this position two years ago. Currently, he is active as an investor, active advisor and board member in an environmental remediation technology company, and in a start-up internet-based data company in the health care sector. He is a board member of a leading think tank in Germany working for German and EU- governments in the area of socio/economic policy towards a cleaner environment. He is a personal coach to a number of senior professionals in environmental NGOs. Willem and his wife Kathleen have five children and seven grandchildren. They live in Newport and New York City.
Norb Vonnegut, Author, Finance blogger. Norb Vonnegut is the author of The Trust and other thrilling novels. He writes a regular column in the Wall Street Journal and is currently working on The Dirty Little Secrets of Money, nonfiction for anyone who wants to avoid financial mistakes. He previously spent twenty years on Wall Street. Norb is a graduate of Harvard College and Harvard Business School.
TEDxProvidence will be held May 2 at the Columbus Theatre, 207 Broadway, Providence. Remaining tickets are $50. You can order them here.