Tech 10 Awards 2015
Meet Rhode Island's top ten IT professionals.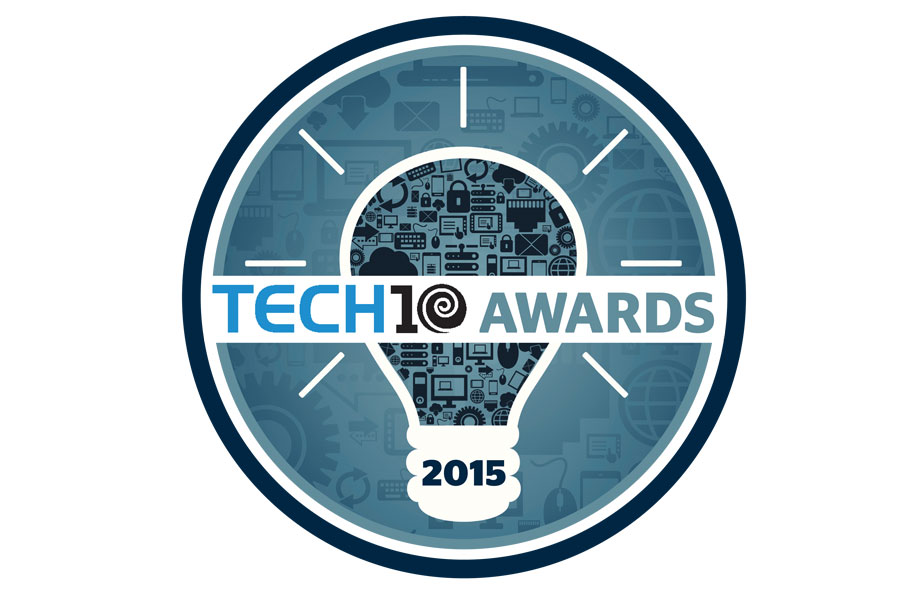 Nerds. Computer geeks. Techies. Those interested in information technology (IT) sometimes earn nicknames with less than flattering connotations. While some might embrace these labels, others might favor innovator, visionary and entrepreneur. Either way, technology is a fundamental part of the world we live in and these 'dorks' are the driving forces behind it. Often confined to behind-the-scenes action, we're thrusting them into the limelight (some kicking and screaming). Rhode Island Monthly is proud to partner with Tech Collective to honor this year's top ten IT professionals in the state. Little Rhody has always had a penchant for creativity — techies are just the new wave of artists.
The nonprofit Tech Collective is Rhode Island's technology industry association and it aims to inspire, establish and expand a technological community and economy throughout the state. Each year, thanks to careful consideration by a panel of technology professionals and experts, Tech Collective names the state's Tech10: ten exceptional practitioners and entrepreneurs who best exemplify innovation, passion and success in Rhode Island's IT community. This year's Tech10 is made up of mentors, business leaders, former art majors and people who just like to take things apart for the sake of putting them back together. Here, the winners share their experiences in the field and, for those of us who are less technologically inclined, explain just what it is that they do.

Roberto Gonzalez
Founder, president of the board and executive director of STEAM Box.
In plain speak: STEAM Box is an organization that cultivates technology-based youth program development and participation.
Impact: STEAM Box programs allow students to design, make and play with various technologies, enabling them to explore new passions and interests. They give young people, many of whom go on to pursue tech-based careers, ownership of their projects.
Is there a push to get more young girls involved in tech? The trend shows that young women will only take about twenty-one percent of new engineering jobs. There's still this disconnect between girls and their interests in the sciences to their following through with careers in science. One of my priorities is to engage our young girls and offer them these programs, even if it's a girls-only program. We started one and they did all these cool things. They made a geodesic dome and went to Six Flags where they learned about the architecture and design of rides. I want girls to feel entitled to those jobs.
Do you keep in touch regularly with students who have graduated? These students humble me. There was this student, who is now at Rhode Island College, who sent me a Facebook video this year. In the video he says, 'It's my birthday, this is really cool that I got a car for my birthday, it's really cool that I'm at RIC, life is beautiful and I have to thank you, Roberto Gonzalez.' I got chills. And Mozart Louis, he called me up from his job at Google and he's like, 'I can't believe I'm here.' I'm just so appreciative of things like that.
---
Maeve Donohue
Founder and creative director of Nami Studios. Co-executive director of MedMates. Founder and creative director of Buttrfly. Founder, creative director and developer of Tango RI.
In plain speak: Nami Studios is a creative services firm that provides design development from infographics to branding to website design. MedMates is a platform that connects people working in the medical technology industry in Rhode Island to one another. Buttrfly is a startup company that involves hyperlocal geosocial networking (aka close proximity networking) in real life. Tango RI is a central database for Rhode Islanders where users can join participating organizations' websites and access a shared suite of common services.
Impact: Donohue's projects empower individual users to have more control over their information and encourage people with similar interests and backgrounds to connect.
How would you summarize what you do? I bring a design aspect to different types of technology, primarily the ones that end up in your palm, on your desktop or on your lap. Design is a very important factor in technology. I also do a lot of what I call translation. Because I can speak techie and programming and design and business, I find myself translating between each of those groups.
What drove you towards programming? Even when I was little I liked programming. We had a Commodore 64 and I liked moving the little dots on the screen. I went to RISD for art, but after I graduated I traveled and lived in different places. I have a faculty for learning languages and programming is really just another language. You don't have to be good at math. If you understand language and syntax, at least conceptually and creatively, you can program.
---
Jim Mcassey
Vice president of Brave River Solutions.
In plain speak: Brave River is an IT services company that assists local companies with software development, custom programming, helpdesk support and Internet marketing.
Impact: Since its inception, Brave River has helped a number of Rhode Island-based companies realize that having a website is just as important as having a business card. Brave River is customer service oriented. Does that part of IT ever get frustrating? We're here because our clients are not experts in technology. Our clients are very good at what they do, and our job is to supply them with the technology to help them do what they do. If someone in our company gets frustrated with the problems that are presented, then they are probably in the wrong business. You need to embrace the challenges and help the client through that immediate problem, but most importantly see if there is something you can do to help them not encounter that same problem again.
What advice would you give to young people who are considering a career in technology? Technology is a great field to go into. I think they need to understand two things about themselves: One, do they really like solving problems, because that is what you are doing on a daily basis, and two, do they like to build things. It's a lot of building solutions, building opportunities and being creative.
Nik wahlberg
Founder and CEO of Scandia.
In plain speak: Scandia helps businesses and companies in the financial services sector build and maintain their websites and create custom application solutions.
Impact: Scandia is able to take existing business processes or problems, from administrator processes to managing client records, and create web-based and mobile app-based solutions. It provides employees with access to such information not only from the office, but from wherever they may be.
How did you get into this field? I went to school for advertising and then really got into the web development side of things. It was also kind of the local scene at the time. This was Providence in 2000, 2001, and I did my internship at Johnson and Wales. They basically handed me a big 1,000-page book and said, 'go learn this.' And that's where it all started. There is so much information and self-learning available on the web. Ask Google and it will show you the resources to learn something else.
You visited your daughter's second grade class to teach them about programming. Did they get it? The initiative is called Code.org, and it's really about critical and logical thinking. That's what software is. It's a lot like learning a language and when you're young, it comes more naturally. With the kids it's about giving them the tools to say, 'alright, we have these two little guys on the screen. How can I make one of them move ten steps?' They get to write that sequence and then actually watch it happen. It's fun for them because there is immediate feedback.
---
Lisa O'Rourke
Data management section manager at Amica.
In plain speak: O'Rourke manages a team of skilled tech-gurus including database administrators, data integration groups, business intelligence specialists and warehouse groups.
Impact: She and her team make it so that the company's data, everything from sales to customer claims, is readily available and digestible for the rest of Amica's employees.
You were originally an art major in college. What made you switch to computer science? In my art days we started with a computer graphics design course at Rhode Island College. It was really fascinating back then to see how you could make something three-dimensional as opposed to flat or one-dimensional. That really piqued my interest and kind of evolved.
Would you say there is a connection between art and technology? We think of technology as a little creative. You have to think outside the box to accomplish things and to resolve an issue and often we'll find ourselves drawing diagrams whether it's data flow diagrams or system flow diagrams. Application development, database design, data integration techniques: I'd say all of them are very creative because you have to think, 'what is this going to look like, how is this going to function?' It's a lot of visualization, and then bringing that vision to life — just like art.
---
Rick Lemieux
Co-owner and managing partner of itSM Solutions.
In plain speak: itSM Solutions provides a set of on-demand, video training programs that allow individuals to become educated and certified in various IT professions.
Impact: Not only has itSM Solutions made it easier for IT professionals to learn new skills without having to travel, it has also has provided a network for their customers to connect and learn from one other.
It seems as though people would be wary of learning technical jobs online. How did you get people on board? We started this back in 2005 with traditional classroom training around the globe and, in 2007, we had the opportunity to create e-learning versions of those programs. At that time, video was becoming very popular, so we looked to see how we could recreate the classroom through video technology and social networks. Then, in 2008, the economy struggled. Companies cut their travel expenses, their training and out-of-the-office budgets but the training requirements were still there. It became the perfect storm for what we had to offer.
What role do social networks play? A key part is the mentoring piece, which is centered on LinkedIn. It's the perfect forum. You have the whole global network at your fingertips. If you're taking the training and have a question, you can post the question and get answers from all over the globe from mentors who have already been through that program or might be going through that program at the same time.
Charles Dansereau
Director of IT at the Rhode Island Quality Institute (RIQI).
In plain speak: Dansereau maintains RIQI's IT infrastructure, and develops and supports their applications, software and integrations.
Impact: He had a heavy hand in helping build RIQI's Health Information Exchange (HIE), a platform that digitally stores participating patients' health records. This allows emergency technicians throughout Rhode Island to gain access to data from health providers, including major hospitals in the state, quickly and seamlessly.
How did you get into technology? I was one of those kids that liked to take things apart, and my parents always mandated that if you took it apart you had to put it back together. I also had a professor in college who was a professional engineer. He brought real world examples into our classes and told us not to just think by the books, but to think outside the box. I've taken with me that idea of challenging the way you see things.
Does everyone in your life come to you with their tech problems? All the time. Once, my daughter broke her laptop — really destroyed it. Sony couldn't fix it so they sent it back to me, and I went downstairs and MacGyvered it back together. I use it now. My background is in electrical engineering and I've worked in manufacturing, in firmware, hardware, software…I have knowledge in different areas. I think that gives me a tap on the shoulder for a lot of things.
---
Fran Varin
Web development section manager at Amica.
In plain speak: He directs a team of about twenty software developers and business analysts who are responsible for developing and supporting Amica's website and mobile app.
Impact: Varin and his team enable Amica to communicate easily and efficiently with its customers (and vice versa), at both parties' convenience.
Having been in the industry for thirty-four years, were you ever intimidated by the frequent changes in technology? The thing about working with software is you get over being intimidated by change because that's the only constant in our field. It's funny because when you're in the middle of it you don't really think about that. It's when you stop and look back at where you were that you suddenly realize that you've covered an awful lot of ground. It's actually quite exciting.
Do you believe more technology-based classes should be offered in schools? Technology has permeated our lives. It's crept into our cars with GPS and then there's the notion of automated cars coming out in the not too distant future. It seems like a logical expression to assume that people are going to need some basic technology skills. Not necessarily to be a professional programmer, but they're going to have to have something. That early education is going to have to be right in there with math and English. It is a science, after all.
---
Andy Trench
Founder and CEO of XactSense.
In plain speak: XactSense produces drones with scientific sensors on board that allow them to create three-dimensional measurements of structures like buildings, bridges and cell towers.
Impact: XactSense creates civil infrastructure solutions, such as allowing an engineer to assess tree encroachment or sagging power lines. The company also assists with architecture and general survey projects by mapping areas with more than 200 acres in twenty minutes, completing a week's worth of surveying in a single afternoon.
How did you get into this field? I've been hacking at electronics for quite some time. I really got bit by the radio controlled thing about fifteen years ago, and then I was seeing a need for this three-dimensional scanning technology. It's the typical entrepreneur story: I needed it, realized that other people probably needed it, couldn't find a solution, so I made it myself.
What are your thoughts on Amazon delivery drones? Amazon basically showed the world a hobby helicopter with a box attached to it. I think that you're going to see movement of materials on a larger scale, such as shipping containers, not necessarily everyday home deliveries. I think there is a lot of opportunity and innovation left in what that delivery method might be, but I think it's realistic to say we'll see it in our lifetime. And probably sooner than most people think; I would bet in five years.
---
Justin Savage
Founder and CEO of EveryBill.
In plain speak: EveryBill is a company that studies and measures the role that payment plays in business and then builds products and services based on its findings for businesses to implement.
Impact: EveryBill has simplified the process of paying online for various businesses, including hospitals, allowing their customers to pay faster and with ease.
What inspired you to start this company? Most businesses focus on whether their customers have the ability to pay online. A check payment costs about $1.22 to process and phone payments cost about $4, whereas web payments might cost fifty-five cents. What we realized, and the reason we started this company, is that people should stop asking 'can my customers pay online,' and ask, 'how can I get as many of my customers as possible to pay online?'
How do you like working out of Rhode Island? I and some of the other entrepreneurs that I know are confident in the environment here. I'm really happy with the work that the government is doing, and I have very high hopes for the state. We're not going to create another Silicon Valley, but we're very unique in how small and insular we are, which gives us a significant advantage in terms of building companies. I'm eager to see where it goes.
---
Celebrate the winners: Join Rhode Island Monthly and Tech Collective to celebrate the Tech10 award winners at a special event on November 19. More information.
For more on the winners: At the event Tech Collective will debut a collection of in-depth video interviews with each of the winners. Can't make it? No problem. The videos will be available online at tech10awards.com soon after. The 2015 Tech10 recipients are very passionate about what they do and they had a lot more to say, so check out the videos to learn everything from what they love most about their jobs to where they think technology is headed in Rhode Island. Even if you don't speak techie, the bloopers reel will definitely be worth a couple of minutes of your time. Who doesn't want to see some intelligent people blush, get tongue-tied and giggle like children?