Tastings Wine Bar and Bistro
Would you be shocked if we told you Foxboro's newest draw has nothing to do with football or beer?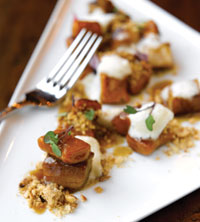 Tastings Wine Bar and Bistro
201 Patriot Place, Foxboro, Massachusetts, 508-203-9463, tastingswinebarandbistro.com. Open for lunch on Saturday and Sunday, dinner seven days a week. Reservations accepted. Wheelchair accessible. Parking lot. Cuisine New England in a pot with a few noteworthy additions. Capacity About seventy indoors, including a private table shielded by a curtain, plus room for thirty more outdoors. Vibe 90 percent independent, 10 percent mall. Price Small plates $4–$18. Karen's picks Kabocha squash gnocchi, grilled prawns with white beans, seared sea scallops, "coffee and doughnuts." Key
Fair
Good
Very Good
Excellent
Half-star
We Rhode Islanders are a territorial bunch, but even the border patrol makes allowances for areas twenty minutes over the state line, as long as they offer something of cultural, culinary or retail value: Foxwoods to the west, Seekonk to the east and a Dubai-sized complex to the north called Patriot Place. The "park" has undergone a fairly substantial makeover as of late. The area around the stadium, once grassland, is a small village of chocolate, lingerie and sporting good shops. And while roars of victory (or defeat) fill only five months, rent bills continue to pile up and football fans still need a place to call home on Sunday night. Most of the real estate at this commercial Mecca has fallen into the cushioned hands of national conglomerates, though an exception sits on the north end, owned by two long-time residents and new restaurateurs, Patti and Bill Martin, who opened Tastings Wine Bar and Bistro last summer.
If there's an operating principle here, it's small. The experience is intimate—notably, portions and the cabernet-colored space—with a slight hint of claustrophobia. The one exception? Appropriately, taste. Executive chef Richard Garcia, once a military man and still a world traveler, brings an international influence to his appetizer-sized plates, all of which are wine-compatible. The wine list comes in at nearly 200 bottles, though the eight flights ($12 to $15) are more consumer friendly and affordable. Placemats for each wine trio hold not only a spot for each glass but a brief description and notable characteristics for burgeoning sommeliers.
Spatially, the granite wine counter echoes the dining room; it's warm and inviting but not for large parties. But if you don't make it to the bar, the bar will happily come to you. Marinated olives ($7) and fried Marcona almonds ($4) in minute bowls whet the appetite just enough to order big. Bear in mind: This is a tapas-style menu and, though it may take the edge off formal dining, timing falls by the wayside. Food comes when it's done. Salads may play by some unspoken rule that says cold dishes first, but the land, sea and remaining garden dishes often charge ahead in packs that can crowd the table and confuse the diner.
Fortunately, Garcia manages to overcome the temporal issues with a sophisticated palate and mature technique. He regularly pairs familiar comfort foods with a shot of the unpredictable. Note, for example, the presence of campfire aroma: Macaroni and Vermont cheddar has a smoked crumb topping ($12), arancini and a massive wild boar meatball ($12) are slathered in an equally char-flavored tomato sauce. None of his dishes are overly ostentatious, though if they sound it—foie gras with pistachio granola and vinegar-infused raspberries, for example—they often turn out to taste better than they read.
Garcia is strongest with a diverse, sometimes arbitrary, grouping of ingredients that manage to form a cohesive whole. Tender kabocha squash gnocchi ($12) are simmered and then sauteed, mellow in flavor but for the crusty pork belly bits on top. Both are sprinkled with a pie-like crumble and laid to rest in a pool of reduced cider glaze. Twenty-first century gastronome meets Charles Dickens and his trusty deconstructed mincemeat pie. More New England than its progenitor are several giant garlic prawns ($12), which, again, are seared for texture and then paired with a stock-infused mixture of white beans and mint. Alongside: an abstract smear of cold chorizo paste. At another restaurant the temperature difference might be questionable, but several courses in, the unexpected seems mandatory.
Seared sea scallops ($13) are served as they live: in liquid. The just-past-rare mollusks sit in a light corn broth (unfairly deemed chowder) filled with a mirepoix of firm vegetables, several clams and—Garcia's trump card—a handful of dehydrated corn. The dried kernels provide an intriguing texture as well as inherent sweetness. A local Portuguese twist dictates a tablespoon of shaved chorizo on top.
Many of the more predictable dishes are bovine based; steak and wine, after all, is the default dish of the culinary world. Short ribs ($16) are braised in a delicate pinot noir and served with an equally subtle boursin polenta. Simple if not entirely noteworthy. Marinated shoulder steak ($14) is far more tangy and less tough than expected, on top of fingerling potatoes one night, a whole smashed sweet potato on another.
If two glasses of wine are simply an aperitif, there are more than a dozen muscats, ice wines and ports to sample after the meal. Most are too sweet to pair with desserts, though there are few dishes anywhere that can compete with the Chateau d'Yquem Sauternes ($225 for a 375ml bottle)—a wine to try before you die. Desserts off the vine are not as difficult to juggle as dinner (doubtful that you'll get more than two) though the savory dishes still trump their sweet counterparts.
Frozen concoctions ($8) change daily and most take advantage of the flavors and freezing failures of various alcohols: Strawberries are laced with chardonnay and, less successfully, grapefruit with Campari. The chocolate tasting ($9) is hard to pass up. No diner, even those with the most feeble sense of curiosity, can resist a "chocolate sea urchin." In truth, it's a slightly dry and mildly sweet ball of ganache molded into spikes and coated in cocoa. The urchin is part of a triad that also includes a me-ringue-heavy, exceedingly sweet gateau concorde and an enviable al dente white chocolate and cranberry risotto.
Compared to the technical detail of the small plates, desserts are a bit precious, a bit overwrought. But then there's the coffee and doughnuts ($9). Liquid and solid, respectively? Guess again. The former is a mild espresso mousse cake, more dairy oriented than caffeine vehicle. The latter is a demitasse of viscous dough that actually smells like frying batter and tastes like a cinnamon-dusted fritter. It does sound odd, even in retrospect, but, like a buttered popcorn jellybean, it's enigmatically enjoyable. It shouldn't taste like a doughnut and drink like a cappuccino but, alas, stranger things have happened in the world of food, and surprise is half the fun.
The other surprise here is that the bill can add up quickly. Lightning speed ("Those are so good! Do you want me throw a couple on before you finish your drink?") and the desire to sample everything comes at a cost. Many of the appetizer-sized plates hover around entree prices. Throw in a bottle of wine and your party for two can rack up a $200 check with little effort. Then again, it's still less than tickets and a tailgating party.