Tara Granahan Rules
The talk radio host has outlasted the male competition, and for good reason.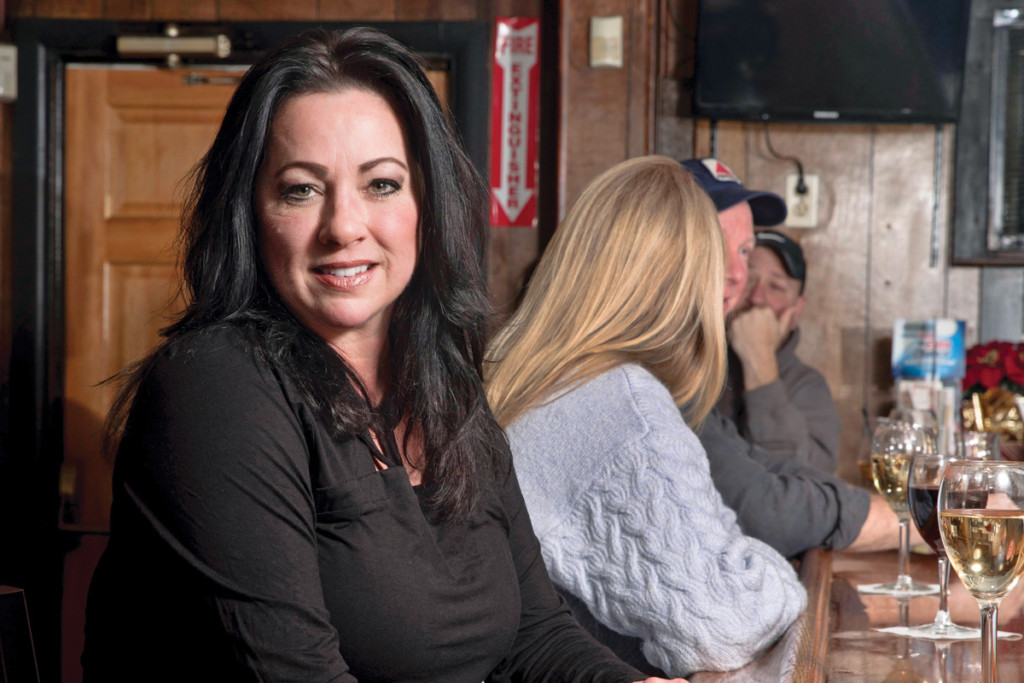 The stories she covered were often brutal and disparate, including the savage slaying of the Brendel family by Christopher Hightower and the banking collapse caused by embezzler Joe Mollicone.
"As much as you didn't want to hear the details of the Hightower case, at the same time covering the Mollicone case was so paper heavy it was brutal," Granahan says of the gruesome nature of one trial and laborious tone of the other. "It was not a win on either one of those."
The upside of her career included interviewing President Bill Clinton, Regis Philbin, fellow Rhode Island native Meredith Vieira, Ted Kennedy, Wynonna Judd and Oprah Winfrey. None made her nervous — except Winfrey.
"I walked up and said 'I think I'm gonna throw up meeting you,' " she says. "Oprah laughed and gave me a hug. That interview went great."
Granahan is as Rhode Island as it gets: Her grandparents once owned Tommy's in Warwick, a dinner-and-dancing restaurant where politicians held court. She got a journalism degree at URI. As a kid, she'd hang in Warwick hotspots like the malls or Conimicut Point. She has no intention of leaving a state she knows inside out, spending virtually her entire twenty-five-year broadcasting career here, including an on-air stint at Channel 6.
Has she ever considered setting off for greener broadcasting pastures? She smiles, and shakes her head of jet black hair.
"Back in the days doing TV, maybe I did," Granahan says. "But I love this state. My family is here, and I wanted to raise my own family here."
The jaded journalist morphs warmly into a mom when talking about her adult son and daughter, the former in the Air Force, the latter a student at Rhode Island College. "My kids will probably ditch me some day and I'll still be here in this state," she says with a laugh.
Talk radio has long been a man's domain. According to the 2016 book, Cross-Cultural Journalism: Communicating Strategically About Diversity, women made up 11.1 percent of the nation's 117 general news talk show hosts.
With that domination can come workplace sexual harassment, a hot news topic these days. Granahan's seen it, but brushes much of it off as annoyance.
"As a young female reporter, men looked at you differently," she says. "There was one prominent politician who when you interviewed him, you had to hold the mike up high so he wouldn't be staring at your chest. Was I offended? I guess, but I was just hustling to do my best, so you pushed aside certain things, right or wrong."
There was also a local police chief who used to change his shirt in front of her when Granahan was in his office to talk about a story, stripping to the waist and casually talking to her as he did.
"Is that harassment or being a weirdo?" Granahan asks. "I was just annoyed, I had a deadline and here's this guy taking his shirt off. In hindsight, I just wanted to get my job done."
While being a reporter on TV may seem glamorous, it's often the opposite, she says, like the time she covered a hostage situation in a residential area that dragged on into the night. In the dark. With no bathroom access.
"That's the difference between TV and radio; in radio, you do your show, you go home. With TV, you're there until the story ends, you have to get that last picture or someone else will," Granahan says, adding with a shrug, "and you have to pee in the woods."
On a dreary November morning, a cold rain falling outside the WPRO studios on the Wampanoag Trail in East Providence, Granahan's callers gripe about the state's Division of Motor Vehicles, hardly any Rhode Islander's favorite government agency, and its plan to whack motorists $250 for failing to get their cars inspected. Many suspect it's a money grab to fatten state coffers. State officials claim it's just to get dirty cars off the road.
This is classic talk-radio fodder Granahan loves: them-vs.-us stuff that can have a talk show host screaming about injustice, which she has never been shy about pointing out. She got five Emmy nominations for her reporting on the program "You Paid For It" at Channel 6.
But as usual, her demeanor is calm and measured, which her sister says "makes her so popular, she listens and lets people have their opinions. That's refreshing."
Granahan also has a biting wit, lacing her commentary with humor and sarcasm Rhode Islanders can identify with.
"It's no secret the DMV is one of the most dreaded places you ever have to go," she tells a caller. "You'd rather go to your gynecologist or dentist."
There's a pre-scheduled call-in from former governor Lincoln Chafee, who is not known for being a powerhouse speaker. He drones on about pension reform, the controversial Burrillville power plant, and his hinting of running for governor in 2018. Granahan asks about Governor Gina Raimondo's $3 million war chest, seeking to liven things up.
It's livened up by the bomb Chafee casually drops.
"It's all dirty money, we all know that," Chafee replies. "She'll probably have $10 million before it's over. It's all dark money, she invested in all those hedge funds and it circled right back into… campaign donations."
Granahan looks into her console in what appears to be disbelief that a former governor is accusing a sitting one of basically being a criminal. She calls him on the "dirty money" accusation; he doesn't back off. They move on to other things, such as him
running for his old job, but overall the call is the type of powerful radio she thrives on.
"I knew it was a headline as soon as I heard it," Granahan later says about the 'dirty money' accusation that was jumped on by the Providence Journal and the Associated Press. "Quite provocative, but that's Lincoln Chafee, he knows how to ease into a conversation and then lob a bomb."
A talk show host's main job, she says, "is to keep the audience engaged, and ultimately entertained. While I enjoy breaking news and digging deeper into the stories, some of my favorite moments are when callers respond to other callers or what I've talked about with previous callers. That way I know they're really listening and enjoying the conversation."
The key, she says, is not being controversial but rather thought-provoking.
"I'm provocative, I guess, I like you to think a bit," she says, adding she doesn't like combative callers. "Hey, if you want to fight, you can go home and fight. Don't fight with me for shock. I'll see through that and it gets old."
In a small state, local broadcasters are easier to spot on the street or in stores. She was more recognizable when she did TV, but now it's her voice that gives her away.
"I'll be in Stop and Shop buying Land O'Lakes low-salt turkey, and someone will turn and say, 'I thought you sounded familiar,' " Granahan says. "That's when you just hope you have makeup on."
The bottom line of all the talking she does, Granahan says, is that she enjoys engaging her callers, being enlightening, educational, entertaining. Without them, she wouldn't have a job. And although even tempered and calm most of the time, occasionally, a caller will test her.
"One guy said I was stupid because I went to a state school and he had an Ivy League background," she says. "So I sang him the URI fight song: 'I'm Rhode Island born and Rhode Island bred, and when I die, I'll be Rhode Island dead!'
"He wanted to throttle me," she laughs. "But hey, even if they think I'm a doofus, it's all good."