Tara Granahan Rules
The talk radio host has outlasted the male competition, and for good reason.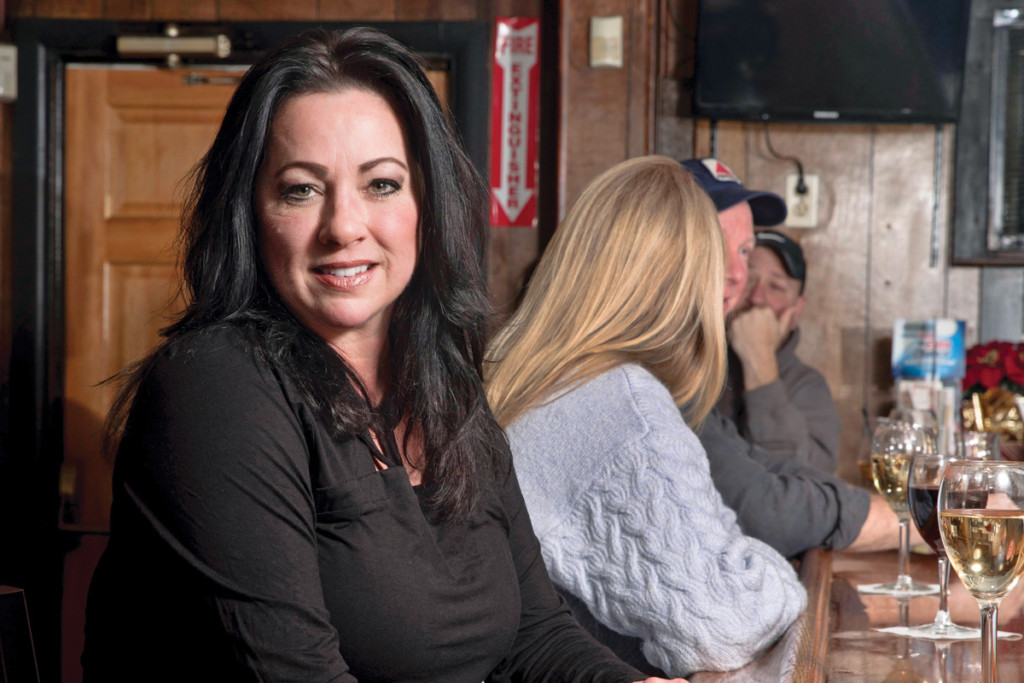 "But she couldn't leave Rhode Island, or her family," Tara Granahan says of her mom, a native. "So they came back to live, and my dad continued to go all over for work."
Which occasionally included surprises like the time dad produced a show at the old Warwick Musical Theatre with Fats Domino. Tara, her sister and mother did back-up and were the opening act.
"They handled it like pros, both my girls," Gerry Granahan says. "Tara was something else, and I've never been prouder of her or her sister. Very talented kids."
Granahan met Hazard, sitting in front of her, at Warwick's Aldrich Junior High. Granahan came from St. Francis of Assisi, where pencils and papers were provided. She found herself with none in public school. Enter Hazard.
"Laurie tapped me on the shoulder and asked, 'Do you need paper?' and gave me some," Granahan says. "She made the path and I followed her."
That continued through college, both going to URI, Hazard taking psychology (she now teaches at Bryant College), Granahan majoring in journalism. She'd always been interested in current events and politics, and prior to URI lived in Washington, D.C., for a spell with her sister and their mom, who for two years worked for Congressman Eddie Beard. That kicked off her interest in politics.
"Those days you could just walk in and out of sessions, you could see them voting and discussing, it was very open," Granahan says. "It was just a wealth of information being in that environment."
She graduated Pilgrim High School in 1984, paying her own way through URI, again following Hazard's well-planned path.
"She said we'll work on Block Island every summer, waitressing and bartending," Granahan says. "So we did, working at the National, putting money away."
Saving is not usually in a college kid's DNA. Luckily for Granahan, it was in Hazard's.
"Laurie would make us go out with one $20 bill," Granahan says laughing. "She'd say 'If boys don't buy drinks after that's done, we're going home.' She had goals and a way to get there, and once again, I said 'Okay, I'll follow you.' "
They did a semester abroad together at Oxford, where Granahan missed Rhode Island. At a pub one day, Granahan just wanted a ham sandwich, only to be told by the surly bartender they had none.
"We walked out and Tara burst into tears, she missed home, and said, 'I just want a ham sandwich!' " Hazard says with a laugh. "Even today, we say that at restaurants all the time."
Their friendship now includes pajama parties with other long-time female friends gathering for wine, food, memories and fun. Granahan's loyalty is unwavering, Hazard says, laughing, "I could murder someone and Tara would help me bury the body."
Granahan's work ethic was and is intense, says her sister, but she took no guff from anyone. She recalls her kid sister working for Chuck E. Cheese in Warwick, wearing the mouse suit and waving at people on the street. A car full of boys tossed an apple at her, bonking her in the mouse head and nearly knocking it off.
"Tara's holding onto the head and trying to give the finger to these boys wearing those big floppy mouse mittens!" Genga says. "She quit that day."
Granahan interned at WPRI TV, hand feeding the teleprompter for news anchor Walter Cryan, being a gofer and learning the news game. She studied TV, print and radio journalism at URI, was told she had a good voice, and did a local commercial.
"My first spot was a voiceover for Griggs and Browne," she says. She recited the famous line, "Without Griggs and Browne, the whole town would fall down."
After URI, she went to Hawaii for a couple of months to live with an aunt. It didn't take her long to come back.
"I realized I needed to get a job in the field," she says. "I sent out a bunch of resumes, and got a job as a news reader and writer at WKRI, this tiny station in Coventry."
It was housed in a very small, nondescript white house in a residential area with a broadcast dish hanging on the side. Part of Granahan's job was literally turning the station on at 4 a.m., hoping the DJ would show up. Sometimes he did not.
"I remember calling my dad once, he was in the business, and asking him how to keep the music going," Granahan says. "He walked me through it on the phone."
She worked at Channel 6 as an associate producer, a fancy-sounding title for a do-everything gig, writing stories, editing them, making phone calls and going on air. During Hurricane Bob in 1991, she found herself one night, mike in hand, camera on her, at the hurricane barrier.
"I'm outside with nothing to say, the wind's blowing, I'm doing this disastrous live shot thinking I'd be electrocuted," she says. "And behind me, crazy people were in the storm, trying to jump into the live shot."
And in a typical Rhode Island no-degrees-of-separation moment, she adds dryly, "I knew one of them from Block Island."
She would work double shifts on weekends, covering stories, writing, editing, producing them for the air. In heels and a dress on the night the QE2 grounded off the coast in 1992, she found a way for her and a photographer to get out on the water for the live shots.
"We found a tugboat operator who was half in the bag," she says. "I talked him into taking us out, and gave him an IOU for $150. The next day, my news director was not thrilled, so I said, 'Hey, I figured out how to get the shot, you figure out how to pay the guy.' "
The dumbest thing she did for a story was crawling into the crumbling old Masonic Temple in Providence — now a luxury hotel — wearing skirt, heels and a very pregnant belly. Not far behind on the dumb scale was going into a city crack house with a camera (the camera guy backed out) to talk to addicts.
"I had no fear back then," Granahan says, shaking her head. "Pre-children, I did it all."