Tara Granahan Rules
The talk radio host has outlasted the male competition, and for good reason.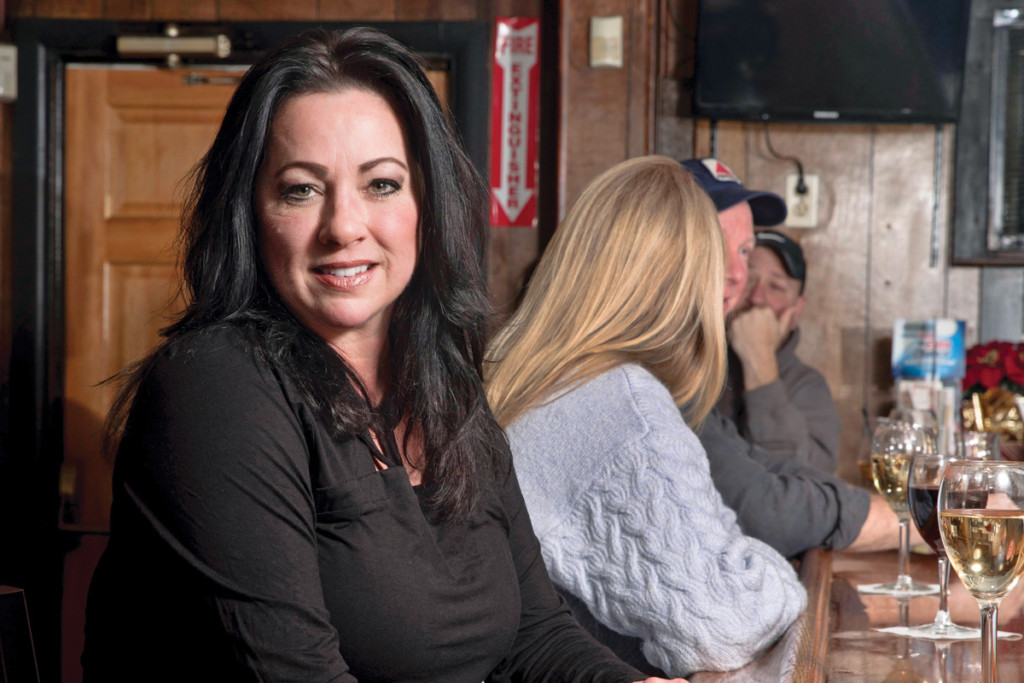 There was no defining moment as a kid growing up in Warwick when Tara Granahan figured her future was radio.
There was no yakking into a fake mike pretending she was talking to people. There was no listening to the call-ins and wishing she were on it. There were no early heroes of local airwaves she fancied being.
She just liked to talk. As a weekday talk show host, she still does. To invite listeners to join in, she booms Blondie's "Call Me!" as her WPRO show opens at 9 a.m.
Off air, her favorites to talk to include older sister, Gerrianne Genga, who sees Tara more as friend than her sole sibling, and who cannot listen when callers "sass her back." There's Laurie Hazard, one of Granahan's best friends from childhood, who started their relationship lending her paper in middle school. There are her parents, Gerry and Mary Lou Granahan, both long-time entertainers, whom Tara talks to pretty much every day, just to see how they're doing. And when she worked with him and could squeeze a word in edgewise, there was the late, loquacious Buddy Cianci, whose call-in show she produced for a number of years.
On air she talks, but mostly listens to her callers. She's good at it: In April 2017, she was named permanent host of WPRO's 9 a.m. to noon slot, after filling in when John DePetro left in December 2016. (Full disclosure: Rhode Island Monthly readers voted Granahan top radio talk show host in the magazine's 2017 Best of Rhode Island poll; she is the state's only female host.)
"In an ego-driven business like talk radio, she's one of the easiest people I have ever had to deal with," says Paul Giammarco, afternoon drive host at WWLI FM, who hired her in 2007 when he was program director at WPRO. "She's always been cool, hard working, energetic and very intellectual."
"She's tenacious and persistent in getting answers," says Hazard, adding that despite her bulldog approach to getting at the truth, "Tara is probably the most non-judgmental person I know."
Talk radio can be a place for shouters and controversial figures. Granahan is neither. On air she seems calm and controlled, with a world view that can skew conservative at times, using her journalistic skills to poke through bluster and blather to get whatever truth she can unearth.
"In talk radio, sometimes women have to be more aggressive to get to the bottom of things," says legendary former talk show host Arlene Violet. "If they're too aggressive, it tends to be a disqualifier. But women have a different point of view that's sometimes given short shrift by moderates and conservatives."
"I can't think of any other woman in our program in thirty years of doing it, who is doing what she's doing," says Linda Levin, Granahan's former journalism professor at the University of Rhode Island. "It has to do with her drive, her ambition and her personality. She's a nice person, and that has to have helped. Women in this business have to be nicer than men, who can be such assholes."
The grit of Granahan's career includes covering death, destruction and politics. She counts herself as a tough person, but softens when told of Levin's praise.
"A few years ago, she and I were on some panel together talking about the business, and she said to me, 'You made me proud,' " Granahan says with a huge smile. "That made me cry. And no one makes me cry."
Like any typical Rhode Islander, Granahan describes places by where things used to be.
"I grew up in a house between the old Carvel and the old Burger Chef," she says of the Hillsgrove section of Warwick; Hillsgrove is the old name of the state airport, now T.F. Green. "We were near Ann and Hope, and there was this big hill, or we thought it was big at the time, that we'd slide down in winter on garbage bags."
What's not so typical is her upbringing: She and her sister, singers and performers both as kids, were the children of a pair of entertainers who bounced around for work but ended up in Rhode Island for good. Pennsylvania native Gerry Granahan was a record producer and co-founder of doo-wop group Dicky Doo and the Don'ts. He put his wife, with stage name Kerri Downs, in the Angels. You may recall their big hit: "My Boyfriend's Back."