Taming Idlewild
A historic mid-nineteenth century home in Narragansett is meticulously restored to honor its past and meet the needs of its new owners.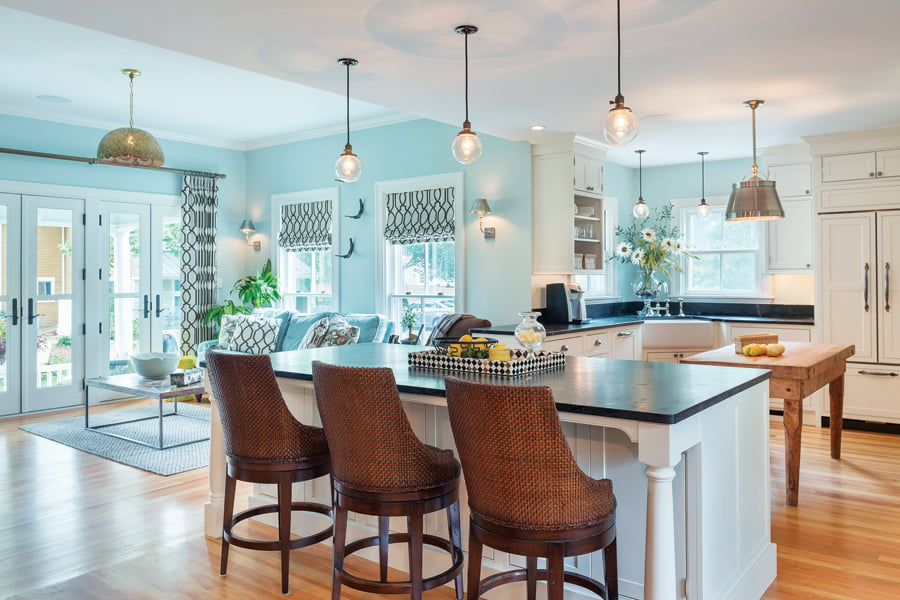 The deal that procured this house for its current owners was years in the making.
It wasn't the result of a long-fought battle between seller and buyer: It was forged congenially over time, the culmination of a friendship that took shape over many afternoon cocktail hours. The older gentleman who owned the property developed a relationship with a family from the Lone Star State that owned a neighboring vacation home. Whenever the Texans were in town, a Northeast-meets-Southwest afternoon cordial was in order. When the gentleman decided it was time to sell his year-round home, offering to pass its storied torch to his Texas friends, who had always admired it, seemed the neighborly thing to do.
Built in 1869 and named Idlewild by its original owner, the two-and-a-half-story mansard-roofed beauty is set squarely in the Historic District of Narragansett. The interior had undergone piecemeal updates throughout the years, but nothing that paid particular mind to its historic significance or potential legacy. The bathrooms and kitchen were desperately dated and the landscaping had become unruly, virtually swallowing the house and effectively closing off much of the yard. Its new owners saw Idlewild as an oyster.

Their goal: to remove the haphazard, repair what was broken and to ultimately have a modern translation of the original. The Texans' search for a builder who could accommodate their vision led to Davitt Design Build (DDB) of West Kingston.
Although DDB is renowned for its prowess on coastal projects, owner Matt Davitt notes that in its earliest days it was lauded for its historical restoration expertise. "When I first started in '82, we were a historic preservation company. We were one of only two museum-quality restorers in Rhode Island at that time. We understand old houses and how to not make them look like spec houses."
And a spec house is not at all what the clients wanted. "Instead of ripping out, what they really wanted was for us to restore," says project manager Keith Briggs. The accumulated layers of paint and wallpaper were stripped away and replaced with more period- and location-appropriate (this is the pier, after all) colors and patterns. The original windows were refurbished, as were the original wainscoting and crown mouldings in the front entry hall and dining room. The front door was also repaired.

The new master bathroom features a period-appropriate claw foot tub, marble counters and floors, and a spacious glass walk-in shower. The overgrown yard was cut back and a new landscaping design was implemented. A pristine stone patio, seating area and luxury outdoor kitchen expand the home's living and entertaining spaces.
Dormant fireplaces that could not be salvaged were replaced with functioning gas units. Doorways were widened downstairs to make the rooms conducive to entertaining, and dead end rooms were eliminated to create airier, more practical spaces. Even the yard was opened up and transformed into an extended living area, complete with an outdoor kitchen and stone patio.
The transformation is dramatic. Not only did it earn DDB a Historic Restoration/Renovation National Contractor of the Year award and platinum in the Qualified Remodeler Master Design Awards, it was enough to persuade its new owners to tip their hats to Texas and declare Idlewild their primary — rather than their secondary — residence.
"People no longer live the way they did when Idlewild was built," says Davitt. "We honored its past and made it livable today."

Design and Construction:
Davitt Design Build, 792-9799, davittdesignbuild.com
Team Architect: John P. Beveridge, DDB
Project Manager: Keith Briggs, DDB
Interior Designer: Lone Carlson, DDB
Landscape Design: John C. Carter and Company, 792-1327, johncartercompany.com.