Tallulah on Thames
Tallulah may be on Thames, but it's not your typical tourist trap. Can a new-to-town chef armed with an avant garde menu stir up Newport's dining scene?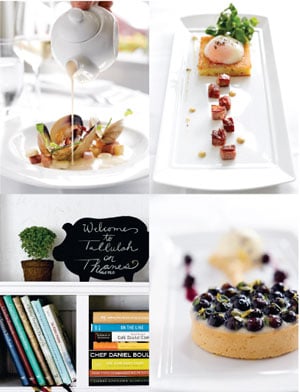 Tallulah on Thames
464 Thames Street, Newport, tallulahonthames.com, 849-2433. Open for dinner nightly; brunch and lunch Saturday and Sunday 11 a.m.–3 p.m., tapas lounge open nightly from 6 p.m. to close. Reservations accepted downstairs. Wheelchair accessibility is possible but not probable; the colonial-style house is a veritable maze of small steps. . Cuisine Modern American with a nod to international diplomacy. Capacity A tight thirty-five. Vibe Martha Stewart if she were a younger, hipper man. Prices Not cheap. Appetizers $5–$12; entrees $25–$30. Karen's picks Deconstructed "chowdah", poached egg, scallops.
Key
Fair
Good
Very Good
Excellent
Half-star

You've got to have grit to open a restaurant in Newport, a seasonal city riddled not only with a surfeit of contemporary restaurants but a formidable old guard as well. It takes money and nerve to go up against the nineteenth-century grandeur of Castle Hill or the water views that Newport Harbor Corporation has all but monopolized downtown. The desire to establish culinary roots — particularly for a West Coast chef — would have to run pretty deep to withstand the pressure. In the case of Chef Jake Rojas and partner Kelly Ann Maurice (her brother Keith is also involved), that vision takes shape in a thirty-five-seater that goes by the name of Tallulah on Thames. It's a street known as much for its kegs as its fine dining. But Rojas, who's done stints in L.A., Vegas and Palm Beach, knows the hoops a newbie has to jump through, and he manages the task quite well. A restaurant, after all, is about far more than food and, particularly with a first endeavor, you've got to get these four basics down:
Attitude. Today's culinary kings are in the limelight as often as their food, and a bad boy persona never hurts. Manifestation? Tattoos. No one likes a clean-cut chef anymore, least of all the press. In fact, in this day and age, poor Jacques Pepin couldn't even get a book deal without a creed sketched out on skin. Fortunately, Rojas and his three-man team work the line in clear view of their patrons, and nothing's bolder than the kitchen utensils that take up his forearms, emblazoned with a fitting Latin homage to cooking. Julia Child, meet Kat Von D.
Charm. Tallulah's replete with it. The colonial edifice has an epoch flea market appeal that covers the painted tin walls and hangs from the vintage chandelier. The space may be small, but the high ceilings float Billie Holiday above the din of conversation, making a cacophony nearly symphonic. Rojas and Kelly Ann have filled the room with personal effects, including a collection of cookbooks that hover above the galley kitchen, where you can find Robuchon alongside Richard and both in proximity to planters filled with microgreens. And an upstairs tapas lounge suggests that Tallulah is not just after the established crowd but the laissez-faire as well.
The Trademark. It's got to be there. Something that sets a new place apart from the others, something that sparks a conversation (or unanswered quandary) a week later. In Tallulah's case, menus are served on massive clipboards, utensils are distributed from cigar boxes (the scent of Cubans still lingering) and homemade rolls are offered as solitary creatures. Finished yours? The plate's already gone and don't expect it back. That'll show you who's boss in a protein preoccupied world.
Cuisine. Clearly the restaurant's touchstone and appropriately so. Rojas, who hails from the City of Angels, is French at heart but not in a myopic manner. His foundation is classic technique layered with a veritable explosion of local produce, a welcome fit given the national commitment to regional markets. What was once, presumably, a focus on avocados and citrus has turned to Northeastern berries and tomatoes. The only test left? Proficiency in an agricultural outpouring that changes with the seasons.
It's obvious that Rojas has traveled East with a few principal dishes in his repertoire, including a modern rendition of a diner favorite: toad in the hole. This one, however, uses local eggs (some weeks Blackbird, others Aquidneck) poached at highly regulated temperatures (about 145 degrees if you're interested; 146.3 if you're neurotic) and served in a raft of freshly baked brioche toast ($12). The mercurial description borders on pretentious, but it's a good egg that's only made better with a drizzle of truffle oil.
Rojas has also managed to cultivate an urbane New England outlook, with a little influence from Kelly Ann, a Rhode Island native. Even a city dweller can come to appreciate the regional fixation with "chowdah," and Rojas has constructed (or deconstructed) a signature version ($9). Clams sit, shells agape, alongside a macedoine of salted potatoes and bacon as well as a spattering of oyster crackers. The thick New England broth is poured tableside with a little bit of flourish and a proper level of anticipatory enthusiasm. Mussels ($12) are familiar as well, served with smoky tomatoes, thick wedges of chourico and a pleasantly acidic broth.
It's not a stretch to say that Tallulah is part assertive and part acquiescent when it comes to personality, an approach that's almost always necessary to secure a full house in addition to a reputation. Any first year's menu, after all, is a culinary session of speed dating; everything must be offered in one fell swoop, on one thin sheet, lest a wandering diner think you've got something against dairy, deep-frying or any other gastronomic possibility. Consequently, Rojas has a lot of multi-component dishes that herald multi-cultural influences.
A well-seared Baffoni Farms chicken breast ($26) is served Mediterranean style, with sumac, Meyer lemons, chickpeas and nicoise olives. It's a strong dish that deservedly brings diners to the table though it does make one question the restaurant's identity a bit. It's hard to tell whether dishes are coming from a culinary muse or a strategic plan, and an artist of any kind needs to heed the former first and foremost. More typical, however, are the plates that bear the mark of modern American masters. Scottish salmon ($27) is a textural play between oil-rich fish and a medley of accompaniments that include fava beans, marcona almonds, honshimeji mushrooms and a smooth cauliflower puree. There's a lot going on, but Rojas manages to streamline the presentation — he's a minimalist in at least one sense — and keep the varied ingredients in relative harmony.
Such synchronization is evident in the pairing of Georges Bank scallops ($28) — crusted on the outside, nearly liquid on the interior — with a sweet, subdued puree of carrot from South County's Schartner Farms. Seasonal ramps, some hardcore bacon and a sprinkling of brioche croutons round out a dish that would do well on either coast, though the freshly picked pea garnish is, on occasion, a few days short of ripe.
Like many Rhode Island establishments, young and old, desserts are split into two factions: sweet and Farmstead. The latter, sourced from Matt Jennings's treasure trove of cheese ($15–$18), is presented Vanna White-style before ordering. More often than not, it sells itself because desserts don't quite reach the technical excellence of the savory dishes, though they do have aspirations. Options are elevated versions of staples: Rojas tinkers with fruit tarts, shortcakes and chocolate in order to make them more than their repute. Blueberries mix with lavender and a tangy creme fraiche ice cream while strawberries are flavored with yuzu and a vanilla foam that dissipates quickly. The nostalgic pull is certainly present, but some of the requisite brightness is lost. Better to opt for the dense chocolate cake ($10) dusted with a retro Nutella powder that entertains but still intrigues.
Surely the menu will change with the farming calendar — as well as shift with Rojas's sense of security. Presently, the galley-style kitchen, conspicuous dishwasher and back door that leads right into an outside fridge are all evidence that Rojas is early in his career and eager to pay his obligatory dues. It often takes several years to build enough of a financial foundation to forget the patrons and follow your heart. Once he can do so, Rojas will establish a reputation for himself far outside of Thames Street.