Taking the High Road
Four years after medical marijuana was allowed in Rhode Island, some are pushing to make recreational pot legal, while others says it leads to harder drugs and crime.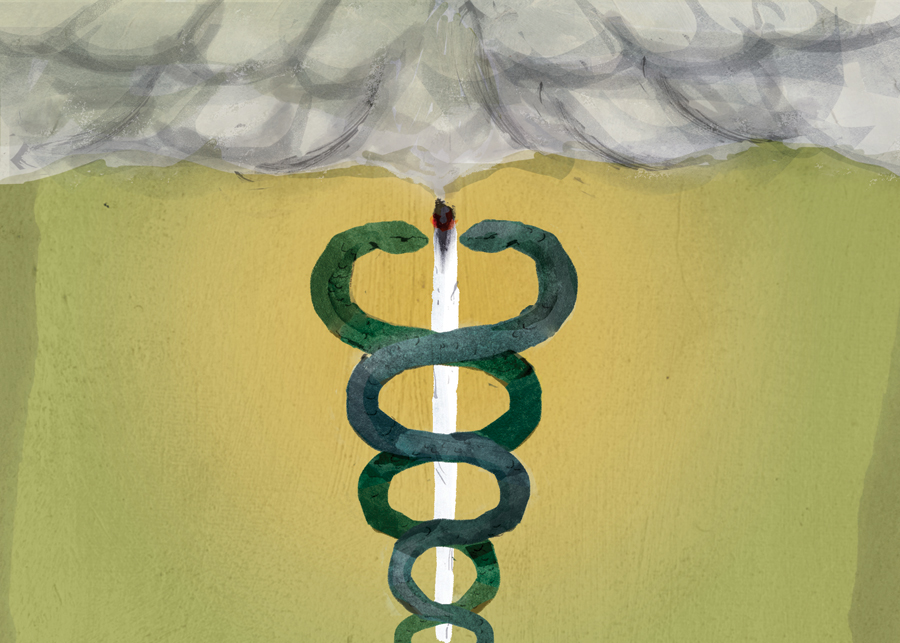 From the outside, the Greenleaf Compassionate Care Center is more plain-Jane than Mary-Jane. The cedar-shingled, single-story building, once a carpentry shop, minds its own business on the edge of West Main Road amid other Portsmouth retail outlets. Along the length of the building, a large exhaust fan circulates the spicy, mossy air over a small forest of cannabis plants, an eye-aching green under 1,000-watt bulbs. In the front, a colorful Buddha beams down upon a gurgling fountain, the curved glass bakery case displaying cannabis cookies and patients who quietly choose their medicine from among plant strains called Blue Widow and Freedom Baby.
"I tried that last night," offers a counterman, also a medical marijuana patient, to one customer on a Sunday morning. "I find it very mellow."
The spa-like ambience crossed with a modern-day apothecary is what Seth Bock had in mind when he applied in 2010 for one of three state licenses to open a registered marijuana dispensary. A practicing acupuncturist with a master's in Chinese medicine, Bock and his partner opened Greenleaf in June 2013. It is a registered caregiver for 1,700 Rhode Islanders, who pay anywhere from $200 to $450 an ounce, meted out in grams, to treat illnesses such as cancer and muscle spasms.
"It was four years of struggle, but I think we've achieved our vision: People should have access to all viable treatment options," says Bock, who is now working on expanding into smokeless products that harness marijuana's active components THC and CBD in tinctures and topical creams. "I've never thought that cannabis was a panacea for everyone, but it's pretty amazing for a lot of people."
In 2006, Rhode Island became the eleventh state to legalize medical marijuana. Today, twenty-three states permit marijuana to be sold for medical purposes. After seven years of delivery via individual growers and a permitting process for larger-scale operations that proceeded in fits and starts, Rhode Island hosts three compassion centers in Providence, Warwick and Portsmouth.
"It's been a long road for the state to get to this point," says Chris Reilly, a spokesman for the Thomas C. Slater Compassion Center in Providence, the state's largest with 4,000 registered patients. "If there is any takeaway, it's that the sky has not fallen. We have had the benefit of learning from states that have gotten it wrong. The regulated model that Rhode Island adopted is a smart approach and it's working."
Or not. Both advocates and opponents agree that the program is not yet a public policy victory.
"Affordability and accessibility remain the biggest obstacles to this program," says JoAnne Leppanen, executive director of the Rhode Island Patient Advocacy Coalition. "Unlike other medications, there's no third-party reimbursement. Those who need the medicine the most are the sickest and don't have the financial means. The compassionate centers have high overhead and they are taxed. We wanted to get people away from the illegal market, but some patients say that they can do better there."
Krista Brack of Warwick is one of the lucky ones — her caregiver is a family friend who supplies her marijuana at no cost, to treat the pain of multiple congenital conditions. Brack lives on medical disability payments and could not afford it otherwise.
"I go through an ounce a week, that's $450 to $500 a week, at least the lower grades at a compassion center," she says. "It's the only medication my body accepts without feeling sick and drugged."
Police have consistently opposed legalizing marijuana for any purpose. Caregivers are targets for thieves and junkies, they say. In August, for example, two armed men assaulted a South Kingstown caregiver, binding the man and his wife and securing their two children in a bedroom, before taking money, jewelry and marijuana. There have been at least three deaths related to confrontations between caregivers and intruders. Police complain that they have no access to the list of caregivers, making it impossible to evaluate tips of illegal drug dealing. Many times, police have burst into the residence of a suspected drug dealer, only to find a legal caregiver.
"It's a colossal waste of resources," says State Police Major Kevin O'Brien. Police also complain that it is too difficult for the state Department of Health to keep track of the holders. As of late November, the Department of Health had issued patient cards to 9,298 individuals. Another 3,942 have registered as caregivers. Each caregiver can provide marijuana for up to five patients.
"It clearly doesn't add up," O'Brien says. "If a caregiver drops or adds a patient, they are supposed to update the health department, which, unfortunately, doesn't have the resources to handle it. There's definitely quite a few people scamming the system."
This summer, the General Assembly passed amendments to the medical marijuana law to address the concerns. The cap on the number of plants the compassion centers can grow was lifted, allowing them to produce most of their inventory and, perhaps, bring down the prices. Currently, the centers buy most of their product from individual growers.
The amendments also permit marijuana-growing cooperatives, with restrictions on the number of plants and patients. Cooperatives must allow municipal code inspections and register with state police. Landlords have the right to refuse cardholding tenants who want to grow. Felons cannot be caregivers without a special exemption. Caregivers convicted of a felony drug offense face mandatory revocation. (Only one caregiver's card has ever been revoked, says health department spokesman Christina Batastini.)
Meanwhile, the push to make marijuana legal for any use enters its fourth year in Rhode Island. Federally, marijuana remains a Schedule I drug, meaning that it has high potential for abuse and has no recognized medical value. But Washington, Colorado, Alaska and Oregon have fully legalized and regulated cannabis. The District of Columbia has passed a measure legalizing limited possession and cultivation of marijuana by adults twenty-one or older, pending a Congressional review.
"A majority of Americans think it's time to end marijuana prohibition," says Mason Tvert of the Marijuana Policy Project. "That's being reflected in the votes in four states, and we expect as many as eight more to pass similar laws in the next few years, including Rhode Island." A recent national survey found Rhode Island topped the nation with almost sixteen percent of residents twelve and over who reported using marijuana in the previous month.
Regulate Rhode Island, a coalition of organizations across the political spectrum, wants to tax and regulate marijuana like alcohol. Since 2010, a marijuana regulation bill has been heard in committee, where it dies. This year, Regulate RI Director Jared Moffat is hoping to advance to a floor vote.
"If Rhode Island becomes the first state in New England to get the ball rolling, we could have marijuana-related businesses headquartered here and have a greater windfall in tax dollars. The state has a budget crisis and this will look like an appealing option."
The prospect holds no appeal for the Ocean State Prevention Alliance. The group opposes legalization, fearing an uptick in drugged driving, too-easy access for teenagers, and emergency room visits from overdosing on edibles. "I think the societal cost will be exorbitant," says Alliance chairwoman Nancy DeNuccio.
Investors see profits. Legal marijuana sales are estimated between $2.1 and $2.6 billion today and are projected to top $8 billion by 2018, says Chris Walsh, editor of Marijuana Business Daily, a trade publication headquartered in Pawtucket.
"Serious business people are getting involved and the industry is becoming mainstream," he says.
State polls show that attitudes toward legalizing cannabis are changing, with a slight majority in favor — another indicator, one might argue, of Rhode Island's long tradition of social tolerance. In 1917, after Congress passed the Eighteenth Amendment banning alcohol, Rhode Island was one of two states that refused to ratify Prohibition.
Ellen Liberman is an award-winning journalist who has commented on politics and reported on government affairs for more than two decades.