Take the Plunge at Newport's Bodhi Spa
The spa is modeled after a European bathhouse.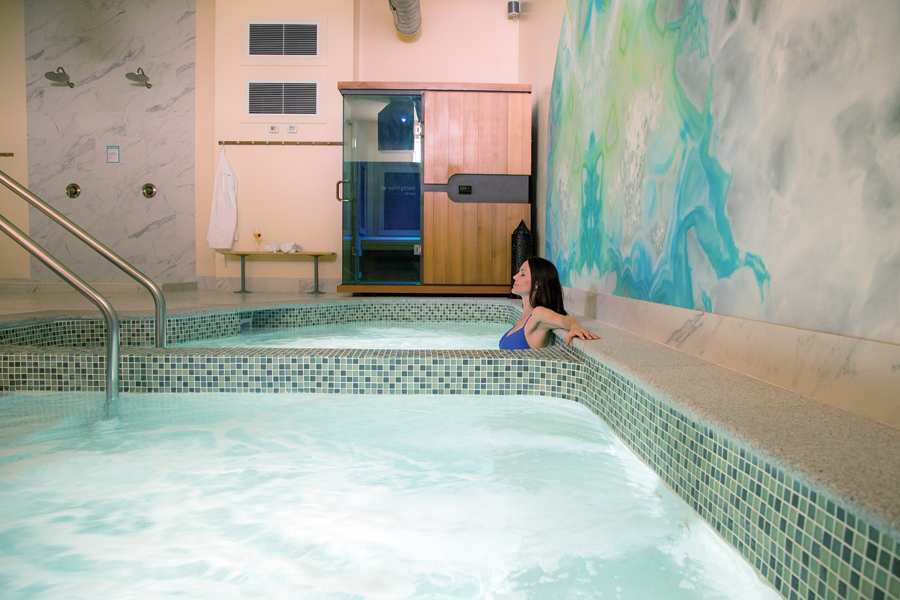 Take the plunge into the Water Journey at the Bodhi Spa in Newport. Heat up in the luxurious mineral baths, saunas and steam room and cool down in the cold plunge at New England's only hydrotherapy day spa, modeled after a European bathhouse.
Sisters Harmony Oschefski and Cedar Hwang run the hideaway together, while their other sister pitches in with research. "My sisters and I are all water signs [Pisces and Scorpio], and it's no coincidence that we grew up on sailboats," says Oschefski, explaining how her uncle, Bob Tiedemann, founded the 12 Meter racing series in Newport. Oschefski has a background in both human kinetics and complementary health, and she's an avid traveler. It was in Maui where the hydrotherapy idea dawned on her as she cold plunged into a kiddie pool filled with icy water.
"I have been to all of these different countries, and in each place, I would find something that was so wildly popular there, but we had never heard of here," says Oschefski.
Hydrotherapy is the ancient practice of healing through water, whether it's hot, cold, steam or ice. Alternating hot and cold treatments stimulates the circulatory system, detoxifies and bathes cells in oxygen-rich blood, rejuvenating the mind and body; it can also help with pain management, arthritis, weight loss and more.

I put on my bathing suit, then enter the aquatic-chic bathhouse with white floors, blue and green glass tile detailing and a water-themed mural. I submerge into the Dead Sea salt mineral bath for ten minutes at ninety-eight degrees, then spend another ten minutes in the aromatherapy steam room. After sweating out impurities, I rinse off in the nearby shower, then dip into the fifty-degree cold plunge pool. I get light-headed as I feel my brain tingle from the sudden chill. "It's almost like a natural high," says Oschefski. "I wouldn't know…. but I would say it's like that."
I continue the cycle with ten more minutes in the infrared sauna, perspiring in the 108-degree chamber, then quickly rinse off before shocking my system again in the cold plunge. The circuit ends with a ten-minute soak in the Epsom salt pool at 104 degrees, then one last cold plunge. Who knew water could give you such a rush? $55 for a day pass with unlimited access or $27 with any treatment. 654 Thames St., Newport, 619-4916, thebodhispa.com