Take the Long Way Home
Thanksgiving with the family can become a whole lot more than you bargained for.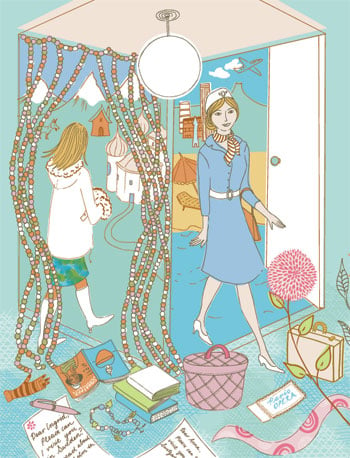 For as long as I can remember, I wanted to leave. Leave my little hometown of West Warwick where nothing ever happened. Leave my little state of Rhode Island, the house where I grew up, the never-ending cluster of relatives always barging in and asking questions and talking too loud.
As a child, I signed up for pen pals in England or France, writing desperate letters to strangers, asking them if I could come and visit. This was before I even got a letter back, which I never did. In high school, I found schools in Switzerland and Sweden listed in the back of Seventeen magazine. There I could study retail, fashion, diplomacy. I imagined lots of snow, me in a fur muff and white parka, men with accents, a fancy job and friends who spoke many languages. My mother took one look at the brochures and said, "What are you, crazy?" Then she went back to playing Solitaire and smoking her Pall Mall.
Thoughts of leaving took up a lot of my time. Surely, the summer I was fourteen, I thought there was a way out. I spent that summer stringing beads to make a curtain for my bedroom doorway. When I finally finished and hung it there, I felt exotic and sophisticated. Those beads parted with a swoosh, and tickled my face when I walked through them. They made me feel as if I was entering someplace far more interesting than the world right outside them, the world occupied mainly by my mother and father and my grandmother, Mama Rose, but also by my widowed Auntie Junie who lived right next door and her young daughter Gina; by my older brother who went to URI and spent his summers mysteriously coming and going at odd hours in his lime green VW Bug; by more aunts and uncles and great aunts and uncles and cousins and second cousins than I could keep straight. There was the man with no fingers who appeared on Sunday afternoons, both hypnotizing and repulsing me. There was a distant aunt or cousin who wore the same soft pink curlers that I did, except she wore hers all the time. One cousin's husband drove a white Corvette and came with a variety of Italian deli meat and cream pastries. There was a great uncle who refused to sit or eat and just stood holding his crushed fedora. Another great uncle spent his time at the town dump and burst in with treasures — cracked china, broken electrical appliances, dusty vases.
To read more of this story please visit your nearest newsstand or click the link below.