Take in Autumn on an Illuminated Swan Boat Ride
BYO hot cocoa or cider for one of these paddleboat rides at Roger Williams Park.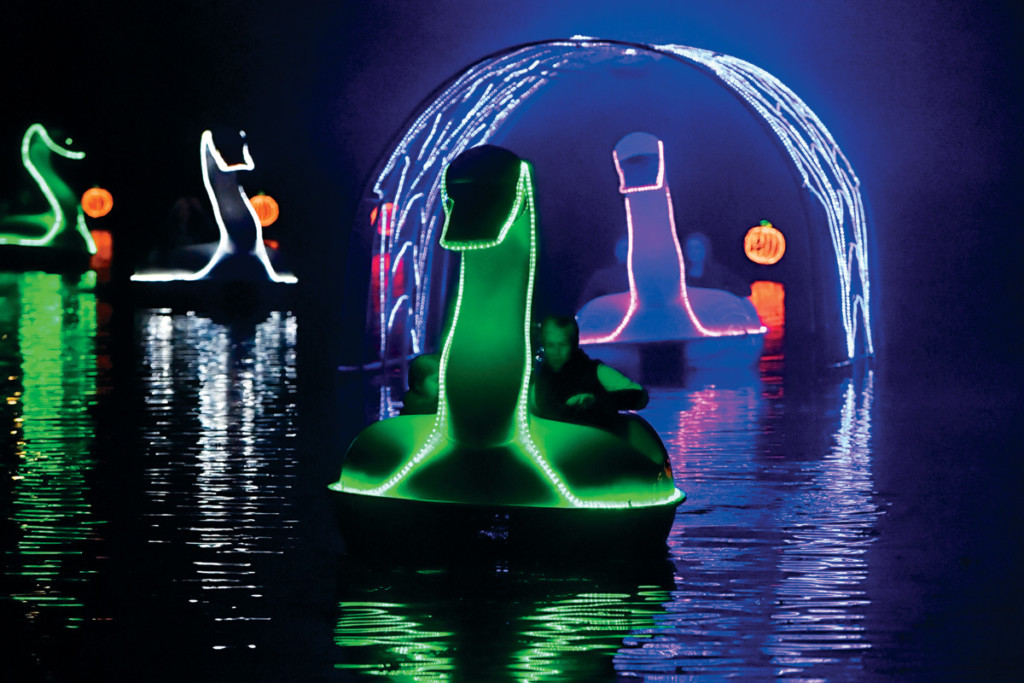 Every fall at Roger Williams Park's Polo Lake, swan boats glow in the darkness of dusk — and these are no ugly ducklings. The radiant attraction involves fifteen- to twenty-minute journeys that circle the body of water two times. Polo Lake has been home to the illuminated paddleboat rides since 2010. "It's one of a kind. There's no one else who does anything like this," says Allen Days, co-owner of La Gondola, which operates the rides. "[People are] just in awe at the uniqueness of it." Days brings the swan boats to life each year with his wife, Cynthia, around the same time as the Roger Williams Park Zoo's annual Jack-O-Lantern Spectacular. Guests breathe in the brisk autumn air and listen to the soothing sound of the fountain while being surrounded by light from eighteen swan boats, four tunnels, a pirate ship and pumpkins that appear to hover above the water. Boaters can sip hot chocolate or cider as they paddle along. People are drawn back each year because of the ride's peaceful, creative and interactive nature, and zen vibe. "This is immersion. They're actually part of the display, and every time you look out there, you're never looking at the same thing twice," Days says.
Rides are scheduled to take place Thursday, October 5 through Sunday, November 5, weather permitting. Boats go out weekdays beginning at 6 p.m. or dusk, until 10 p.m., and weekends up until midnight, based on demand. Tickets are $5 for children ages one to fifteen, and $10 for people ages sixteen and older.