Take a StoryWalk at URI
Follow the adventures of Rhody the Ram as he proves the Ocean State is the best vacation destination.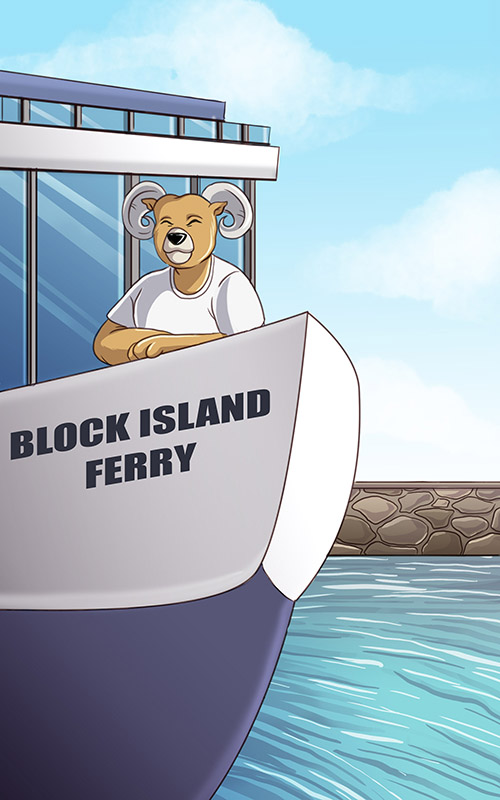 Looking for something fun to do with your kids that might help them think about going back to school? Head to URI on Wednesday for its first StoryWalk, featuring the university's mascot, Rhody the Ram.
What is a StoryWalk? It's a concept that was developed in Vermont and was encouraged for adoption by libraries, says Sharon Babbitt, the youth librarian at Kingston Free Library, who is organizing the event.
The book that will be featured is Rhody Ram's Rhode Island Adventure, which was written by Kerri E. Lanzieri, a URI alum who is now an elementary school teacher in Smithfield. The story follows Rhody Ram's trip through many of the Ocean State's favorite places, after mascots around the nation are assigned to prove: "Which college town is the best vacation destination?"
A copy of the book has been dismantled, and the pages will be affixed to metal poles around the Quad, says Babbitt, who is also a URI alum. Kids can go from post to post, reading the story. "My goal is to get young people thinking about education from an early age," Babbitt says. She hopes the event will encourage early literacy, the appreciation of nature and physical fitness. Families can also take pictures with Rhody the Ram.
Lanzieri, who says she began writing books after her daughter's pet rabbit died and they wrote a book together about that, will also speak at the event. Her next project? A children's book on the Providence College Friars mascot.
The StoryWalk begins at 10:30 a.m. on Wednesday, August 10, and is free. An optional lunch will be held afterward at the URI Alumni Association. Tickets for that are $10 for adults and it's free for kids twelve and under. URI Kingston Campus, 73 Upper College Rd., Kingston, uri.edu.