Take a Hike
Tackle the North-South Trail for an unforgettable outdoor experience.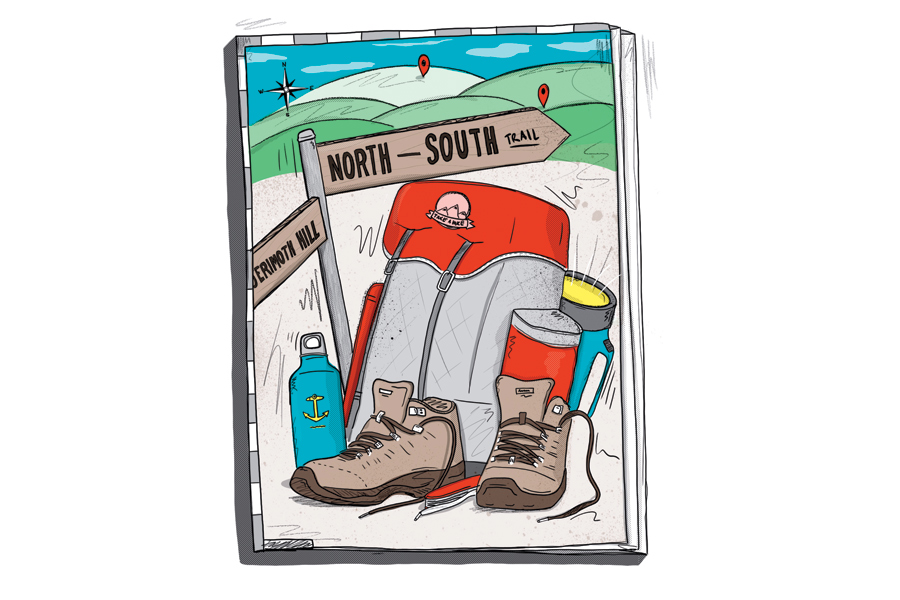 New Hampshire has the White Mountains. Connecticut has Bear Mountain. But Rhode Island has — what? The highest point in the littlest state peaks at a paltry 812 feet (Jerimoth Hill in Foster) and the famous Appalachian Trail (AT) swings wide of Rhode Island's borders, so it's no wonder many think the Ocean State isn't ideal for long-distance hiking.
But avid outdoorsmen know the truth: Running along the western half of the state, from Massachusetts to the Atlantic Ocean, is a seventy-seven-mile footpath ripe with opportunities to witness the wilderness. Known as the North-South Trail, this hidden gem travels through farmland and boulder fields, past one-room schoolhouses and forgotten cemeteries, and its lack of elevation welcomes seasoned hikers and casual weekenders alike.
As I embarked on a three-month, 900-mile trek along the AT, I found the North-South Trail to be an excellent excuse for delaying the inevitable get-a-job-you-bum reality looming just on the horizon. And the experience left me breathless.
So now it's time for others to follow suit. Go outside. Take a hike. For a mile or multiple days, get lost. Find the beauty of Rhode Island's woods waiting just to the west.
Sights Along the Route
1. The warm sands of Ninigret Beach tempt at the trail's southern terminus. Bring your bathing suit and take a plunge!
2. North of Route 1, enter the first of eight management areas, Burlingame.
3. North of Route 138, keep an eye out for the remnants of Richmond's town animal pound. There's an aged sign marking the spot.
4. While in the Carolina management area, look for ancient family cemeteries.
5. North of Route 95, Arcadia management area welcomes hikers with the famous North-South Trail boulder field.
6. Route 165 is also known as Ten Rod Road (because it measures ten rods across), and was once the primary road for bringing livestock from Connecticut into Wickford.
7. Near Route 14, Place Farm, once a dairy farm, is part of Nicholas Farm management area. Its southern border is a railroad line that once brought milk from Place Farm to Providence.
8. North of Route 101, the trail momentarily heads into Connecticut to cross Chestnut Hill Reservoir. Jerimoth Hill is nearby to the east.
9. North of Route 44, the trail runs close to Bowdish Reservoir, providing wide views of open water.
10. The trail turns into Midstate Trail at the northern terminus (and eventually into Wapack Trail in New Hampshire), continuing another 114 miles.