Taco Trio
Tallulah's Taqueria. One More Taco. Poco Loco. Their surroundings are modest, but these taco joints make up for it with big flavors and satisfying combinations of ingredients, many locally sourced.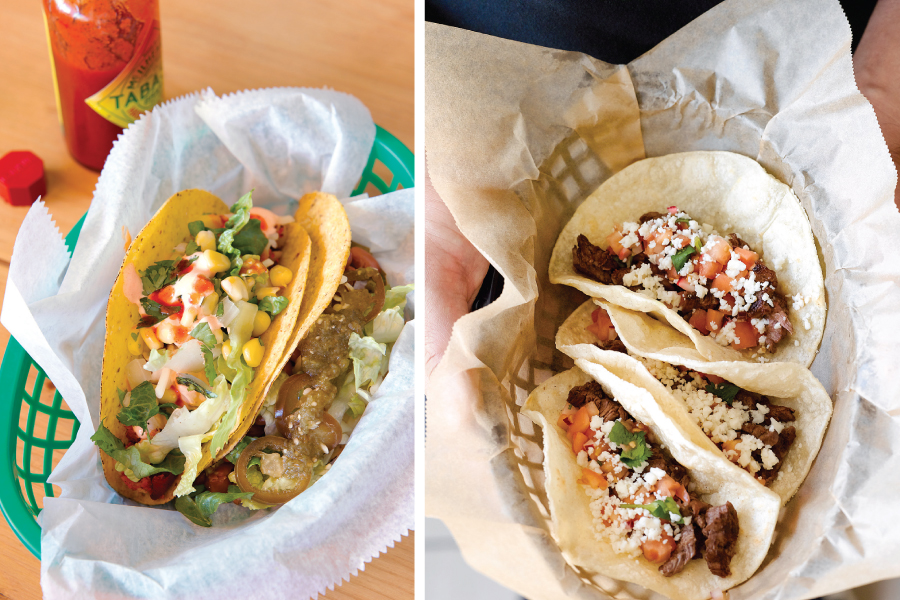 Tallulah's Taqueria's lengua tacos and the burrito bowl.
Tallulah's Taqueria
146 Ives St., Providence, 272-8226, tallulahstaqueria.com.
Open seven days.
Taco to Get: Fried fish.
Dinero: $5.50
Vibe: L.A. hangout.
Opening a taqueria came with ease and obstacles for Jake Rojas. The former comes from his pedigree: Rojas was born and raised in El Paso, so Mexican food is a native language for him, rather than an acquired taste. The unexpected hurdle is in escaping his day job at the helm of Tallulah on Thames in Newport. Tallulah is known for its artful presentations and distinctly adult atmosphere, a far cry from the grit of a taco stand.
The overlap, however, comes in the form of earthiness. Rojas has made it his business to know the local farms and he hasn't forsaken those relationships just because the average check at Tallulah's Taqueria is 90 percent less than what's on the mother ship. Customers seem to know this too. "Where does your tongue come from?" asks a woman, toddler in tow, before ordering. "Niman Ranch," Rojas calls out from the open kitchen, not the least bit surprised that someone would ask.
Chef Jake Rojas and chef de cuisine Ben Cantone.
Of course, while the heart may beat in similar fashion, the aesthetics are altogether different. Tallulah's Taqueria is appropriately unassuming from the street and holds fifteen or so stools inside. If there's a design scheme, it's an industrial motif with Spanish music overhead and a plastic drum dispensing aqua fresca from a spigot. Oh — there's also a Nacho Libre mask perched on the refrigerator that houses Jarritos soda.
As far as the main attraction, the menu doesn't require a lot of decision making. There are flourishes — spiced shrimp cocktail, a burrito bowl, churros — but the tacos all look the same from the outside. Palm-sized corn tortillas are streaked with guacamole, a chunky mixture of onion and cilantro and a dollop of salsa. Fish tacos also get a helping of cabbage and crema. So Tallulah's has about two to three ounces worth of protein to define itself. And it does. Chicken, fried fish, and shrimp and beans are fundamentals but the spicier braised (carnitas, barbocoa) and roasted meats (chorizo, carne asada and tongue) are right out of a Cormac McCarthy novel: weathered, somewhat dark and irresistible. Extras are eschewed to focus on the protein at hand, a purist approach that keeps everything tasting like the grill. Turns out the fancy food guy makes a mean taco.
Chef Ramon Martinez.
One More Taco
751 Hartford Ave., Johnston, 280-6815, onemoretacori.com
Closed Sundays.
Taco to Get: The American: beef brisket, garlic crema, lettuce, pico de gallo, Narragansett Creamery queso fresco.
Dinero: $2.75–$3.25
Vibe: Asphalt and cars.
Who knows what drew Ramon Martinez to test his talents in what looks like a garage perched in the middle of a parking lot? The itty-bitty storefront, emblazoned with an aqua logo, is barely bigger than a tool shed and has little to offer in the way of ambience. Buttercup-colored walls are just wide enough to hold an archaic animal skull and even the sodas are stored in a dorm room-sized fridge. One More Taco is as close to a taco shack as you're gonna get — ironic given that it's next to impossible to leave the six-seat drop-in shop without eating through every taco on the menu.
The American tacos with house–smoked beef brisket, garlic crema, shredded lettuce, house-made pico de gallo and Narragansett Creamery queso fresco. Smokey Pig tacos with house-smoked pulled pork, sour cream, cumin cabbage slaw and pickled mustard seed.
Martinez, who doubles as manager and chef, offers six and though the protein is somewhat expected (chipotle chicken, smoked pork, smoked brisket, chorizo and potato, carne asada and black beans), nothing else is. The old school backbone gives way to a progressive approach without an ounce of kitsch or disrespect to the Platonic street taco.
Mustard seeds, marinated carrots, scallions and cumin coleslaw, among other garnishes, drape themselves on tacos with just enough texture and tartness to bring everything else to life. Enveloped in soft corn or flour tortillas, there's a strange familiarity in the half-dozen possibilities. Biting into one is a little like eating a good hamburger for the first time: It's all so simple but you can't figure out why nothing you make ever tastes quite this good.
Of course, it's give and take. Martinez gives good tacos and customers generally have to take a seat elsewhere. Three picnic tables in the — yep — parking lot offer respite to a handful more people who need to sit while they shovel a four-bite, three buck taco in, but the regulars stand by their cars and wolf several down before returning to the counter for a few more to go.
Sodas are domestic and canned so cold they're as good as you're going to get. If you need things in an icy glass or served with luxuries like chairs, you've wandered down the wrong street, my friend. The reward does not lie in the affect or ambience; it lies in the tortilla. It's a hard-earned lesson but a valuable one: When you bite into the right taco, it's worth standing on line — in the heat — without the hope of a seat — only to drip braised brisket down your last clean T-shirt. If you're really hard to please, then find your own space. Build a party. Have it catered. (Ask for more marinated carrots.)
Poco Loco
2005 Broad St., Cranston, 461-2640, pocolocotacos.com
Closed Sundays and Mondays.
Taco to Get: PBJ: pork, beans, jalapeños, cheese, sweet chili bbq sauce.
Dinero: $2
Vibe: Indoor picnic.
Poco Loco's storefront still operates much like its original food truck: The kitchen is buried in the back, evident only by emitting steam and scent. The foreground isn't so much about the seating (a modest eighteen) as much as the snaking line of people waiting to take tacos home. Or out. Or elsewhere. Naturally, anything goes at a place that calls itself loco and, subsequently, Alan Masterson and Chris Gilchrist's tacos do not follow a strictly traditional stance. (It's damn near impossible to be both crazy and custom-bound.)
Of course, what some people might call eccentric, others might call American. There's not much in the small dining area other than some tables, a pinball machine and the occasional culinary shout out ("Try bacon on anything! It's awesome!"). When it comes to tacos, however, there are choices to be made: two tortillas, six fillings, eight sauces. Where a taqueria offers soft corn, Poco Loco is all about the hard corn or soft flour tortillas and it doesn't take a genius to figure out why. It's what mainstream America was raised on; it's a native language for anyone north of Austin.
A grande PBJ taco with pork, black beans, jalapeños, cheese and sweet chili BBQ sauce. The Loco Dirty Rice with chorizo, potato, black beans, jalapeños, pico de gallo, Cajun spice, cilantro and bacon.
Of course, the mix-and-match game takes its toll on the cashier. Twelve people deep and the guy at the head of the line is talking to himself: "Uhhhh….I'm gonna get…uhhhh…a barbecue pork taco — crispy — with uhhhhh…how hot is the napalm sauce?" Throw in a daily special (thai chicken with peanut sauce and slaw?) and you'd be amazed at how long it can take for the person between you and your tacos to spend six bucks. And this is the real secret to Masterson and Gilchrist's success. Tacos are $2 in almost every incarnation. They're so cheap that even lunch looks like a battle between the $20 bill in your pocket and your stomach. Even small women in office attire are placing bets that they can down ten Green Monstahs (beans and cheese with jalapeños, cilantro, salsa and guac) in twenty minutes flat.
You've got to figure out whether your taco needs to put you on a Mexican street corner or back in your living room. Poco Loco's tacos, delivered in retro cafeteria-style plastic baskets, might not take you to another place and time but they do celebrate the evolution of the taco as it traveled through California and east to New England. Will a BLT taco find an audience in Monterrey? Probably not. Does it make sense here? Hell yeah.