Swoon-Worthy Wheels from the Silver Screen
Check out a Rolls Royce from the 1974 adaptation of The Great Gatsby at Hearthside House in Lincoln.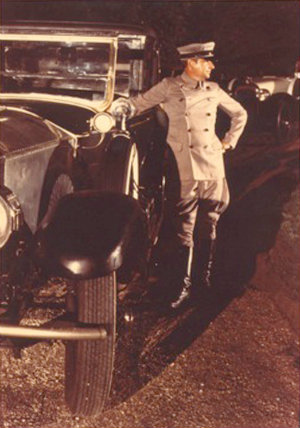 Leonardo DiCaprio and Carey Mulligan might've fueled the Great Gatsby fire, but Robert Redford and Mia Farrow lit the spark.
Part of the allure of the 1974 film adaptation of F. Scott Fitzgerald's classic novel was the incredible wealth depicted on-screen by way of our Newport mansions and our (yes, our) incredible cars.
This weekend, you can check out the town of Lincoln's contribution to The Great Gatsby: a 1922 Rolls Royce Silver Ghost, the vehicle used in the film's opening scene in which Nick Carraway (Sam Waterston) greets Tom Buchanan (Bruce Dern), who is finishing up a game of polo. The men hop in the Rolls Royce and drive up to the mansion to greet Daisy Buchanan (Mia Farrow).
The vehicle is also used in other film scenes, and is chauffeured by the late E. Andrew Mowbray, the last private resident of Hearthside House on Great Road in Lincoln. According to Kathy Hartley, president of the Friends of Hearthside, Mowbray remained by the side of his antique automobile throughout filming in 1973, and even accompanied the car to England, where some scenes were shot. "This is something we've dreamed of doing for years as a way to pay tribute to Mr. Mowbray's passion for history and antique cars, and especially the Rolls Royce," she says.
To celebrate the fortieth anniversary of the Newport filming sessions — as well as the success of the 2013 adaptation — the Rolls Royce Silver Ghost from the film, as well as dozens more antique cars from the Rolls Royce Owners Club, will flock to the Hearthside lawn for Gatsby Revisited. The event, scheduled for this Sunday, August 4, celebrates the roaring '20s with motor cars, daring fashion and jazz music, plus photos from Mowbray's car collection and the filming.
The details: Aug. 4. 11 a.m.–3 p.m. Adults $15, seniors $12, students $7, children younger than ten free. Hearthside House Museum, 677 Great Rd., Lincoln, 726-0597, hearthsidehouse.org.
More on Hearthside: The town of Lincoln purchased Hearthside from the Mowbrays in 1996 and it is now run as a museum by the Friends of Hearthside, a volunteer organization. All proceeds raised will help to support the continued restoration of the house, which is listed on the National Register of Historic Places.