Sweet Success
Roba!Dolce has won loyal followers one lick at a time. Now they're dreaming big — and hoping to become the Ben and Jerry's of the gelato world.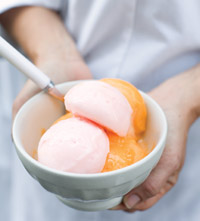 BASEBALL FANS ALREADY KNOW about the sweet spot. The center of percussion. The place where, when the ball strikes wood, the force drives a perfect hit.
There's another sweet spot, one you won't find at Fenway Park or McCoy Stadium, and you don't need to be a sports fan to love it.
The sweet spot I'm talking about is in Olneyville, in the most nondescript building on a nondescript stretch of a street that climbs up to Route 6 in Providence. It is, improbably, the national headquarters of Roba!Dolce, and I challenge you to find a sweeter spot in town.
Roba!Dolce handcrafts authentic gelato and sorbetto, sold in markets up and down the East Coast, and on the East Side of Providence at a year-round cafe. (Another cafe, in Newport, opens for the summer only.) The cafes, designed just like the gelaterias (ice cream cafes) my husband and I love to visit in Florence and Venice, offer more than fifty flavors of Rhode Island-made, Italian-style frozen desserts.
PEANUT BUTTER AND FLUFF GELATO? Pineapple-Coconut Sorbetto? Tiramisu, passion fruit, piña colada, wildberry-cabernet? Does this sound like the work of a company that knows ice cream? Well, no…but this isn't ice cream.
"When we started out, I would offer people free samples of gelato," recalls Lori Light, director of sales and marketing, "and they'd say 'gelato — is that the stuff made with jello?' " And though gelato is more familiar now, Roba!Dolce still has to educate consumers about their product.
Often referred to as Italian ice cream, gelato differs from American ice cream in fundamental ways. Gelato is lower in butterfat (only four to six percent, compared to 14 to 16 percent in ice cream). It's more dense (one-half to one-third the air by volume of ice cream). It's softer than ice cream, too, and more intensely flavored.
Sorbetto is a non-dairy, nonfat gelato, composed of natural fruit, water and sugar (no butterfat). Roba!Dolce's version is made with 70 to 80 percent fruit; it's fat-free, cholesterol-free, and all natural.
The Roba!Dolce story begins not in Florence, but in Providence, with two local entrepreneurs. In 2004, lawyer Rick Fox, inspired by the gelaterias he'd found in Italy, decided that Providence would be a great location for an authentic gelato bar. With no background in retail or in food service, he needed a partner. Fox approached his friend Matt Olerio, a Providence-born businessman whose most recent venture, Rakgear (ergonomic backpacks), had brought the two together.
"When Rick approached me about starting a gelato company," remembers Olerio, "I really had no interest in it at all. But given the fact that Rick is a passionate, persuasive and very intelligent man, along with making me an offer I couldn't refuse, I suddenly found myself knee deep in gela-to and loving the challenge.
"Having had a real estate development background," he continues, "I agreed to get Roba!Dolce up and running on the retail cafe level. This included finding some prime locations, converting them into Italian gelaterias and building a commissary [production facility]. Six months later, I wasn't knee deep in gelato anymore — I was swimming in it! I saw the potential, but in a different light than Rick. I wanted to package the product, manufacture it and distribute it to supermarket chains. Having read The Inside Scoop, I really felt, heck…if Ben and Jerry could do it, why not us?"


By January, 2005, they'd mapped out the broad strokes of Roba!Dolce — now configured as both wholesale and retail — and they hired a handful of people with lots of energy but little experience in food service. "None of us knew what we were getting into," says Lori Light, bartender-turned-marketing-manager. "I remember standing on the RISD campus, handing out samples, telling people, 'I am the worst salesperson in the world! Will you please try my gelato?' Pierre St. Germain, RISD's executive chef, gave us our first break and our first big account."
The one exception, in terms of experience, was Matt Hewett, a Johnson & Wales-trained chef who was working for Legal Seafoods. His mandate was nothing less than to create the product. In six months.
Hewett, now the company's chief operating officer, had made ice cream before, a couple of gallons at a time, but never in batches of 2,800 gallons. "This is a science, but you can manipulate it, and of course that's where the art of the gelato-maker comes in. I threw out a lot of product at the beginning. Dumpsters full!" he explains, "But I started with the basics. I created a matrix with vanilla, and then began to add stronger flavors." Today those flavors include the new (wildberry-cabernet sorbetto and caramel apple gelato), the traditional (pistachio and coconut), and the experimental (purple Gatorade sorbetto, suggested by Trevor Hewett, Matt's four-year-old son), in regular and sugar-free varieties.
One flavor inspired this story, a company favorite relayed by Lori: "One night, my brother Lennie was working late here in the commissary. It was, I don't know, like four in the morning. And all of a sudden there was a loud pounding on the door. Lennie went to the door and found a very pregnant woman standing there. 'I need your peanut butter gelato now!' she said. He told her it was available at the shop on Thayer Street. She screamed at him, 'They're. Out. Of. It!' Lennie gave her four pints!"
Initially Roba!Dolce bought all of their flavor syrups from Italy, which meant that the product was authentic, but not all-natural. "The Italians do not make all-natural syrups," says Hewett, so we had to decide — was it most important to be authentic Italian gelato, or what?" Because the Italian syrup bases are not kosher, that also hindered Roba!Dolce when it came to distribution, as many of the distributors they contacted could not sell the non-kosher product in the lucrative New York market. As of this summer, Roba!Dolce will produce five 100 percent natural gelatos (sorbetto is an all-natural product), with the goal of switching every flavor to the all-natural base.
Roba!Dolce has outgrown its little Olney- ville commissary; today the facility is used for new product development, and to make limited-run gelato and sorbetto for the retail locations. It's also the place where a food writer can try her hand at making gelato in the five-gallon batch freezer, and so I did.
Gelato starts with a base of milk and sugar, like a creme anglaise. After pasteurization, it is held for at least four hours, or overnight, so it can relax. Then, for chocolate gelato (and really, is there any other flavor worth mentioning?), Hewett adds pure cocoa and the mix is pasteurized again. "The chocolate flavor is the one I struggled with the most," he tells me, and in fact, this gelato is the richest, most indulgent chocolate I've ever tasted. "We double cook the chocolate — that's the secret."
Following instructions, I poured the cho-colate base into the batch freezer, pushed the button, watched it go round and round like a washing machine, pulled the lever, and voila — chocolate gelato! I was as hap-py as a child, and that's no accident. Every-one who works at Roba!Dolce is a parent.
The commitment to children extends to the company's philanthropic alliance with the Make-A-Wish Foundation, for which Roba!Dolce has raised money through the sale of specially marked packages of gelato and sorbetto in Rhode Island. "We knew we wanted to do something local and something with kids," explains Light. The Make-A-Wish gelato containers feature drawings by eight children who won a design contest.
Down the road, Olerio thinks about franchising Roba!Dolce cafes, and he's been talking to a team of consultants who specialize in franchising. But for now, the focus for this entrepreneur is on whole-sale distribution beyond the East Coast, on flavors (his personal favorites are coconut and tiramisu gelatos, and mango sorbetto. "I'm also pretty high on our peanut butter gelato," he says.), and on having fun.
Summer entertaining should be fun, too, which means keeping it simple. For an easy dessert, try this: hollow out an orange and freeze the shell for 15 to 30 minutes. Then fill it with Roba!Dolce Sorbetto Superfruit (pomegranate, blueberry and currant). Or, maybe, dulce de leche gelato. Or lemon-lime jalapeno sorbetto…. Ahhhhh, how sweet it is.
Cool Cocktails
Gelato isn't just for eating; it makes a light and refreshing summer drink, too. Lori Light, Roba!Dolce's director of sales and marketing — and a former bartender — offers three cooling creations. The gelato and sorbetto will need to be tempered (let stand at room temperature for about 15 minutes) in order to shake over ice in a mixing cup, or you can pop it into a blender for a frozen-type drink.
Noce di Cocco Blu
3 parts Hpnotiq
1 part Malibu rum
splash of pineapple juice
1 scoop Roba!Dolce Coconut Gelato
Shake well; serve straight up, with a
pineapple garnish.
Silver Lucce
2.5 parts Limoncello
1.5 parts Ketel One Vodka
splash of fresh-squeezed lemon juice
1 scoop Roba!Dolce Lemon Sorbetto
Shake and serve straight up or over ice,
garnished with a lemon twist.
Mango Brezza
1 scoop Roba!Dolce Mango Sorbetto
1 ounce lemonade
1 ounce pineapple juice
Shake well. Serve over ice or straight up.
Roba!Dolce, 877-7GELATO. Check robadolce.com for supermarket locations. Roba! Dolce cafes: 450 Thames Street, Newport (summer only); 178 Angell Street, Providence. To contact Lydia Walshin directly, email lydia@ninecooks.com.