Surgical Precision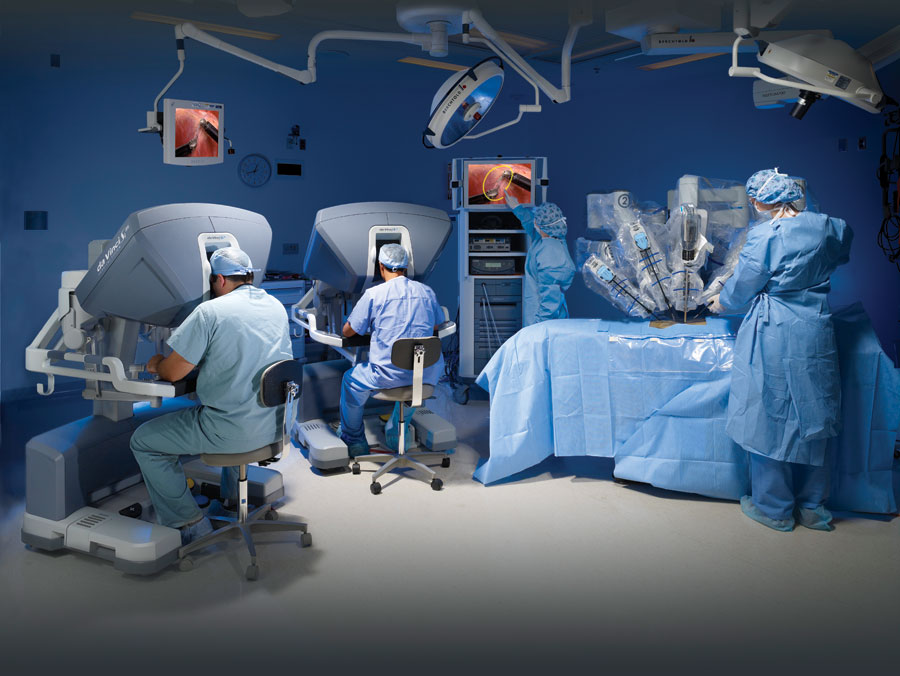 Robots are making advancements in minimally invasive surgery, specifically the da Vinci robot system. Surgeons operate the robot from a console and make just a few small incisions to insert tiny instruments which can rotate and bend far greater than the human wrist. A high-def camera sends magnified images to a monitor to guide the surgeons as they operate.¶ The benefit for the surgeon is better precision, dexterity and control as well as superior visual clarity of tissue and anatomy. The benefits for the patient include smaller incisions, shorter hospital stays and a faster recovery. More importantly, studies are showing many patients have a lower risk of complications with da Vinci.
In November 2006, Miriam became the first hospital in Rhode Island to invest in the da Vinci system and the first to perform prostatectomies robotically, says Dr. Joseph F. Renzulli II, director of prostate surgery at Miriam and partner at University Urologic Associates. He and his colleague, Dr. Gyan Pareek, led the team that performed the first robotically assisted prostatectomy at Miriam.
"Prostatectomies are the mainstay of the da Vinci, and it has significantly improved patient outcomes. The potential benefits over open surgery include more precise removal of cancerous tissue, the ability to perform nerve-sparing surgery, which enables faster return of erectile function, better chance for return of urinary continence and fewer days with a catheter. There is also less blood loss and less need for a transfusion, lower risk of complications and lower risk of wound infection," Renzulli explains.
Prior to the introduction of robotically assisted surgery, 95 percent of prostate surgeries were performed through a large midline incision. Today, more than 85 percent of the prostate surgeries performed in the United States are done robotically.
Renzulli and Pareek published a groundbreaking paper on complications in robotic surgeries. "It's the only prospective study looking at complications in robotic surgery in the world and it's quoted at every meeting that has anything to do with robotics. And that came out of the 247-bed Miriam Hospital here in Rhode Island. That's pretty unique," Renzulli says.
Since 2006, more than 1,800 robotically assisted surgeries have been performed at Miriam, 1,245 of them prostatectomies.
"Our volume and our experience are tremendous. That's why our research reflects an exceedingly low rate for major complications, less than three percent. That supports the idea that you have to go to a center that knows what they're doing and that do a lot of them. A surgeon doing ten a year is not going to have the same outcomes as the one doing 100 a year," Renzulli says.
The Miriam team is excited that the hospital just invested in a new da Vinci Si, the third generation of the technology. It offers enhanced three-dimensional high-definition vision of the operative field and, in conjunction with Firefly Fluorescence Imaging, the surgeon can see key anatomical landmarks using near-infrared technology.
A different kind of innovation was also made possible by Miriam's robotics: The development of the Minimally Invasive Urologic Institute (MIUI), which offers all the comprehensive services urologic patients need.
As Renzulli and Pareek performed more robotic procedures, they recognized the need to bring the technology to other areas and bring more services under one roof. The result of their brainstorming was the MIUI Center of Excellence, located in the Fain building across from Miriam's emergency room entrance. Here, they've created a regional epicenter revolving around robotic procedures encompassing prostate, bladder and kidney cancers, as well as a kidney stone center.
The need is clear: Rhode Island has the highest bladder cancer rate per capita in the country, and 12 to 15 percent of the population gets kidney stones. "It's a $4 billion problem in the U.S. It's increasing because of childhood obesity, and it's increasing in women," Pareek says.
As they built the cancer center, they developed more programs and recruited experts to lead them.
"Once we had the technology and the increased volume, our goal was to recruit top-notch physicians and offer the most innovative care that we could. We recruited Dr. Dragan Golijanin from New York to join our team so we could expand the program to kidneys and bladders," says Pareek.
Golijanin already knew of Renzulli and Pareek from their work. The chance to work with them and the da Vinci technology were a large part of what drew him to Rhode Island.
"I was always teaching my residents how important it is to do prospective studies, and Joe [Renzulli] and Gyan [Pareek] did prospective studies on complications and outcomes of robotic prostatectomy that is probably one of the best studies ever done for prostate cancer. So it was an excellent opportunity to come here and work with them," says Golijanin.
The MIUI approach is all-inclusive. When a patient comes in with a new diagnosis of cancer, he meets with the multidisciplinary cancer team, which is the oncologist, the radiologist and the urologist, all in one visit. Instead of going to three offices and getting three opinions, he gets one consensus from the experts. If the patient chooses surgery, he returns to the clinic for a review of his pathology and to see if he needs additional therapy like radiation or chemotherapy. The center also handles all the issues that come with the diagnosis.
"After prostatectomy, for example, we know the patient is going to have impotency and incontinence, so we built a men's health center, which focuses on the erectile dysfunction, the penile rehabilitation and the urinary incontinence. If it's a bladder patient, they may get chemo pre-operatively, or Dr. Golijanin might make them a new bladder out of bowel and reconnect it so they can urinate normally. Again, this is something not done on a routine basis," Renzulli explains.
The institute has a Ph.D. dietician offering dietary modifications for cancer and kidney stone patients, a psychologist for the stresses inherent in a cancer diagnosis and a physical therapist specializing in pelvic floor rehabilitation.
"All these service lines help us achieve excellent outcomes. We recruited all these top-notch people based around what our surgical patients need. I feel it's almost irresponsible to do robotics and not have these ancillary support systems for patients," says Renzulli.
And it's all local, giving patients the benefit of family support systems close by and having their surgeon available for follow-up.
"Nothing like this exists around here. I don't think there's any better place in the country or the world for this type of care right now," Pareek says. But the trick remains getting the word out.
"Boston is a historic Mecca of medicine, you can't beat that, but we're creating our own history right here. It saddens me that other Rhode Island physicians don't know what a gem we have."
Golijanin says he has begun to see patients coming from Connecticut and Massachusetts and other hospitals looking to Miriam for highly specialized care. "Even if patients go and check other places, we're beginning to find they come back to us," he says.
Pareek credits the hospital's leadership for their vision in developing the program's offshoots. "We've had tremendous support from Tim Babineau, Lifespan's CEO, and Arthur Sampson, president of Miriam. They had the confidence to back what we felt we could build. They saw the potential and allowed us to pursue it."
In the process of conducting these surgeries, teaching and research are being optimized at MIUI. The doctors here have already taught robotics to out-of-state surgeons, trained fourteen residents and graduated two fellows. Now their plan is to bring surgeons to Miriam for CME programs.
The new da Vinci Si will be helpful in teaching too. It has a dual-console to support training and collaboration during minimally invasive surgery, as well as skills simulation to allow surgeons to practice their skills in a non-clinical environment.