Support Breast Cancer Awareness Month with Charity Walks, WaterFire and Pink Cake
Rhode Island is jam-packed with opportunities to join in on the cause.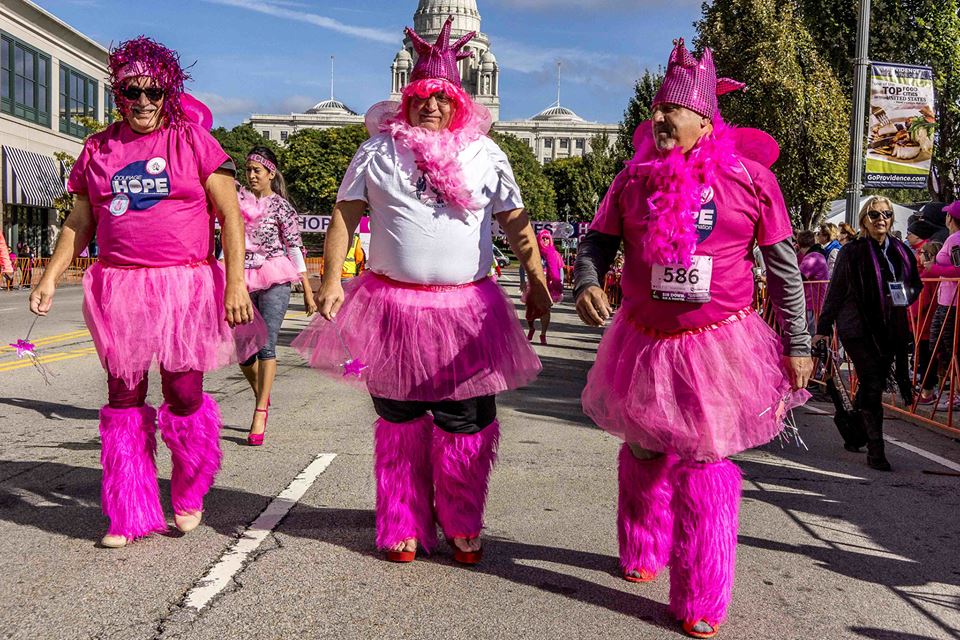 October and the color pink are reminders to people everywhere that one in eight women (about 12 percent) across the United States will be diagnosed with breast cancer in her lifetime. The National Breast Cancer Foundation says early detection of the disease is the key to survival and frequent screening and examinations help to aid initial discovery.
As part of Breast Cancer Awareness Month 2016, Rhode Islanders have set out to host events, raise funds and grow as a community to help increase knowledge and education about breast cancer.
Between the Gloria Gemma Foundation, the Avenue of Healing and the American Cancer Society, Rhode Island has a number of events where you can show off your pink pride. Whether you have been affected by breast cancer in some way or not, there is something for everyone to be a part of over the next month of October.
10/1: Celebration of Life Festival
On Oct. 1 starting at 3 p.m., you can join the Gloria Gemma Foundation at the Celebration of Life Festival. Located at Station Park in downtown Providence, this event has something for everyone. Take it back to the '80s as Decadia performs live, followed by a laser show. Throughout the event, attendees can seek out food and watch the crowds settle in. The Rhode Island Martial Arts Academy-Mastery Martial Arts is performing a demonstration at 7:30 p.m. and the Pink Party begins at 8 p.m. Every event is open to the public but the Pink Party is by ticket entry only. Tickets for the Pink Party are $50 and can be purchased here. Don't miss the start of Breast Cancer Awareness Month at this activity-packed event. For more information and the schedule, click here.
10/1: Illuminations of Life Ceremony and WaterFire
Also on Oct. 1, beginning at dusk, the Gloria Gemma Foundation hosts its second event of the month, the Illuminations of Life Ceremony. On the steps of the Rhode Island State House, located at 82 Smith St., Providence, the State Ballet of Rhode Island dances in tribute to breast cancer patients and survivors, followed by a torch procession. Guests are welcome to register as torch bearers or to donate towards a torch bearer. Those who are interested in carrying a torch must raise a minimum of $500 in donations. (Register here.) The proceeds will go towards Gloria Gemma Foundation's Hope Bus. The bus travels around Rhode Island providing information and breast cancer examinations to women. The procession leads to a WaterFire in Waterplace Basin.
10/1: Passport to Wellness
The morning of Oct. 1, from 8 a.m.–2 p.m., the Omni Hotel, 1 West Exchange St., Providence, hosts Gloria Gemma: Passport to Wellness. This event has more than fifty health and wellness vendors. Additionally, the event includes speakers, a nutrition information session that shows attendees quick and easy meals and the opportunity to obtain six stamps on the wellness passport that is provided to each guest at the door. With six stamps, guests receive a Journey bracelet by Gennaro Inc., while supplies last. This is a free event. For a schedule, click here; to register, click here.
10/2: Gloria Gemma Walk/Run
The Gloria Gemma Foundation continues its activities into the following day with the Gloria Gemma Walk/Run Series, beginning at 9 a.m. and concluding when the final participant crosses the finish line. The Kids Fun Run, open to children ages twelve and younger, kicks off the series at 9 a.m. and has multiple starts. The Pink Pump Palooza is the next event in the series at 10 a.m.; it's a fifty-yard dash. Men and women: Bring your pink-decorated high heels and finish the race to have the chance to be crowned Ms. or Mr. Pink Pump Palooza. Lastly, at 11 a.m., there is a five-K, where participants can walk or run at their own pace. It is a chance for the fastest runners to win prizes and for everyone to show off their pink pride. The event is at Station Park in downtown Providence. (Register here.) Online registration for events ends Sept. 28 at 9 p.m. The five-K walk/run is $30 in advance, $35 the day of the event. The Kids Fun Run is $20 online and onsite. The Pink Pump Palooza is $32 to register online and $35 to register onsite.
10/16: Making Strides Against Breast Cancer
The American Cancer Society hosts its annual Making Strides against Breast Cancer Walk at 2 Kennedy Plaza, Providence. On Oct. 16 at 9 a.m., you and your team (which you can create online) are free to walk the streets of Providence with the sea of pink. Check in begins at 7:30 a.m. and to make a team, click here.
10/22: Avenues of Healing
Avenues of Healing is hosting its own event in support of breast cancer awareness with a brunch, a panel discussion, keynote speaker dietitian Marsha Hudnall and raffles. This educational event, sponsored by Lifespan, is located at Crowne Plaza Hotel, Main Ballroom, 801 Greenwich Ave., Warwick. It is free and open to the public, however, registration is required and you can do that here.
Through 10/31: Cake for a Cure
Gregg's Restaurant and Tavern, with four locations in Rhode Island, is also participating in the fight against breast cancer. Now until Oct. 31, customers can purchase a Cake for a Cure for $29.99 at Gregg's locations in Warwick, Providence, East Providence and South Kingstown. The dessert is a pink cake filled with pink vanilla buttercream and topped with pink ribbon sprinkles. Gregg's will donate a portion of sales to the Gloria Gemma Foundation. To order a cake, stop by a Gregg's near you. Gregg's will also have a presence at some of the Gloria Gemma Foundation events through October.
Ongoing: New Luca and Danni Collection
Luca and Danni, a locally based online retailer of American-made jewelry, created a new collection in support of Breast Cancer Awareness Month. The collection consists of Gloria's Angel Bangle, Rose AB Gloria's Angel Pendant and Rose AB Gloria's Angel Pin. Luca and Danni's owner and founder Fred Magnanimi knows the hardships of cancer; he lost his own brother, Danny, to cancer in 2013. With the purchase of any one of the three items from the new collection, 20 percent of proceeds will support the Gloria Gemma Foundation. Items can be purchased online through the Luca and Danni site, at the Flames of Hope weekend or at any Luca and Danni retailers in Rhode Island.