Super Plungers Dive into Icy Water Over Twenty-four Hours
The series of hourly plunges will benefit Special Olympics Rhode Island.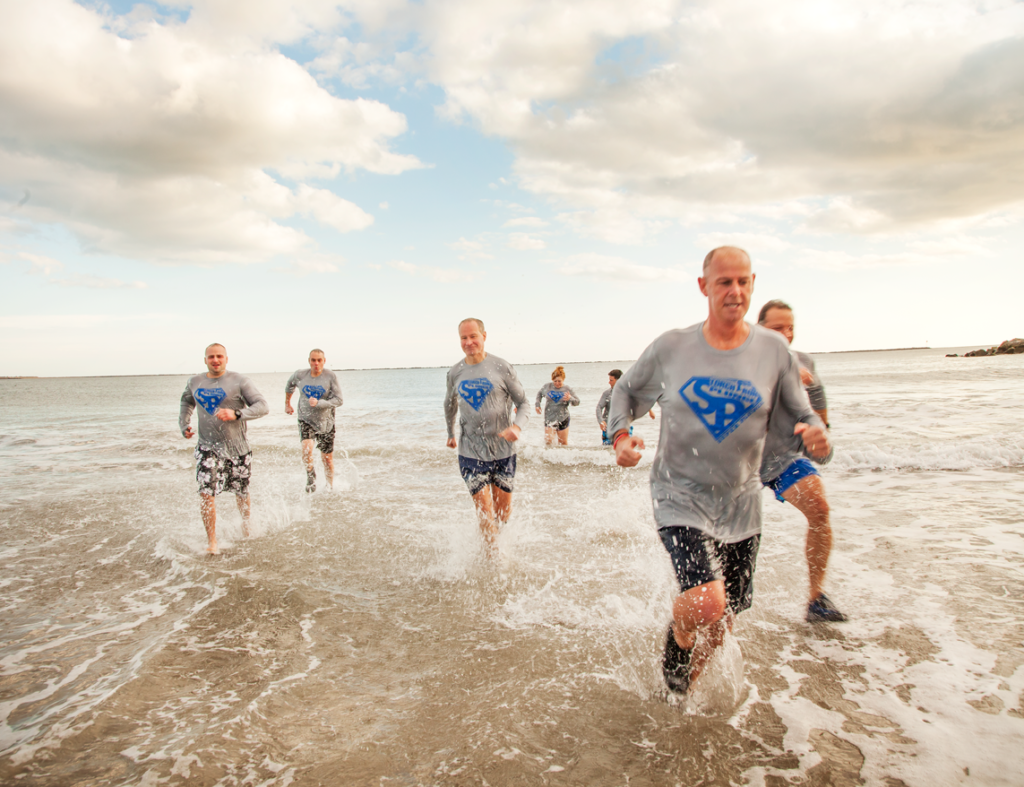 On Saturday, March 19 at 1 p.m., nine brave souls will embark on the Torch Run Super Plunge, a series of twenty-four icy cold plunges into the waters off Salty Brine State Beach in Galilee to raise money for Special Olympics Rhode Island. They will fully submerge their entire bodies, heads and all, once per hour over twenty-four hours, and the final dive in will coincide with the Torch Run Plunge for Special Olympics Rhode Island on March 20 at noon. The idea for the day of dipping began in 2013 when Richmond police chief and North Kingstown resident Elwood Johnson took two dozen plunges for the first time. In later years, Johnson enlisted four others to join him, including East Greenwich community service police officer Jim Cummings of Narragansett, Cranston police officer and active member of the Air National Guard Eric Leclerc, Woonsocket firefighter Rick LaBreche and Massachusetts resident and Special Olympics volunteer Bob Mathews. This year the group expands to nine Super Plungers, eight men and one woman, who will take on the frigid frolic. Luckily, the Cranston Police Department loans a trailer for the group to use to warm up and change out of wet clothing, while a hot tub brought on site by Pool and Patio Center in Coventry allows them a hot respite in between ice baths. Last year, the group raised more than $35,000. Each of the members has his or her own reason for plunging. "I got involved volunteering at the state summer games, and the people you meet, both the athletes and the staff, draw you in and you never walk away from it," says Jim Cummings.
Watch the video created by Chris Babiana.
Cummings answers a few questions about the Super Plunge:
Jamie: What's it like to plunge into cold water once an hour over twenty-four hours?
Jim: It's eye-opening, is a good way to put it. The plunges earlier in the day aren't too bad when there's sunlight. We have a lot of people that come down and watch. It starts to get a little tough around eleven or twelve o'clock at night, and those early morning hours when you run out and it's pitch black and cold and there's nobody there. The biggest thing we ran into last year, the night of the plunge, the wind shifted and a cold front came through. We were coming out of the water into fifteen to twenty miles-per-hour headwinds. It was pretty chilly. The water temperature was about thirty-four or thirty-five degrees, and the air temperature was probably in the twenties, but with the wind chill, it was in the teens.
What do you do in between plunges?
The Cranston Police Department provides its dive team trailer with a generator so we have heat and lights. We change after each plunge and put on dry clothes. We have a tent set up that has heaters in it. We hang out there while we wait for our next plunge. We have electricity so we are able bring a TV and DVD player so we watch movies all night.
No napping?
It's difficult to nap because we plunge at one o'clock in the morning, and by the time we dive in and fully submerge in the water (because we have to fully submerge, and we can't just run in up to our knees and say we did it…), then come back up, warm up a little bit, dry off and change clothes and get back into the tent, then it's already fifteen or twenty minutes after the hour. We'll be getting up again in another twenty minutes to do the next one. We try to catnap, but it doesn't happen.
Do you actually change your clothes twenty-four times as well?
Pretty much, because we don't want to sit in wet suits while we are waiting. We will towel off and change out and put on something quick and casual, like sweats. Usually we bring multiple changes of bathing suits and towels, so at least we start with warm and dry clothing and a towel. That makes it a little bit easier. The other thing that really helps – and they've been there right from the very beginning, is Pool and Patio Center in Coventry comes down to set up a hot tub for us, operating on a generator. As soon as we come out of the water, we all dive into the hot tub. We go from thirty-four-degree water to 105-degree water. We plunge into that for two minutes and it warms the core of your body and makes it a lot more palatable to do this twenty-four times.
What made you want to do this for Special Olympics?
I've been volunteering for the Special Olympics since 1990 when my employer at the time had a volunteer group. We would send a group down to the state's Summer Games at URI. I got involved at that point. The people you work with, both the athletes and the staff, draw you in and you never walk away from it. I started doing the Penguin Plunges back in the '90s and then the Torch Run Plunge started, and I migrated to that. Elwood is the one who started this whole Super Plunge. It was one thing to do to benefit the organization and the athletes. As crazy as it sounds, someone challenged me to do one, the Penguin Plunge. I did it and it wasn't that bad, and I have just been doing it ever since. Actually some of the other guys, Eric and Rick, have special needs children, so that's how they got involved, and they are coaches for the Lincoln Northstar team. We all have our reasons. Elwood is retired state police, and they go down every year and present the medals to the athletes at the state Summer Games. You get drawn in and recognize the value of the organization. Elwood has been volunteering as long as I have, maybe longer.
Do some of the athletes from Special Olympics come down and participate?
Absolutely. There is a team of athletes that does the Torch Run Plunge on Sunday. They form their own team. And this year, we are going to try to do something different. We are going to see if we can get a couple athletes to come down with us during the day and do some of the plunges.
Last year you raised a record amount of money. How much did you raise?
Just the Super Plunge team, the five of us, I think we raised around $35,000.
Donate to the 2016 Super Plunge Team.