Sundays at the RISD Museum
Besides Sundays from 10 a.m.−5 p.m., the museum is open free the third Thursday of every month from 5−9 p.m.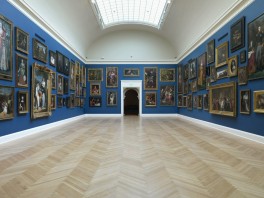 It's not news that the RISD Museum is open free every Sunday, 10 a.m.−5 p.m., but it was news to me. When I found myself with some time to spare on a hot, humid Sunday morning in July, those air-conditioned galleries seemed a good choice. I wasn't the only one who thought so, either. There were plenty of other folks there, though not so many that it felt crowded.
There's plenty of variety at the museum. On Sunday, you could find a current show on men's fashion, a collection of classic porcelain figurines, Impressionist paintings, a sculpture by Rodin, religious carvings from ancient times and a wooden desk designed by Frank Lloyd Wright. The student gallery is one of my favorite spots. This weekend the exhibits included an electric-powered motorbike built by a couple of industrial-design students, a few varied sculpture installations, a video project and some photographs I liked, especially one of a strange jackal-like creature that seemed to hold the mysteries of the universe inside its skull. The student gallery is a little out of the way and easy to miss, so be sure to find it if you go.
I also like the ancient art, because to stand in its presence is like taking a trip back in time, to experience the world as the artist did, in some other era when life was very different than it is today. This feeling of time travel struck me, especially on Sunday in the Grand Gallery. This is a huge, rectangular room, hung with paintings from floor to ceiling, many of them hundreds of years old. It can seem chaotic at first, but it forces the viewer to stop and take some time to absorb all the different faces painted in different styles, from different times and places, and all the human experience, emotions and personality expressed in each one. Both the subject and the artist are long gone, the techniques are antiquated and forgotten, yet the work remains.
Two very striking paintings side-by-side in a corner especially fascinated me. One shows a very formally dressed man, maybe a religious leader from some time in the Middle Ages, referring to some papers he holds and staring out very intently at the viewer. The colors are so clear and vivid that the figure seems three-dimensional, and his expression so lifelike, it seems you can look into his soul. Here is a very confident man, holding in his hand the authority that assures him that all is as he believes it is, and woe to those who might disagree. And right beside this painting hangs another portrait, by a different artist, showing a man stripped naked but for a rag around his loins, tied to a tree, pierced by arrows, alone and looking up into the sky with a pleading look, not a look of fear or pain, but weariness, and searching for a reason why. So much has changed, yet much remains the same for us humans on earth.
It may be anti-social, but I was glad to find time to visit the museum on my own – it's fun to go with others, but it's also nice to take your time, wander at your own pace, go back and look at something twice if you want to, and focus on the art. I recommend trying it. A few students sat before the paintings, here and there, making sketches of their own; another excellent way to engage more fully. I also like to stop and spend some time in the presence of RISD's ancient mysterious Buddha, but unfortunately that exhibit is closed for renovations.
Besides Sundays from 10 a.m.−5 p.m., the museum is open free the third Thursday of every month from 5−9 p.m. It's closed Mondays. Regular admission is only $12 for adults and $3 for youths ages five to eighteen. Their newly redesigned website has all the info you need to plan a visit. You can preview much of the work there and learn more about it, but it doesn't compare to a live encounter. We're lucky that our capital city offers an abundance of art. It's not always easy to find time for it, but when you can, it always proves worthwhile. risdmuseum.org