Summer Time!
We've assembled a guide to all that awaits, inside and (mostly) out, at the beach and in town, and whether your wallet's feeling thin or thick. The sun is shining. The living is easy. Go have fun.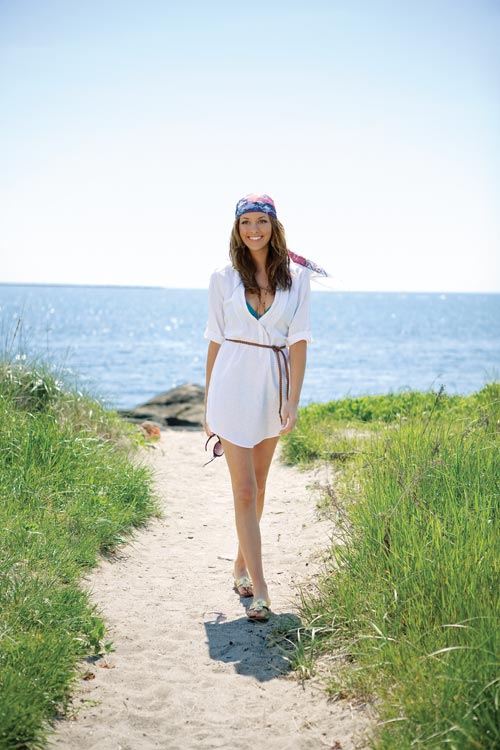 Free Stuff

Here's to Art
I made some great friends at a photo exhibit. One's an artist; the other an art buyer. I'm neither. But there's no proof of purchasing power or artistic judgment required — just the willingness to yak it up and gulp it down (the free food and wine). Which I can pretty much handle.
Gallery openings, then, are like free cocktail parties with built-in conversation starters. Meet friends, cadge pinot grigio and hummus, and ogle the goods. Someday I'll buy; meanwhile, I'm developing my eye.
Rhode Island is a grand state to develop this slightly parasitic philosophy. Galleries are scattered liberally throughout the state, with clusters in the eight arts districts, which offer tax breaks. Obvious places to start include Newport, where you can stroll between twenty-five galleries, including Newport Scrimshanders (handmade engraved whale bone) on Bowen's Wharf, and park free at the Visitor's Bureau during Gallery Night, the second Thursday of every month (newportgallerynight.com). In Providence, it happens the third Thursday (gallerynight.info), and buses will buzz you around twenty-one galleries from the free parking at Regency Plaza, including the Rhode Island School of Design, where instructors give free art lessons.
Other arts districts are in Pawtucket, Westerly, Woonsocket, Tiverton, Little Compton, Warwick and Warren, where Yes! Gallery on Water Street charms in its historic building, while potters work at Mudstone Studios & Gallery on Cutler Street. Some day soon I'll raise a glass to them.
Pippa Jack is an unashamed sometime art-gallery malingerer.

---
Walking Boots
Sure, we love the beach. But there's plenty more to explore in the Ocean State — just not in flip flops.
The starter hike…
Nordland Farm
50 South Killingly Rd., Foster
Length: Cover this easy nature trail in a lazy forty-five minutes.
You'll see: Fields, woods, farm animals, and an awesome view of the Moosup Valley from one of Rhode Island's highest points.
Bring: The kids and a picnic lunch.
Parking: Free, call ahead to schedule a visit
(397-7404) nordlandfarm.com.
The seaside hike…
Sachuest Point Wildlife Refuge
Sachuest Point Rd., Middletown
Length: An easy coastal trail loop about two miles long.
You'll see: Rocky coastline, meadows teeming with birds and wildlife, spectacular ocean views.
Bring: A hat and sunscreen; not much shade here.
Parking: Free, get there early on weekends; visitor center, restrooms.
fws.gov/refuges.
The challenging hike…
Beach Pond Recreation Area
Route 165, Exeter
Length: Miles and miles of wooded hilly trails at the Connecticut border.
You'll see: Old forests, plentiful ponds and rivers, maybe a beaver dam or a bald eagle.
Bring: A map and compass, or buy a local hiking book, to plot a course and find your way.
Parking: Free in a small unpaved lot.
riparks.com.


No need to go solo – Rhode Island Families in Nature leads easy hikes for all ages once a month; learn more at rifamiliesinnature.org. The Appalachian Mountain Club Narragansett Chapter leads hikes for beginners to advanced; go to amcnarragansett.org for a listing. Always use bug repellent and check for ticks when hiking. For more info, go to tickencounter.org.

---
Playtime
Let's face it — your kids will like pretty much any playground. It's you who appreciates a little something extra (while they take their fiftieth turn on the slide).
Rotary Park
Across from 90 Airport Rd., Westerly
Vibe: Beachy families, new equipment.
They'll like: Tunnels and slides, wide steps and platforms, and walls with cut-outs for peek-a-boo. Big kids get adventurous with six slides, a zip line, rolling log and obstacle course.
You'll like: Toddler and school-age sections are fenced off separately; cool-down spot the Children's Garden includes gazebo and kid-friendly information about plants.
Snack time: Water fountains, plus tables for a picnic from nearby Sandy's Fine Food Emporium.

Impossible Dream Park
575 Centerville Rd., Warwick
Vibe: So fun they'll never notice it's wheelchair accessible.
They'll like: Imaginary playhouses, a multicolored wooden train, and a miniature golf course. Creative elements like King John's Castle compete with a new puppet theater for kids' attention.
You'll like: 1 suggested donations support wish program for chronically ill kids. Full restrooms; pavilions for party rentals.
Snack time: Picnic at the koi pond with water-spraying animals and figurines.

Glocester Memorial Park
52 Adelaide Rd., Glocester
Vibe: Uncrowded, smaller playground next to baseball field.
They'll like: All the basics plus trapeze rings, ladders with curved rungs, bridges and a zip line. Skate park for older kids.
You'll like: The varied options satisfy all ages—you could even hit the tennis courts yourself. Playground is par-tially open to baseball fields and stands, so close watch advised. Bring your own lawn chair.
Snack time: Grab a slice at the nearby Aegean Pizza.
Lippitt Memorial Park
1015 Hope St., Providence
Vibe: All ages and skin colors meet at East Side hangout.
They'll like: The abundance of swings plus seesaw, climbing dome, kiddie telescope and vertical chimes for playing a tune. A nearby water fountain fascinates.
You'll like: Bring chess pieces for the checkerboard tables. Or pop your child in a stroller for a nap while you stretch your legs on Blackstone Boulevard.
Snack time: Three Sisters across the street has sandwiches and homemade ice cream.

---
Cool Kids
The best spot for smart cookies to seek out the shade? It's a no-brainer.
For kids, the local library might be the coolest place around (literally) come summer. Summer reading programs include many festivities, from craft-making to mad science, that tour the state as part of the statewide "Be Creative @ Your Library" series; all of them make us wish we were kids again.
Ten notables:
1 Hula with the Napua O'Polynesia dance troupe.
2 Laugh at Keith Munslow's storytelling-music-cartooning extravaganza.
3 Pull up a log bench at Brown Street Park for the Providence Athenaeum Wednesday afternoon story hour.
4 Make stuff disappear with the Great Baldini.
5 Give yourself a henna tattoo at the Teen Art Café [Peace Dale Library].
6 Cover the Robert Beverly Hale library steps in sidewalk chalk [Matunuck].
7 Fall under the spell of local storytellers.
8 Invent a wild whirligig with Mad Science.
9 Learn all the words at a Julie Garnett sing-a-long.
10 Read!
For a schedule of Be Creative @ Your Library events, visit olis.ri.gov/services/srp/index.php or contact your local branch. For information on Wed-nesday story hours at the Providence Athenaeum, call children's librarian Lindsay Shaw at 421-6970.

Drop $20

See and Be Scene

Introducing five restaurant patios that justly command loyal local crowds. All you'll need to have fun are sunglasses, good company and a twenty dollar bill.
South County
The Bon Vue Inn
1230 Ocean Rd., Narragansett, 789-0696
The Bon Vue Inn has a view of the Narragansett shore and Point Judith Lighthouse that is top notch, as are the martinis and the ocean breeze. From your perch under an umbrella on the deck, keep your eyes peeled for surfers in the lineup.
East Bay
Thames Waterside Bar & Grill
251 Thames St., Bristol, 253-4523
Ease yourself into an Adirondack on the patio for a view of Bristol Harbor. The ceiling fans outside are a genius idea for steamy days. Watch meandering boats while enjoying the live music wafting from inside on
a weekend night.
West Bay
Top of the Bay
898 Oakland Beach Ave., Warwick, 921-3663
Top of the Bay is an unpretentious spot for everyone from thirty-somethings to spry grandparents. High-top chairs offer a wide, clear look at Narragansett Bay. All appetizers are less than $10 and two-piece bands play on Fridays and Saturdays.
Blackstone Valley
Water's Edge
743 Putnam Pike, Greenville, 349-4707
On the waterfront tiki deck at Water's Edge you can enjoy the placidity of Waterman Lake and snag most appetizers for less than $8, while beers ring in at no more than $4 or less. Acoustic bands for mellow listening perform on Fridays and Saturdays.
Newport County
Atlantic Beach Club
55 Purgatory Rd., Middletown, 847-2750
Enjoy a panoramic view of the surf and sand from Easton's Beach. With a massive tent and bars outside, this is the spot for large crowds and mingling. And it earns extra points for the beach volleyball court and live tunes all weekends.

---
Float Your Boat

Kayaks are by far the easiest, most accessible way to get on the water. These three beginner-friendly rentals all offer a little something extra for the fee.
If you like the beach…
Rent from Narrow River Kayaks. Paddle down the river to where it empties into the ocean (but don't venture into the sea unless experienced) and haul out on the sandy shore. Across the spit is Narragansett Beach surf, but the crowds and parking fees are miles to the south. If you call ahead, owner Jason Considine will help you time the outgoing tide to the beach and catch a lift from the incoming tide on the way back. He also rents special fishing kayaks that have a place to keep your rods and tackle. The nearby Narrow River Cafe will even pack you a picnic. Rates start at two hours, $28 for single kayaks and $45 for tandems.
Middlebridge Rd., Narragansett, 789-0334, narrowriverkayaks.com.
If you like clamshacks and music…
Lazily explore the Green Hill and Ninigret salt ponds, where wading birds outnumber powerboats, from The Kayak Centre. Finish up your day with some deep-fried seafood at the neighboring clam shack. On weekends when Ninigret Park is hosting music festivals, you can paddle on over and soak up the sounds—just like those yachts that anchor offshore at Fort Adams during Newport's festivals, but with way less stress on your bank account. The Centre also offers a wide range of tours and classes, and if you get hooked, you can buy a used or new kayak of your own at their store in Wickford. Two-hour rentals are $25 single, $45 double.
Charlestown Beach Rd., Charles-town, 364-8000, kayakcentre.com.
If you (and your kids) like nature…
Corrie Heinz, a native Block Islander and naturalist, greets paddlers as young as six at Pond and Beyond, which stocks kid-size kayaks. "They just love it, they learn so fast and then they just rock it," says Heinz. Explore the peaceful inner ponds, or venture onto the Great Salt Pond itself to hit the clam flats, local shellfishing license in hand, for some barefoot clamming. While you're there, tie up at the dock at The Oar and chow down on a lobster roll before paddling back. Heinz offers guided tours that highlight the local ecology, including sunset and full moon outings, and special rates for groups and kids. Rentals are $30 for about two hours.
Ocean Ave., Block Island, 466-5105, blockisland.com/kayakbi.

Drop $50

Bike B.I.
You don't need pricey hotel rooms to experience the best of Block Island. Grab your beach cruiser and go daytrippin'.
7:30 a.m. Arrive Point Judith early enough to find street parking, avoiding $10 a day parking lots.
8 a.m. Stretch out on uncrowded early ferry with boat bagel and cream cheese.
9 a.m. Arrive Old Harbor. Snag free guide (with map) from Visitor's Center opposite docks. Head for Corn Neck Road.
9:10 a.m. Congratulations: The beach is on your right. Dip feet in ocean.
10 a.m. Bike four miles to the North Light, tour historic rooms and check out windmill powering the building.
11:30 a.m. A curve or two back there's a stile over the stone wall on the right. Beyond, a walking labyrinth, perfect for contemplating your next step in life.
12:30 p.m. At Yellow Kittens Mexican on the Deck in town, the clam strip burrito is a don't-miss Tex-Mex take on the New England classic.
1:30 p.m. Head south along Spring Street. Pass the Southeast Light — one lighthouse is enough. A quarter mile further are the Mohegan Bluffs stairs. Climb down to exploit spectacular sand and surf.
5 p.m. Head back into town, enjoy cone at Aldo's before catching the 6 p.m. to America. You've earned it.

Ferry $18.25; bike $6.10. Bagel and coffee $3.75. Burrito and iced tea $9.72. Small cone $4. Total: $41.82. Legs like jelly included.

Moveable Feasts
This summer, don't settle for cold cut sandwiches and warm Cokes. We asked Emily Wigutow of Max's Market in Newport (469 Thames St., 662-9099, maxsmarket.com) to whip us up picnic menus for four — one for kitchen lovers, another for people on the run. Add a bottle of wine without breaking $50, and achieve picnic nirvana on the jetties at Beavertail State Park in Jamestown.
Ultimate Picnic
Lemon Rosemary Chicken Breast
2 teaspoons garlic, minced
½ teaspoon rosemary, crushed
½ teaspoon oregano
1 lemon, zest and juice
salt and pepper to taste
1 pound chicken breast tenders
Mix garlic, rosemary, oregano, lemon, salt and pepper in a bowl. Mixture should taste very lemony and a bit too salty. Trim fat from chicken tenders, place in a Ziploc bag with marinade and refrigerate for up to an hour. Grill or broil chicken until cooked through. Refrigerate overnight before packing. Tastes delicious cold.
Roasted Corn Salad
1 pound fresh corn kernels (also works great with frozen corn)
1 tablespoon canola or olive oil
½ pint heirloom cherry tomatoes
½ red onion
4 sprigs fresh basil, leaves removed from stems
Dressing
3 tablespoons cider vinegar
1 teaspoon honey
1 tablespoon Dijon mustard
½ to ¾ cup olive oil
salt and pepper
Preheat oven to 375°.
To make the salad:
Place corn kernels on an edged cookie sheet and toss with canola oil. Roast for 12-15 minutes, until a little bit of brown shows on a few kernels. Remove from oven and cool. For frozen corn, toss with a little oil while still frozen and add 5 minutes roasting time. While corn is cooking and cooling, cut cherry tomatoes into halves or quarters, depending on size, and dice red onion. Cut basil into chiffonade. (Stack a few leaves on top of each other, roll into a cigar shape and cut into thin strips. Repeat with all of the basil leaves.)
To make the dressing:
Mix vinegar, honey and mustard in a bowl. Using a whisk, slowly drizzle in the olive oil. Whisk continuously; mixture should be thick. Add salt and pepper to taste.
Toss all ingredients together and chill.
Creamy Pesto Pasta Salad
¾ pound farfalle (bow-tie) pasta
¾ cup fresh or frozen peas (or blanched
string beans)
¼ cup diced roasted pepper
¼ cup pesto
1/3 cup mayonnaise
salt and pepper
Cook pasta, drain and cool. (If short on time, cool by running under cold water. Just don't tell any Italian cooks; they'll throw pasta at you!) Add fresh peas to a pot of boiling water for one minute. Remove peas and run under cold water or shock in an ice bath. (Frozen peas can be added directly to pasta and peppers.) Toss peas, roasted peppers and pasta. Mix pesto and mayo in a small bowl. Add salt and pepper to taste. Toss dressing with pasta mix and chill. Keep cold before serving.
Watermelon Lemonade
This lemonade is always a hit at the
Aquidneck Growers' Market. (Grown-ups
can mix with vodka for a great summer cocktail!)
6 juiced lemons
1/3 cup sugar (or to taste)
1 quart water
¼ watermelon cut into chunks
Blend ingredients. (For a shortcut, use a can of frozen lemonade and mix according to directions, then add watermelon.)

Packing Tips
Make sure that food is cold prior to packing. A cooler will keep things cold, but it won't cool them down. If you don't have a cooler, most supermarkets sell insulated, reusable shopping bags for less than $2. Or just line a basket with a cloth napkin, lay down some ice packs and cover with another cloth napkin before packing food.
The no-cook picnic
Veggies
Wigutow likes trying out fresh finds from the local farmers' market. Some of her favorites:
Jicama: Peel and cut into matchsticks. "Refreshing and crunchy, a bit like an apple," says Wigutow.
Asparagus: Break off the ends, cook for about two minutes in boiling water and run under cold water. (Well, almost no cooking.)
Radicchio: Trim the root, leaving it intact. Cut into wedges.
Watermelon radish: Cut into chunky wedges or slender sticks. "Slightly milder than red radish, these are gorgeous," Wigutow says. "Green on the outside and bright pink inside."
Easy Dips
"You can mix just about anything with sour cream and it will taste great," says Wigutow. Add sour cream to taste with any of the following: cucumber, dill and lemon; mango chutney; pesto; or peanut sauce. Or, mix Dijon mustard with anchovy paste and top with good olive oil for a Max's Market favorite.
Meat or Fish
Italian or Spanish tuna: Found in most specialty stores — make sure it's packed in olive oil with a pull-top can. "It doesn't take much to make a meal," says Wigutow. Eat it straight out of the can or make an antipasto sandwich with olives and roasted peppers.
Italian cured meats: Ask the deli for prosciutto sliced very thin — two or three slices per person is plenty. Or try a small amount of sopresatta or toscano salami.
Cheese
A great thing about cheese shops, says Wigutow, is they are happy to let you buy a small taste. Try a mini-wedge of something indulgent, such as black truffle Gouda or Saint Andre.
Dessert
Wigutow's all-time favorites are brownies or lemon squares — homemade or from a store — but sour cream is handy at the end of the meal, too. Add fresh berries or fruit with a pinch of brown sugar for a delicious summer dessert.

Drop $100

Yes, You Clam

Hold an old-fashioned clambake. Sure it's insanely time-and-labor intensive, but getting everyone together to dig a hole and cook a big seaweedy mess of food is deeply satisfying — and not just to your stomach.
Assemble:
► beach fire permit from a local police/fire department
► shovels and people willing to use them
► children to gather beach rocks
► firewood, newspaper and matches
► seaweed and a canvas tarpaulin
► tongs, utensils (incl. lobster crackers), cups and plates
► lobsters (at least one each), clams, corn, potatoes
► beach chairs; easy snacks and drinks
Hit the beach around noon to start in on a two-by-two-by-two-foot pit. Line it with rocks and build a fire on top. Light it three hours before you want to eat (you wanted to eat at nine, right?). When rocks are hot, extinguish fire, spread a thick layer of seaweed and fill with food. Cover with more seaweed and the canvas. Shovel sand on top.
Sand-oven constructed! Any adults who did not dig should by now be pouring drinks for those who did. Hell, they should probably build a bonfire, too. And they better have brought snacks for the kids.
After two hours, haul up the tarp and grab the steamy food. Feast. By the time every shell is empty, it will be dark and you will all be exhausted. Put out the fire, pack up the trash and tell us it wasn't worth it.

Rent a Pontoon Boat

Non-boaters, get nautical!
Here's the boating equivalent of car camping: Drive to Champlin's Marina on Block Island and load your stuff directly onto a large, stable, idiot-proof floating platform. Then chug slowly into the wave-free environs of the Great Salt Pond, cocktails and deck chairs undisturbed by swinging booms or slamming keels. Simply drag the boat up onto the sand for land-side exploration, or hang on to a trailing rope wearing a mask and snorkel for an eyeful of the pond's rich sea life. No aquarium can match this. Rates from $80, $260 half day, twelve person capacity, dogs welcome.
Aldo's Boat Rentals, Westside Rd., Block Island, 466-5811.
Spending Spree
Go Fish

When you're thinking about paying an expert to take you fishing—the surest guarantee of success in a sport that has none—there's a basic decision to make.
Not the fish you'd like to catch, nor amount you want to spend. Not which companions to bring (and which are boringly immune to Dramamine). Not even which captain.
No, it's this: Will you go inshore, offshore, or to the canyons?
Fantastic and easily accessible fishing grounds spread out south of Narragansett Bay, says Captain Don Ruth of Galilee's Frances Fleet. Go inshore, and you'll be out for a calm couple of hours, bottom fishing for sweet summer flounder and tender black sea bass. Offshore, and we're talking a half-day or evening trip, drifting quietly until a fish strikes, bam!, and you fight a big, solid striped bass or ornery, oily bluefish.
And then there are the canyons of the Continental Shelf, seventy miles south of Block Island and seven hours' steam away. Here, eddies of warm water break off from the Gulf Stream and swirl up to meet you, dark with Sargasso seaweed and explosive with rainbow mahi mahi. This monumental underwater escarpment is the place where charter clients spend the night stalking giant pelagics like marlin and yellowfin, dropping bait into water so clear they watch a glowstick down forty feet, dozing uneasily, waiting for a bite. Float a barrel of chum and hammerheads could show up along with the makos, reminding everyone whose element this is.
Guys like Ruth know the seasons, the tides, the currents and their secret spots: a cool hole close to shore where the stripers hang out, a far-off twenty-five-fathom ledge where a six-foot swordfish got away. Wherever you go, you'll bring home stories, and maybe some fish.
Book a private charter or join a scheduled trip on one of the Frances Fleet's four boats. Rates start at $35 for a half day fluke fishing ($25 children younger than twelve); tuna charter, $2,500, twelve hours, fifteen people. 33 State St., Point Judith, 783-4988, francesfleet.com.

---
Town and Country
Play turista close to home. It's time to let someone else pick up your socks.
Hotel Providence
139 Mathewson St.,
Providence, 864-8000
hotelprovidence.com

Environment: Euro-chic turn of the century boutique hotel.
Amenities: The Premier Suite, with living area, bedroom, small entertaining kitchen with granite wet bar and whirlpool tub. Cost: $699; rose petal
turn-down service: $15
In-house dining: Aspire. Tuck into the lobster feast: $64 each. Uncork a bottle of Dom Perignon: $250
Diversions: Since you can't check in until 4, wander over to Tiffany's at Providence Place and treat yourself to one of those darling kaleidoscope diamond keys on a diamond chain. Cost: $15,000.
Did you know: Tomgirl's Savory City Tour, a travel group for the mildly adventurous, chose the hotel as its kick-off destination.
Total: $16,092
Stone House
122 Sakonnet Point Rd.,
Little Compton, 635-2222
stonehouse1854.com
Environment: Elegant, Italianate mansion once owned by a Civil War colonel.
Amenities: The Osprey Suite sprawls across the entire third floor and comes with a fireplace, dining area, parlor, two spa treatments and gorgeous views of Sakonnet Lighthouse. Cost: $1,245
In-house dining: Pietra. Indulge in the locally sourced, five-course, prix fixe menu. With wine: $120 each
Diversions: Play Donald Trump and sneak in an extra day for an overnight sail to the destination of your choice, with dinner and breakfast for two, aboard the inn's fifty-nine-foot yacht Eclipse. Cost: $5,000
Did you know: The Stone House uses geo-thermal wells for heating and cooling and collects rain water to irrigate its kitchen garden.
Total: $6,485
---
Hey ladies, Surf's Up
Beginner surfers get hazed plenty by the ocean — and let's not talk about turf wars among (mostly male) riders. What's a girl to do? Hop a ferry to Block Island to learn in kinder company.
Sol Sessions is a six-day, five-night all-women surf and yoga program. Founder Sandra Gartland spent summer vacations here before chasing the perfect wave around the world as a surf instructor. She's been doing this for five years, even providing a resident Mom (her own, a retired caterer who chefs for the group).
Participants and instructors live together at Summer Hill Estates, an 1880 farmhouse. Each morning dawns with a private Hatha yoga or Pilates session. Then it's a morning work-out on the waves, a picnic lunch, and afternoon adventures: guided fishing, sea kayaking (sometimes mooring for barhopping), biking and hiking. There's pre-dusk wine and cheese on the wraparound porch and cooking classes including sushi making.
Six-pack abs are not required. One seventy-five-year-old participant caught waves by staying on her belly. Exercise classes are designed to strengthen surfing muscles, while yogic calmness can be an asset when a big wave looms. Having 'no boys allowed' also helps — women want to understand the sport mentally before they dive in, Gartland says. And minus the male gaze, women are less inclined to mind looking like something the tide dragged in.
The week culminates with a lobster cookout on the beach. A bonfire illuminates the cobalt sky while the women hatch plans for their next surf safari.
The 2009 session is September 8 through 13. Cost is $1,800 shared room, $2,400 private, completely all-inclusive from your beach towel to sports massage; solsessions. com, 858-456-1666.