Summer Land
Four seaside towns, one perfect season.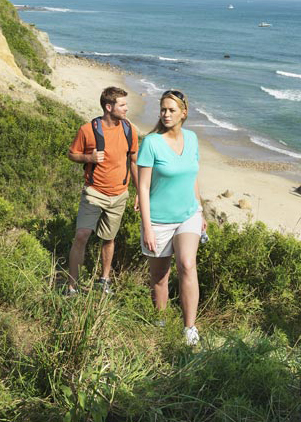 Vibe: Havaianas and surfboards by day, LBDs and Victorian hotel lounges by night.
Famous for: Being one of the Nature Conservancy's Last Great Places.
Photo Op: Sandy Point with the North Light in the background.
Don't leave without: Drinking a mudslide.
Best-kept secret: Sunset from the porch of the Narragansett Inn.

The Ridiculously Scenic Hike
Moderately strenuous. Two to three hours. Good shoes essential.
Get to Mansion Beach (the turn-off is on the right as you head north on Corn Neck Road, marked by a tall square post) and park in the ruins of the old mansion. Walk the quarter mile down to the beach. To the right, Crescent Beach arcs down to the hazy buildings of town, with the low box of the State Beach House the only break in the rhythm of bluffs and dunes.
To the left, high cliffs spring from a shoreline that abruptly turns from sand to pebbles. There's a sandy path snaking through the rocks: Follow it around Jerry's Point, where the surfers, bobbing in the distance, are waiting to catch a long left break. Here's the sandy cove of Clayhead Beach, with big boulders rising out of the surf, the beach bisected by a small stream flowing down from the inland lowlands.
Trace the stream's path upward through the dune grass, and suddenly the wide swing of Clayhead Trail appears, climbing steeply up to the right through bayberry and bramble. Every fifty feet or so, the trail touches the cliff and there's a breathtaking view — the Atlantic more blue and the waves more orderly the higher you climb. Newport Bridge coalesces in the distance, while the hum of insects in the hot, tangled vegetation sounds ever louder.

The Maze, as this area is known, proffers side trails and turn-offs, tangents that tantalize with the sensation of being lost. Take some, or stick to the cliff path for a more predictable course. Eventually, you will fetch out at the northern tip of Corn Neck Road, Sachem Pond opposite you, the North Light in the distance. Turn away from the old lighthouse and head south down the grassy verge of the road, past the stile to the Labyrinth and the ducks on the side of the road until you reach the mansion turn-off. Down the dirt road, your car awaits you. 
—Pippa Jack

---
Block Island to Go
The vacation's over, but don't lose that lovin' feeling.
No, you can't afford to linger at the beach all year. And even if you could, trust us, you're almost certainly not equipped for a Block Island winter.
But you can extend the vacation with these tips from Becky Domski, owner, with her husband, of 234 Water Gallery and Gift Store.
♦ Learn a new sport. The Block Island Club teaches rank amateurs to sail and play tennis, two essential New England summer skills for which we, at least, could use plenty of pointers (Corn Neck Road, 466-5939, blockislandclub.org).
♦ Frame your photos. The Mohegan Bluff stairs, two lighthouses, any beach, any porch. Print and frame your favorites at Photo Dog (under the National Hotel, Water Street, 466-5858, biphotodog.com).
♦ Beachcomb. You're not allowed to remove those smooth beach rocks, but the odd shell or bit of beach glass is fine. They'll make sunny Christmas tree ornaments to remind you of warmer days.
♦ Sweeten up. Littlefield Bee Farm honey is produced on the island from bees that enjoy an all-wildflower, pesticide-free diet. Buy it at Block Island Depot (Ocean Avenue, 466-2403) or, once you're home, from blockislandhoney.com.
♦ Send a card. Hand-painted cards by Dotty Hesse Doar are simple, sweetly evocative images of classic island scenes. Send one to everyone you know, and bring some home to keep for yourself. (234 Water Street, 466-8600, 234water.com)

---
Eat, Drink, Do, Love
An island cheat sheet
EAT: Breakfast burrito, Froozies Juice Bar and Café (back porch of the National Hotel, Dodge Street); Fresh tuna sandwich, Rebecca's Seafood Takeout (435 Water Street); Lobster BLT, Spring House Hotel (52 Spring Street).
DRINK: Hawaiian shaved ice, Juice 'n Java (235 Dodge Street); Block Island Blackberry cocktail, Hotel Manisses (5 Spring Street).
DO: Beach bonfire (permit required; call police dept; 466-3220) and body surfing at Mansion Beach (Corn Neck Road).
LOVE: Farmers' Market, Wednesdays on Spring and High streets, Saturdays on Ocean and Beach avenues; top deck of the slow ferry to and from Galilee. (Interstate Navigation, blockislandferry.com)

---
Rent a Roof
Grab a few friends or a crowd — the more, the merrier on your bank account. A weekly rental lets you explore, lose track of what day it is and make your coffee the way you like it.
"Elwell"
Cormorant Cove
On a secluded cove in the Great Salt Pond, with a dock that's great for lounging, snorkeling or inspecting the mussel and clam beds below. Locally famous fishing at the Channel is a five-minute walk away. Three bedrooms, two bathrooms, satellite TV and Internet.
Sleeps: 6+
Price: $4,200/week
"Navas"
Corn Neck Road
This tiny traditional summer cottage off a dirt road on the northwest side of the island is a fifteen-minute walk to popular Mansion Beach. Two bedrooms share one bath.
Sleeps: 4
Price: $1,350/week
"The Islander"
High Street
This big old Victorian offers plenty of space for sharing, and it's walking distance to town and Ballard's Beach. Five bedrooms, two baths.
Sleeps: 10
Price: $3,000/week
"AKA"
Corn Neck Road
Big decks, living space divided into two linked buildings (put the kids to bed on the other side!), large waterfront yard, and a recent reno. Plus, enough privacy to accommodate tan-line-free sunbathing.
Six bedrooms, three full and one half bath, all mod conveniences.
Sleeps: 12
Price: $6,500/week
All of the above rentals at: Block Island Realty, Corn Neck Road, 466-5887, birealty.com.

---
Captain Matt's Perfect Day
Charter boat captain and cafe owner Matt King describes his ultimate summer day.
3:45 a.m. I pull on my shorts and hoodie while my two girls — longtime girlfriend and business partner, Kelly Walsh, and bird-hunting fanatic chocolate lab, Maise — continue sleeping, curled up with one another. I kiss them both and go fix myself an iced coffee just the way I like it: extra large, black, no sugar. I check the marine forecast every day. Today: winds light, skies clear, with a six-foot-period ocean swell.
The stars are bright as ever (there's no light pollution here) as I head to the Hula Girl. Today I have a morning charter with a father and son who were willing to rise early to get a shot at a giant striped bass. The early worm catches the trophy fish.
5 a.m. They're at the docks, big-eyed and full of questions. The eastern horizon starts to light up as we motor out of Old Harbor. I get a call on the radio from a familiar voice: "Hey, Hula Girl, you pickin' me up?" It's my good friend Pete Vican, state record holder for largest bass at 76.4 pounds. He clues me in that the bite is red hot underneath the Southeast Light. Conditions are good when we reach the lighthouse. We make quick work of getting eels down to the fish waiting below. In less than a minute, we have a fish on. Then another and another.

Heading back to the dock, I think how my dad took me fishing as a kid around southern Rhode Island.
Noon: It's time for some breakfast at Juice 'n Java, my and Kelly's cafe, where I grab an acaii bowl with extra fruit and check the surf forecast again. The swell is expected to increase to eight foot. Sweet.
1 p.m. I carry my board to the boat, untie the dock lines, and I'm back on the water. I hit one of my favorite south-side point breaks, and for the next three hours enjoy a great session of overhead-size waves all to myself.
6 p.m. Since it's my perfect day, it's the week of the Block Island Music Festival. I head to Captain Nick's for the six o'clock band. It's semi-acoustic bluegrass, and all the usual suspects are there. I order a spicy tuna, avocado and crab roll from "Sushi Bob" inside. I have eaten sushi in Hawaii and Japan, and I still say he's the man.
7 p.m. When I walk in the door at home, Kelly smiles and Maise wags her tail. We share the roll, an epic sunset in the backround, then take the dog for a beach walk. Kelly reminds me that the Booze Beggars are playing in a couple of hours, so we walk over to Eli's Restaurant, where Rosemary pours me a tall vodka soda.
9 p.m. We can hear Steve Lighty's guitar twanging as we cross the street; the vibe inside the club is electric.
11 p.m. With another charter in the morning, perfection ends back in bed, the fan on low and my two girls at my side.
Hulacharters, Old Harbor, 263-3474, hula charters.com.

---
Vibe: Bustling prepster playground meets scenic seaside escape.
Famous for: The mansions.
Photo Op: Balcony at the bottom of Cliff Walk's Forty Steps.
Don't leave without: Stepping off dry land.
Best-kept secret: The Newport Restoration Foundation properties, such as Rough Point, are just as storied as the Preservation Society's more famous mansions.

---
How to Get That "Newport Look"
Clothing designer Camilla Bradley tells us what to wear (and what to leave in our closets).
The Newport look isn't trendy. "It's timeless and clean, and like a classic car, it gets better with age," says designer Camilla Bradley, who recently relocated the headquarters of her preppy-chic CK Bradley line from Manhattan to Bellevue Avenue. For summer, she advises packing away your little black dress in favor of vibrant solids and prints, both staples in her own collection of pretty-yet-practical shifts, patterned halters and ribbon belts. Just don't go overboard, Bradley cautions: "No one over the age of seven should match their headband with their clutch or belt." And by all means, dress up.
♦ Hat: You can't go wrong with a straw hat. (Both wide and short brims work.) "Not only will you look more stylish now, you'll also look younger in twenty years," Bradley says.
♦ Jewelry: A thin gold choker with a medallion (like a starfish or whale's tail) is very Newport. "You can change up the charms, and wear it everywhere from the tennis court to a black-tie ball."

♦ Dress: A shift can easily transition from day to night. "Wear it over your bikini during the day, then dress it up with great shoes and a belt [such as one of Bradley's signature ribbon styles] for dinner."
♦ Bag: By day, a straw tote will not only carry your sunscreen and beach read, it'll also add texture to your look. For a night on the town, "a gold clutch will go with a million different dresses."
♦ Shoes: Gold thong sandals are a good bet. "Keep it flat for daytime and go with a kitten heel at night," Bradley says. "With all of those cobblestones, stilettos can get you in trouble. And you never know when you're going to end up at the beach."
See more of Bradley's style at ckbradley.com.

---
Concierge Confidential
They're paid to be the ultimate insiders. Three industry pros spill all.
Meredith Reid, concierge supervisor,
Newport Marriott
Most memorable guest request: Arranged for a plane to write "Will you marry me, Kate?" in the sky over the Newport Tennis Hall of Fame for a mid-match proposal.
Best afternoon excursion: Water taxi from center of town to Fort Adams, where you can tour the fort and visit the Museum of Yachting.
Favorite off-the-beaten-path restaurant: The Rhumbline.
Avoid at all costs: Pretending you are a hotel guest to ask for help scoring a dinner reservation. (It happens more often than you'd think.)
Most underrated attraction: Museum of Newport History on Thames Street.
Joyce Motte, head concierge,
Hyatt Regency, Newport
Best kids' activity: Save The Bay's hands-on aquarium at Easton's Beach.
Most frequently asked question: "Where should we eat?"
Best place to watch the sunset: The Spiced Pear's outdoor terrace. "It's so beautiful, you'd think you're in Europe."
Favorite summer event: Newport Secret Garden Tours (held this year July 9–11 and September 10–12.)
Must-try dish: Grilled veal chops from Mamma Luisa. "I order it every time."
Eric Lyons,front desk agent,
Hotel Viking
Best dining deal: Monday through Wednesday, Sardella's offers dinner for two and a bottle of pinot grigio or merlot for just $24.
Most romantic view: Sachuest Point in Middletown. "There's this great viewing platform where you can see the mouth of the river and the lighthouse in the distance."
Favorite free diversion: Reading the plaques on homes in the historic Point Section.
Hidden gem: Redwood Library and Athenaeum.
Most scenic spot: "I always recommend this tiny cove on Ocean Drive called Green Bridge."

---
5 reasons we Love Gooseberry Beach
1. It's got a posh Ocean Drive address, but unlike its super-exclusive neighbor, Bailey's Beach, it's open to the public in exchange for a parking fee ($10-$20, depending on the day).
2. With veggie burgers and vichyssoise (yes, really) on the snack bar menu, you can leave the picnic basket at home.
3. The beach's calm, protected waters are great for kids.
4. Facilities — showers, changing areas, bathrooms — are clean and well maintained.
5. Your beach blanket is within viewing range of several grand estates, including the mansion where Evening (starring Vanessa Redgrave and Meryl Streep) was filmed.

---
Table for Two
Who knew? A private dining oasis in the middle of Newport.
Hidden gems don't often turn up in the middle of a city's busiest street. But that's where you'll find one of Newport's best kept secrets: the balcony table for two at always-packed Thames Street seafood eatery Scales & Shells. The table — on an outside deck abutting the restaurant's upstairs dining room, UpScales — provides a private perch that's as suited for people watching as it is for pretending your date's the only one around. An added bonus: It's the only table the restaurant will take reservations for.

---
Vibe: Private, picturesque and mostly happy to cede the spotlight to the villages of Watch Hill and Misquamicut.
Famous for: The 1876 Flying Horse Carousel in Watch Hill.
Photo Op: Anywhere on seven-mile Misquamicut Beach.
Don't leave without: Sampling a Watch Hill oyster or local wines from Langworthy Farm.
Best-kept secret: Avondale Farm Preserve, filled with wildflowers in the summer.

Daytripping
A morning-beach-walk-to-nighttime-karaoke guide to Westerly.
7 a.m. Fuel up at the Cooked Goose (92 Watch Hill Rd., cookedgoose.com) with eggs benedict and a pot of coffee.
8 a.m. Get thee to a parking space in Watch Hill (they're limited) for a morning walk on East Beach or Napatree Point while the sun and crowds are low. Off Larkin Road, it's another short walk to the grounds of Watch Hill Lighthouse.
10 a.m. Shopping doesn't get much more scenic than Bay Street. Possible souvenirs: summery throw pillows from Comina (comina.com), a Lilly Pulitzer sundress from Christina Ltd. (christinaltd.com), a coastal-themed hooked rug at Bay Breeze Interiors (348-0722), chocolate-coated anything from The Candy Box (candyboxwatchhill.com) and vintage postcards from the Book and Tackle Shop (bookandtackle.com).
11:30 a.m. Isn't it lunchtime yet? Score an outdoor table and roasted clams at the Olympia Tea Room (olympiatearoom.com), grilled panini at Bruna's Table (brunastable.com) or a lobster roll from St. Clair Annex (stclairannex.com) before heading to downtown Westerly.

1 p.m. Pick up a new summer read at Other Tiger (90 High Street, othertiger.com) and head across the street to a shady bench in Wilcox Park.
2:30 p.m. Your afternoon pick-me-up: iced latte at Perks and Corks (62 High Street), followed by a stroll along High Street, where cool shopping finds include handmade leather belts at Leprechaun Shoe Repair (596-6180) and garden sculptures by Robert Mojeski at Artists' Cooperative Gallery of Westerly (7 Canal Street, westerlyarts.com). Get that appetite back before Van Ghent Café closes for the day — the Belgian waffles and crepes are too good to pass up. (14 High Street, vanghentcafewesterly.com)

4 p.m. You can't end the day without hitting the water. Rent a jet ski at the Purple Ape (17 Winnipaug Road, purpleape.com) or head to the Weekapaug Breachway to catch striped bass and bluefish. Charlie Maggs at Weekapaug Bait and Tackle (660 Atlantic Avenue, weekapaugbaitandtackle.com) will supply you with the right bait and any pointers you need.
5:30 p.m. A nineteen-dollar Shark Attack at Paddy's Beach (159 Atlantic Avenue, paddysbeach.com) is a half-gallon bowl of rum, liqueurs and toy carnage. Call your friends for help.

6:30 p.m. Find an outdoor table at Maria's Seaside Café (132 Atlantic Avenue, mariaseasidecafe.com) and dig into lobster bruschetta and sea scallops.
8 p.m. Walk off dinner along the shore, where the Atlantic Beach Amusement Park (atlanticbeachpark.com) offers prime people-watching. If you make it all the way to Weekapaug and back, your reward is Dusty's Dairy Bar (323 Atlantic Avenue, 322-0504).
9:30 p.m. Finish on a high note with karaoke at Sandy's Lighthouse (148 Atlantic Avenue, 596-1496) or dancing at the Andrea Hotel (89 Atlantic Avenue, andreahotel.com).

---
The Big OH
The Ocean House returns.
The new, five-star Ocean House resort retains more than just architectural features from the original hotel, giving both nostalgic types and luxury-seekers plenty of reason to get excited. A look at some vintage and brand-new highlights:
Vintage: The front door, lobby fireplace (taken apart and reassembled one stone at a time, with 1895 keystone), the wooden elevator interior and lobby phone booth are just a few of the 5,000 pieces salvaged from the old building.
New: Guestrooms are larger and more luxurious (and air-conditioned.)
Vintage: The sign above the front door, along with columns and moldings, are exact replicas from the original hotel.
New: The 12,000-square-foot OH! Spa, open to the public.

Vintage: You still don't need to be a guest to settle on the wicker furniture or porch rockers and take in the veranda's incredible views.
New: But it's now the Ver-andah, with a menu of cocktails and light fare.
Vintage: The front lawn has a putting green. Afternoon tea and a croquet court were inspired by the hotel's earlier days.
New: Amenities now include everything from iPad rentals to guided harbor cruises aboard the Gansett.

Vintage: Sam Fusaro, the life-guard you remember from thirty years ago, serves as manager of beach services as part of the year-round staff.
New: The old Sammy's Shack is now the Dune Cottage for hungry beach-goers. (oceanhouseri.com)

---
Swing State
Before you tee off on one of Westerly's super-gorgeous courses, award-winning teacher Susan Bond, district director of the New England PGA and head pro at Weekapaug Golf Club, has some advice:
1. "Everyone likes to practice driving. But if you spend time working on your short game (chipping, pitching, putting), you'll actually see your scores improve."
2. Get properly fitted for your clubs.
3. Do what the pros do — take a lesson. "You can self-teach, but you'll always reach a plateau." Bond offers lessons to non-members; visit weekapauggolfclub.com.

---
Vibe: Quintessential seaside village minus the polish or crowds of Newport. Famous for: Being the most patriotic town in America.
Photo Op: The view from Cove Cabin at Mount Hope Farm.
Don't leave without: Having a dark and stormy on the upper deck of Thames Waterside.
Best-kept secret: The beach (and killer sunsets) at the bottom of Walley Street.

A Tour of Wood Street
Most people who visit Bristol don't venture far beyond the immediate boutique-and-restaurant-filled downtown. But Wood Street has a life of its own. On any given day, you're likely to spot old men conversing in their native Portuguese and pass houses where backyard grapes are made into wine in the basement. Here are some spots that you don't want to miss.
St. Elizabeth's Church
Every June, the annual Feast of Santo Cristo celebrates old-world Portuguese traditions, including live animal auctions, native music and dancing, and tons of culinary treats, including grilled sardines, and cacoila — marinated beef — tucked into fresh baked rolls, all
prepared by parishioners using recipes passed down for generations. (If you missed this year's festival, there's still plenty in the neighborhood to satisfy your craving for local flavor.)
Van's Spa
Entertainingly gruff owner, Manny Rego, runs a one-man show, so
don't be surprised if you find yourself bussing your own table and getting your own coffee. The menu here skews to the traditional, but Rego also throws in some unique touches, like burgers — a must-try — on Portuguese muffins, and homemade baked beans and clam chowder. Portions are huge and almost everything is less than $5, making a meal here decidedly easier on the wallet than the diet.
359 Wood St., 253-2797.
Azorean Butcher Shop
Stop here to take a little taste of Portugal home with you. Their specialty is meats, including chorico, blood sausage and blade meat, ubiquitous in Portuguese recipes. But you'll find other traditional ingredients too, like dried fava beans, hot pepper paste, olives and saffron — anything you'd need to replicate a favorite dish at home.
529 Wood St., 253-7724.
Café Central
This restaurant, located just off Wood Street, skimps on the decor but makes up for it threefold with food that tastes as if it came out of a doting Azorean grandmother's kitchen. Specials include such unique offerings as octopus stew (only on Fridays), but you also can't go wrong with any one of the menu mainstays like pork and littlenecks. Prepare yourself for carb overload; most dishes come with a whopping helping of potatoes and rice, but you'll be glad for it when trying to soak up every last bit of sauce from your dish.
173 Bradford St., 254-6164.
Goglia's
This is the type of market that every neighborhood wishes it had. The small store has just enough room to stock the essentials with a little section reserved for fresh produce. But the real draw here is the deli counter, where a little more than $5 will get you an enormous sub filled with freshly cut meats on a freshly baked roll.
374 Wood St., 253-9876.

---
On the Waterfront
You're just five steps from an afternoon at sea.
1. Make arrangements with Seanic Charters for an afternoon on their thirty-foot power boat Seanic (996-4706, seaniccharters.com). A half-day charter for as many as six people will run you around $400 and they'll pick you up anywhere along the harbor.
2. Head to Organically Good (367 Thames St.) for one of their signature smoked turkey, fig jam and bacon sandwiches to go. Each sandwich comes perfectly packaged in a recycled paper box for easy transport and keeping until lunch time.
3. Stop at the Beehive Café for a freshly brewed iced coffee to keep you cool and energized — and some just-baked goods to save for later. (The "magic bars" alone are worth the visit.)
4. Stop in at Time and Thyme Again (13 State St.) for some scene-setting accessories, such as a vintage picnic basket and Provence-inspired linens.
5. Walk down to the docks at Thames Street Landing (259 Thames St.) to meet your transportation for the afternoon. Tell Captain Lee to take you to Prudence Island just across the bay, where the next few hours are yours for relaxation, exploration and eating well.

---
On Parade
Behind the scenes at the famous Fourth of July celebration.
I can tell you exactly where I'll be come 11 a.m. on the morning of the Bristol Fourth of July parade: perched on the front lawn of my childhood home, surrounded by family and friends and clad in patriotic colors, anxiously awaiting the police sirens and military flyover that will mark the parade's 225th approach. It's where I've sat almost every year of my life on that day. Except, that is, last year, when I gave up my spot on the lawn to be in the parade, invited by the parade's chief marshals, my future in-laws, to march as one of their aides. It was something I'd never imagined I'd be invited to do, having been a spectator at the event my entire life. But then, after a whirlwind month of parties and receptions leading up to the main event, there I was, standing at the parade's starting point, watching the kick-off gun salute and ribbon cutting before stepping off.
Walking down Hope Street, a road I had traveled hundreds of times but never by foot, I was overwhelmed at first by the enormity of the crowds; it felt like being trapped on stage with no wings to escape to. But the excitement and energy was infectious, and I began to enjoy the moment, knowing that this was in all likelihood both my first and last time marching.
The day was an ideal eighty degrees, making the two-and-a-half mile route an easy walk (my comfortable footwear also helped). Some portions of the crowd were rowdier than others — like the group that set up couch-topped scaffolding to serve as "judges" holding numerical scorecards that gave every marcher a "10" — but everyone seemed to welcome a wave and a "Happy Fourth of July," thrilled just to be there. And then, like that, it was over. I had solidified my little place in town history, something only a select few can claim.
But I'll once again take up my spot on the grass this year, a cold drink in hand, waving and wishing a Happy Fourth to all the marchers passing by, just like everyone else.
—courtney anderson

---