Summer Guide
Summer '10 was one of the hottest on record, prompting us to think hard about the best ways to stay sane anywhere north of Blue Shutters Beach. So here, we bring you 41 ways to have fun in, on, at or near the water this summer — no air conditioning required.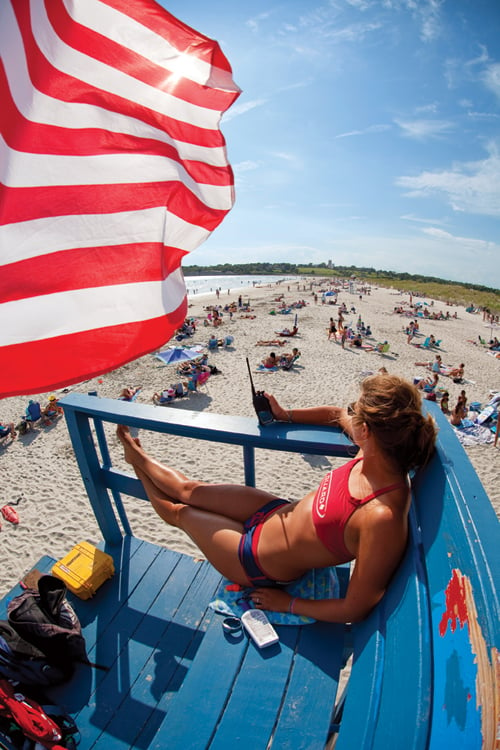 In the Swim
– Ben Robinson
On this particular morning, it's not about relaxing on my beach towel, reading a good book or tossing a Frisbee. Today, I'm swimming in Tuesday Night Athletic Foundation's (TNAF) annual Open Water Challenge, a one-mile open-water swim typically held at Sachuest Beach every September. It raises funds for young local athletes. With Hurricane Igor looming off shore, there's a bit of apprehension in my mind; I'm wondering about the conditions of the ocean.
At the beach, hundreds of swimmers from all over Rhode Island are ready to go. There are four waves of swimmers, from strongest to under-eighteens. I've always loved swimming and consider myself to be a strong swimmer, but I'm nervous. At this hurricane-prone time of year, the waves tend to be bigger, which is why it's called a challenge. Ocean State Surf Rescue and the Middletown Fire and EMT are here to make sure we all make it out alive.
The start of the race is tough. Usual etiquette is to let the faster swimmers start towards the front of the pack. It's a beach start, my personal favorite. At the sound of the horn, I begin to run until the water is knee high, then dolphin dive in. Finding a good position at the start is crucial.

I try to pace myself and keep on track; there are no black lines to follow in the ocean. I swim out to the orange buoy marker and make a 180-degree turn to the right. Even in the rough waters, I find a sense of peace within myself. I swim under the waves and body surf my way back in towards the beach. My hands start to hit the bottom. I stand and then run out of the water, up the beach and through the timed finish line.
The swim concludes with awards followed by an after party, usually held at Cappy's Hillside Café in Newport. After everyone recovers, TNAF's board and friends will go over the scholarship applications and determine how much money they can give them all. Today was a good day.
---
Board Games
Expert advice for newbies on how to ride the waves
– Nicole Rousell
BODY SURFING
The pro: Kelsy Patnaude, surf instructor.
The 411: This Massachusetts transplant says body surfing is the best way to learn about how waves work and an essential precursor to any water sport that involves a board. "There are no restrictions, no boards to worry about," she says. "Once you get the hang of it, try twirling when riding the wave," just like dolphins and other sea creatures do.
Takeaway tip: Swim ahead of the wave kicking your feet at first, then keep your head down, arms forward over your ears. Above all, don't worry about what you'll look like at the end of the ride, as long as your bathing suit is still on.
Learn more: RhodySurf.com
SKIM BOARDING
The pro: Peter Bodenstab, surf instructor.
The 411: "Skim boarding is great for children to get into, as it's a safe water sport, and they aren't afraid to fall," he says. For more advanced boarders, he suggests finding an angled beach that slopes into the ocean. Then, when the waves break, ride up the face of the wave (like skateboarding). Ballard's Beach in Block Island is the best.
Takeaway tip: Run fast, jump, keep your balance, and be prepared to eat it!
Learn more: RhodySurf.com
PADDLE BOARDING
The pro: Christian Schlebach, owner of the Boardroom.
The 411: Schlebach says the best place to practice is on flat water like Third Beach in Middletown. "Some start out on their knees at first and slowly get up," he says. Others just step onto the board. When paddling, aim for the longest, deepest stroke and switch the paddle from side to side depending on the direction you want to go in (usually three to four strokes per side). Experts surf the waves this way, or paddle alongside the Cliff Walk.
Takeaway tip: Try not to hold the paddle out of the water too long because it's what gives you stability. "It's like riding a bike — when you stop pedaling you fall over," Schlebach says.
Learn more: Hooleyusa.com
BOOGIE BOARDING
The pro: Kelsey Drought, surf instructor.
The 411: This Rhode Island native says boogie boarders should buy from a surf shop, not a supermarket, to get higher quality boards that won't bend. More advanced boogiers use fins to make it easier to catch the waves. Although this is a great step toward surfing, she says it's best to go where swimmers are, not the surfers, to avoid getting in their way. Narragansett Beach is a good spot. Barrel rolls (360-degree spins) are a great way to spice up your ride.
Takeaway tip: Hang on to the board, and put your leash on!
Learn more: RhodySurf.com
SURFING
The pro: Bobby Drought, owner of Rhody Surf.
The 411: He suggests a group lesson for those who want the comfort of learning among friends. More serious types should take a private session. Start with a dry lesson, paddling on land before hitting the water. Summer is the best time to learn, but fall has amazing surf, because of the hurricanes, with double overhead swells.
Takeaway tip: Become a strong swimmer first, and then dive right into it. Try not to cut anyone off, and be vocal!
Learn more: RhodySurf.com
Rhody Surf rents skim boards at $15 a day; boogie boards at $20 a day; surf boards from $35 a half-day. Private surfing lessons start at $100 an hour. The Boardroom rents paddle boards at $80 a day; lessons are $95 for two hours.

Liquid Lunch
Six spots where cocktails or a bite come with a water view
– Courtney Anderson
The Ocean Mist
Water view: An unobstructed panorama of the Atlantic from the back deck as waves crash on the beach below.
The scene: Hardcore beach bums and surfer types meet up to share tales of the day's waves, while others come to hear the reggae bands like the Skatalites that make regular appearances.
895 Matunuck Beach Rd., South Kingstown, 782-3740, oceanmist.net
The Whiskey Republic
Water view: The nearby Providence River snaking underneath the Point Street bridge in the shadow of the power plant.
The scene: A mixed-age crowd that's drawn by the killer stream of live acts that only a bar co-owned by a member of hit band the Dropkick Murphys could attract.
515 South Water St., Providence, 588-5158, thewhiskeyrepublic.com
The Oar
Water view: New Harbor teeming with boats, small and oh-so-large, from the restaurant's sprawling lawn sprinkled with Adirondacks and picnic tables.
The scene: Weekends bring in loads of locals who swear by the mudslides. Standard seaside fare (lobster rolls and fish tacos) provides sustenance for marathon cocktail hours that don't end until long after the sun sets over the harbor.
221 Jobs Hill Rd., Block Island, 466-8820
Effin's Last Resort

Water view: This summertime hot spot provides an unexpected heat-beating oasis — an Olympic-size swimming pool.
The scene: An adult's playground, where a long afternoon could easily be spent swimming, lounging poolside and taking in music by one of the bands on Effin's summer-long lineup.
325 Farnum Pike, Smithfield, 349-3500, effinsri.com
Agave
Water view: Picturesque Bristol Harbor and the stately houses that line Poppasquash Point.
The scene: This former biker bar got new owners and a major overhaul, including a bigger deck and a sleek Miami-esque seating area, where everyone now feels welcome to enjoy a beer or something off the Mexican-inspired menu.
805 Hope St., Bristol, 253-1566
The Deck
Water view: The docks at Waites Wharf, where you can watch mega-yachts pulling in and out and fantasize about which one you'll buy when you hit it big.
The scene: Prepped-out diners looking for something beyond the usual seafood. Inside boasts an upscale vibe, but the outside deck welcomes lingering over a casual cocktail or two.
1 Waites Wharf, Newport, 846-3600, waiteswharf.com
To read more of this story please visit your nearest newsstand or click the link below.